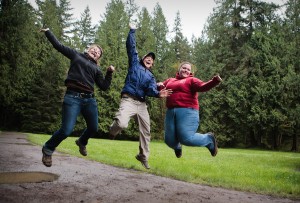 Welcome to our new monthly blog feature, Awesome Woman of the Month. Before we introduce our first awesome woman, we thought we should answer the obvious question:
What (and who) is an awesome woman?
That's a great question!
The answer is probably as diverse as the woman about whom you're speaking. But here's what we think of when we think awesome woman:
She is a role model for girls and women, but also to everyone who knows her!
She lights up a room and dazzles a crowd with her creative ideas, her fierce commitment to making the world a better place, her passion, her determination, her intelligence, her sense of humor and her belief in herself!
She makes you think. Maybe she even makes you act, or think about acting!
She challenges standardized ideas. Meaning, she might not be happy with "how things are," and wants to create "what should be." Or, at least, what she thinks it should be. And you may or may not agree. But you probably agree, because, let's face it – she's awesome.
She was a Girl Scout. This is just one way for us to connect Girl Scout alumnae in our community with our local Girl Scout audience. Girls: we want you to know who you can become. We want to show you inspiring women in a variety of careers who can be your role models. And, we want to show you, as these women have, that Girl Scouts is, quite often, the starting point for a wonderful future.
She has an active role in her community in some way – whether through the media, a neighborhood shop, the waters we drag our feet through when we're tidepooling, or even in the space far, far away that we see through a telescope. She might be a pilot or an astronaut, a news anchor, a radio personality, a chef or pastry maker, a marine biologist or a politician. She might even be your neighbor, your teacher or your friend. Either way, if we haven't met her and you think she's cool, we'd like to know her! Please send us an email. If we do know her and know how awesome she is, we are going to introduce you.
We can't wait to tell you all about our first super-awesome, amazing and unbelievably talented woman, Molly Moon Neitzel.