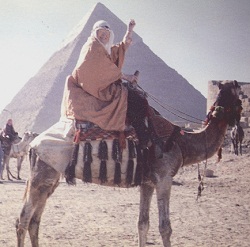 Most people have spent their lives in normal ways—never having founded a camp, for example, or ridden a camel in Egypt … in their eighties. Even fewer have made it to the age of 110, or are constantly sent thank-you cards for having made a difference in someone's life.
Given these statistics, you might be shocked to learn that the person described above actually exists, and has even managed to live her entire life without medicine! In fact, she attributes her feistiness and impeccable health to whole milk. That's Emma Otis!
Once you get to know this firecracker, who still wears baby's breath in her hair, and shakes her fist at the sky when she's angry, you learn that defying the odds is her specialty. So is passion, a sense of humor and an unwavering allegiance to Girl Scouts.
Emma still sings the praises of Girl Scouts—more than eight decades since she first became involved—and the significant role the organization and its members have played in her life. And she can sing those praises as the country's oldest living Girl Scout!
When asked what she loves most about Girl Scouts, Emma shouts, enthusiastically, "the Girl Scouts themselves! They mean as much to me as I mean to my family. They were all my family."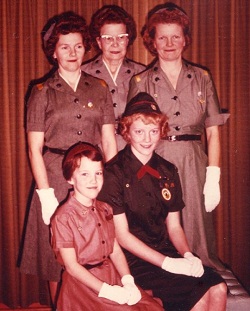 Of course, her biological family has always felt the same way about Girl Scouts. Emma's enthusiasm rubbed off on most everyone! In fact, there are five generations of Girl Scouts in her family. Her granddaughter, Carol Vaughn, remembers hiking Mt. Contance with Emma at the age of nine.
"The message I got from grandma was to always be true to yourself as well as to nature," Vaughn recalls. "She really wanted us to enjoy the outdoors, and we did. Being with her was always an adventure."
Camping was a consistent theme in Emma's life, and Vaughn remembers many camping experiences with her grandma. "When Girl Scouts started, my family didn't know I was living," Emma laughs. "I was always at camp. There wasn't a girl who showed her face around camp who didn't become a Girl Scout after that. They loved camp so much!"
She's referring to Girl Scout Camp St. Albans in Belfair. As one of the camp's founders more than 75 years ago, Emma is still just as proud as she was the day she knew her dream for creating a camp would come true. "I knew I had to have a camp there," she says. "There was such lovely land everywhere. I said, 'I want that!' It was absolutely beautiful."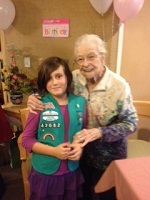 She's so convinced that everyone should love Girl Scout Camp St. Albans as much as she does, that she insists, "If people won't talk about St. Albans, I want to know why! I'll make sure they give me an answer." It's easy to gauge Emma's sincerity when she says that—or anything else. Her hearing may have dissipated throughout the years, and she may need a wheelchair to get around, but one thing that has never dimmed is her spirit. Particularly when it comes to Girl Scouts!
She is, and always has been, truly committed to the Girl Scout mission and all the outdoor education and leadership opportunities Girl Scouts provides. And, of course, she has had so much fun, and still holds tightly to the people, the programs and all the memories she has made throughout her rich life.
"Everything about Girl Scouts makes me happy," she says, clapping her hands with delight. "Everything!"