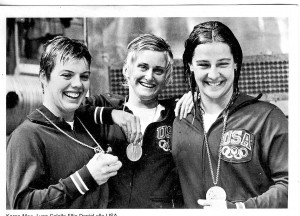 From the start, Lynn Colella grew up with dual passions: a love for camping and a serious dedication to swimming. Girl Scouting fit naturally with both those interests and was a big part of Lynn's early life. Though Lynn is best known for her Olympic achievements, Girl Scouts has been a steady influence in her life.
Just a Girl Scout Dreaming Big
Lynn loved being a Girl Scout in the Seattle area, especially camping and participating in service projects like making Valentines for nursing homes. With her mom as her troop leader, she remembers being proud of her First Class pin.
First Class was the highest Girl Scout award from 1963-1982, similar to today's Gold Award. To earn First Class, a girl had to earn multiple badges and meet four challenges. Girls earned their challenge pins by showing their skills in fields like social dependability, emergency preparedness and active citizenship.
Even though she was a successful Girl Scout, Lynn always had one other love in her life: swimming.
Lynn started her swimming career at the Sand Point Country Club and later swam in her first competition in Summer League when she was just 10 years old. Lynn knew right away that she liked to compete. "I liked racing and winning. I don't know if I had that much natural talent but I had a lot of determination and fight."
When she first began competing she had no idea about the Olympics until she saw the 1960 Summer Olympics in Rome on TV. "That got the idea of swimming in the Olympics in my head."
By the time she was 12 she had gone from swimming twice a week to twice a day. Olympic training is never easy but it was especially tough then because you weren't allowed to get sponsors. Having sponsors made you ineligible for the Olympics because you were deemed a professional athlete. The nearest long course pool (the size you need for Olympic training) was in Tacoma so her family drove there every day in the summer to practice. Lynn's brothers were all swimmers too, and her brother Rick even joined her in the Olympics in 1972! Rick swam in both the 1972 and 1976 Olympics, winning Bronze in the 200 meter breaststroke in his second Olympics. Reflecting on that time, Lynn gives thanks to her parents for all their support, from traveling to meets and paying coaches. "My mother deserves a medal too!" Lynn exclaimed.
Lynn went on to join the Cascade Swim Club and swam in her first national meet in Los Angeles at 13, then won her first national race at 18.
At Last, an Olympic Chance
At 18, after years of training, she missed a spot on the U.S. Olympic team by just three-tenths of a second. "Olympics was my goal and I really wanted to make it so even though lots of girls just didn't swim in college, I wanted to," said Lynn. She kept trying for the Olympics and swam at the University of Washington (UW) while studying electrical engineering.
At the time, there was no organized collegiate swimming for women. Luckily, her coach at the Cascade Swim Club, John Pallman, was also the coach of the UW men's swimming team. With help from John and her assistant coach, Bob Miller, she was able to train alongside the men, including her brother Rick! It was tough seeing her brother being offered a scholarship and recruited to other schools but Lynn never lost sight of her goal. "It didn't seem fair but it was the way it was so I just adapted."
After getting so close to qualifying for the 1968 Olympics, she made the U.S. team for the 1972 Olympics in Munich, West Germany!
"It was a pretty awesome feeling being at the Olympics. It's a once in a life time pressure too, since it only happens every four years and there's no guarantee you will make the team. But there's also the joy and the excitement of it all," described Lynn.
Though her goal was to get the gold she swam her best time at 2:16:34 for the 200 meter butterfly and took home a silver medal! That year all three winners were from the U.S.!  Lynn shared the podium with teammates Karen Moe (from California) and Ellie Daniel (from Pennsylvania). "I got to hear the Star Spangled Banner which was what I watched on TV in 1960 and thought would be really cool to be able to do," Lynn reminisced.
Bringing Girl Scouts Full Circle
With her Olympic dream achieved, Lynn moved on to other ventures. She pursued a career at Boeing, got married and had four children, one son and three girls that became third-generation Girl Scouts!
Lynn has been in leadership in Girl Scouts since 1985! She was a troop leader for many years. Just like when she was a Girl Scout as a girl, Lynn enjoyed doing outdoor activities like camping and learning about the environment with her troop. "It teaches girls to decide what to do themselves which I think comes from being in an all-girl environment that gives them the freedom to try new things," said Lynn.
Lynn also took on the jobs of Service Unit Manager and Service Unit Cookie Manager (SUCM). In fact, she's still a SUCM today for Woodinville Service Units 409 and 410!
Her love of Girl Scouts went full circle when she was offered a position at the East-side office in Bellevue. She accepted and worked in volunteer support from 2003-2008, processing volunteer applications and working at recruitment events.
These days, Lynn has taken off her swim cap and picked up a soccer ball instead! After watching her kids play soccer she thought it looked like fun. "I'm never going to be a super star in it because I'm a grandma in the over-50 women's division!" she laughed.
When her kids were in school every four years (in support of that year's Summer Olympics excitement) she took her silver medal to show and tell. "I think now people would rather see Ariana Kukors (2012 Olympic swimmer from Federal Way), someone who looks like an athlete instead of a grandma!" laughs Lynn. Today her sparkling silver medal is in a china cabinet at the ready for interested Girl Scouts and volunteers who want to see it when they're picking up their cookies.
Are you a Girl Scout that loves to swim? Lynn's advice for any girl who has her heart set on the Olympics is to be really devoted and goal-oriented. "Girl Scouts encourages girls to be leaders and to make your own way and that's' what makes you a success in anything," said Lynn.