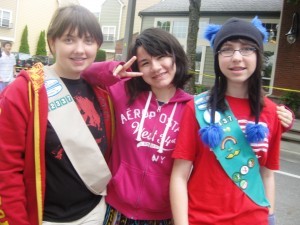 In celebration of summer (and that quick heat wave that just reminded us all that it really is summer!) we're bringing you a quick update from one of our troops on the Eastside. And since their story talks about Forever Green, we have to ask – have you taken the Forever Green pledge yet?
Last month 40 girls from Service Units 422 and 423 marched in Redmond's Annual Derby Days Parade! Girl Scouts in the region have been a part of the parade for several years, but this year the girls marched along under the Forever Green theme.
Though it took a while for the parade to kick off, the older girls filled the time with face painting and balloon crafts to make sure the younger girls were entertained.
During the parade the girls showed off their Forever Green banners, sang camp songs and tossed candy and Girl Scouts bracelets to other children along the parade route.
From Cadettes to cookies, everyone marching in the parade had a great time – can't wait to see everyone at the Redmond  Annual Derby Days Parade next year!