Girl Scouts are always ready to give others a hand, even during an emergency! During emergencies, they have to act using the skills they've learned from their first aid training. Recently, the courage and quick thinking of a Chimacum Girl Scout, Amelia Foster, saved her four year old sister from choking on candy, by using the skills from her American Red Cross training!
Passport to Preparedness
After hearing such a motivating story, we wanted to share the type of training Girl Scouts can learn with the help of the American Red Cross. A key part of being a Girl Scout is being willing to help others, so being prepared for any emergency is an important step. Recently, over 100 local girls learned what to do when accidents strike as part of their emergency training held at the Girl Scout Center in DuPont. The training is called Passport to Preparedness, an event hosted in partnership with the American Red Cross.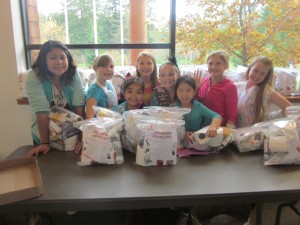 Last month, Girl Scout troops ranging from Daisies to Cadettes (girls ages K-8) attended their choice of either a morning or an afternoon session. Each session was split into various project stations led by Red Cross staff and AmeriCorps members. In the first session, the girls learned basic first aid, including giving CPR and applying bandages. The girls then learned about the importance of creating an emergency evacuation plan and emergency kit for their homes. They created the beginning of both a plan and a kit, and were encouraged to go home and complete it with their families. In the third session, the girls learned about the history of the American Red Cross and its founder, Clara Barton, including what a strong and passionate woman she was.
Helping Others
And since we're already deep into the holiday season, the girls also participated in card making! This wasn't just another craft project, though. The American Red Cross staff members helped girls make holiday cards for military personnel and veterans for the American Red Cross "Holiday Mail for Heroes" program. This program delivers holiday cards with personal greetings to veterans, military families and active-duty service members at hospitals and military installations around the world.
Girls were also encouraged to bring items to build extra emergency kits to be donated to the women's shelters at the Pierce and Thurston County YWCAs. Girls brought generous donations of necessary items like:
Feminine hygiene supplies
Personal hygiene items
Canned or other non-perishable food
Bottled water
First aid supplies
"I think the most inspirational part of the whole day was the overwhelming amount of items the girls and troops brought to help build the emergency kits for donations," said Shannon Lippert, Troop Program Manager. Over 120 girls and 60 adults attended in total, and by the end of the day, thanks to all the girls and volunteers who participated, attendees built 48 emergency kits for the YWCA! The skills that they learned in the basic first aid session also allowed them to earn the Girl Scout first aid badge.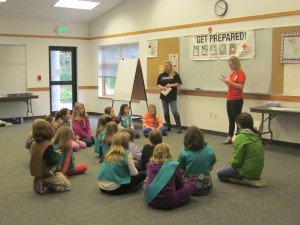 Want To Get Prepared?
We'll offer more chances to participate in Passport to Preparedness in 2013! Plan ahead for April 13, 2013 in Lewis County and February 9, 2013 in Grays Harbor. Check out our event calendar for more info and other Passport to Preparedness dates coming up!
Want to be prepared like a Girl Scout right now? With this handy smartphone app from the American Red Cross you can have expert safety and emergency advice at your fingertips!