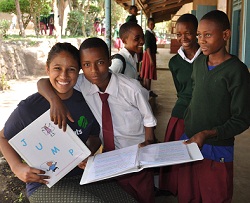 The first remarkable thing you need to know about Natalie Ramsey is that she is committed. She's committed to her school, her family, athletics and her community.
The second thing you need to know is she's busy. If she's not off at a soccer game or track meet, she's doing something with her church youth group, tutoring someone in math or is involved in official National Honor Society business.
The third thing is that, no matter how busy she may be, Natalie is, and always has been, a true Girl Scout. In fact, she has been an active, creative and prolific Girl Scout since Kindergarten!
She has served as a National Consultant for Girl Scouts of the USA's National Board Leadership Lanes for two years, and has embarked on Girl Scout destination trips horseback riding in Georgia, dog-sledding in Duluth and canyoneering in California.
She has earned her Bronze, Silver and Gold Awards, and is a member of the 1000+ Club for high sellers in the Girl Scout Cookie sales. She was also a speaker at Girl Scouts of Western Washington's 2012 Thurston Women of Distinction Luncheon in Olympia.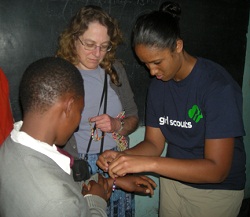 As if all her accomplishments and honors weren't enough, Natalie has gone global with her passion for making a difference in people's lives. In February 2011, her Gold Award project took her to Arusha, Tanzania, where she taught students at Ngateu Secondary School and Nuru English Medium Primary Elementary School math and English skills through creative jump roping games.
She came up with the idea when she was studying the country, and realized that the students' skills were lowest in math and English. She figured that jump roping songs would be an easy way to help the students develop the skills they needed. Originally, she planned to do her project with girls, but once she got there, she soon realized the boys were very interested in participating, so she opened it up to all students.
She worked with two grade levels (9th and 10th grade), and had about 70 students altogether. Her project was positively received by both students and faculty alike.
"The Ngateu Secondary School headmaster and teachers were excited that I mixed sports and education together so the students could be doing what they love while still learning," she says. "When I was reading the rhymes with the students, you could hear the improvement in their English skills. When we first started, many students would count up to three or five and start over at one. I was able to help them count to higher numbers and even teach them some of the numbers they did not know."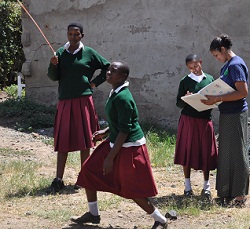 Natalie admits that she went to Tanzania thinking she was going to be teaching the students, but, in fact, the opposite happened. "I had no idea how much I would learn from them," she says. "I also learned that most of us in the U.S. have more than we even realize or need. Things like shoes, water and food are things we assume we'll always have, but are not things easily accessible to others."
Overall, Natalie feels transformed by her experience. "I don't think this project would have made as profound of an impact on those in my local community – or on me – as it did in Tanzania. I'm so glad I chose to do this project!"