In January, several local Junior and Cadette Girl Scouts participated in our very first Power Up Event. Power Up, a bully prevention program developed by Girl Scouts of Colorado, focuses on the kinds of bullying most common to girls: excluding, ignoring, gossiping and drama. Power Up concentrates on encouraging the 85% of girls who are bystanders to bullying to take action to defend targets because doing nothing is not an option! 
At this high energy, interactive event girls learned how to identify bullying behaviors and took part in activities designed to help them recognize the good, the bad and the ugly in friendships with girls. The good – the best things about being friends with girls, the bad – the conflict that may occur with friends but if handled with honesty and consideration can be resolved and the ugly- gossiping, excluding, bullying which has no place in friendships.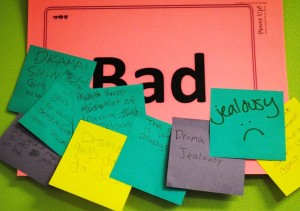 The day kicked off with an icebreaker to help the girls get comfortable with each other and build community. Next the girls developed a Group Agreement; establishing what the girls thought was important to remember when working together so that everyone gets along and feels safe.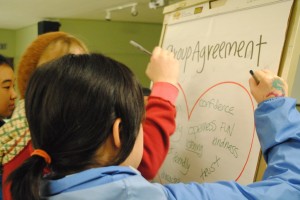 The girls learned about different types of bullying and the various roles involved in bullying situations through role playing activities. One of the girls' favorite activities of the day was the opportunity to act out The Sneetches a story by Dr. Seuss. Reflecting on the lessons that could be learned from the story girls talked about the impact of being unkind to people who we see as different from ourselves and how it feels to be the outsider.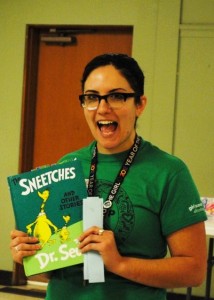 After lunch the emphasis was on learning how to intervene in a bullying situation using the Power Up principles: Doing nothing? Not an option! Everyone stays safe and keeps her dignity.  Don't bully back – the bully deserves dignity too! One of the main objectives of Power Up is to enhance girls' skills to positively intervene in bullying situations. That lesson definitely hit home with Faith who said, "the most important thing I learned in Power Up was to treat all people with respect and how to be a defender when another person is being bullied but to make sure you keep your dignity when that happens and that the bully keeps their dignity when that happens."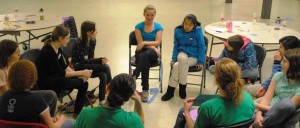 For program staff member Rachel Forte a big goal was to have fun while talking about what can be a difficult subject for middle school and junior high age girls.  It seems that she and co-facilitator Melissa Curtis achieved that goal.  We heard this feedback from one participant, "the best part of Power Up was there was so much fun stuff to do and they [the program staff] made learning fun!"
Would any of the girls change their Power Up experience?  Not according to one participant who was asked what could make Power Up better and replied, "Nothing! It was amazing! I got to learn some valuable skills with some amazing people!"
Don't worry, you didn't miss out!  The Power Up event offered in January was a pilot program and was such a huge success that we're offering two more Power Up events this year!  One on Sunday, May 5 from 10-4pm at the Girl Scout office in DuPont and one on Sunday, June 9 from 10-4pm at the Girl Scout office in Marysville.
We are actively recruiting adult volunteers to join the Power Up Facilitator team!  Are you ready to change the bullying culture?  Learn more about what it takes to be a Power Up Facilitator.  This just might be the right volunteer opportunity for you.  Power Up Facilitator Workshops will be held Saturday, April 20 at the DuPont Girl Scout Office and Saturday, May 18 at the Marysville Girl Scout Office.  For more information on this righteous new volunteer role please contact Melissa Curtis or call 206.633.5600 ext. 1886.