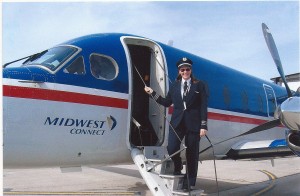 Can you take me to Mt. Rainier today?
That's not the kind of question most people get asked on a daily basis, but it is for Kim Torres, who often spends her days taking people to mountains!
Kim is a pilot for PAVCO Flight Center in Gig Harbor, WA, and spends about 30 percent of her time on charter flights, which means people need to go to a specific place, and they hire her to fly them there.
The other 70 percent of her time is spent teaching others how to fly. She typically works one-on-one with students to help them get their private pilot license.
How it All Started
Kim's parents were in the Navy, and her dad was an aircraft mechanic, and her mom was an avionics mechanic. Because of that, she grew up around planes. Her dad brought her an intro flight lesson for her 16th birthday, and she wanted to do it again. And when it came time to go to prom, her mom said she could have money for a dress, or money for flying.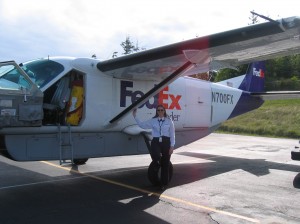 "Some girls went to prom. I went and flew," she recalls. "I took flying lessons my senior year of high school, and finished my private pilot license before my first year of college. I could rent and fly a plane before I could rent a car!"
That came in handy one year, when she needed to get home for Christmas. She wasn't old enough to rent a car, so she rented a plane, and flew herself home!
Kim's Girl Scout Background
Kim was a Brownie in 1983 in Japan! Her parents were in the Navy, so she lived on a military base in Nigishi, Japan. She spent three years there, and then moved to Albuquerque, New Mexico, Oak Harbor, Washington, and Mojave, California. When she arrived in California, there was no Girl Scout troop, so Kim started one herself. There were five girls in her high school troop.
"Girl Scouts is so important for military kids," Kim says. "It's our one constant in life. Everywhere we move, Girl Scouts is there. Being a Girl Scout has opened up opportunities I would not have otherwise had. I got to take field trips to places I wouldn't have been able to afford, and camperships allowed my sister and I to attend camp. That's why I attend Glamp. Someone helped me go to camp, so now it's my turn to give back.
Plus, you never hear, 'Girls can't do that' in Girl Scouts."
Today, Kim is a proud lifetime member of Girl Scouts, and she carries proof of that membership in her wallet! She has volunteered for the Peninsula Regional Girl Scout Office, and has talked about aviation to Girl Scout troops.
Kim's Tips for Becoming a Pilot
First: Try an intro flight to see if you like it! It's a $69 investment versus an $8,000 one.
If you decide to pursue things further, you can get your private pilot license first to see if you still like it. That costs $8,000. To get an instructor rating, it's another $8,000. And then for your multi-engine rating, it's $293 an hour to rent an airplane, which you have to have a minimum of 20 hours! Quite an investment.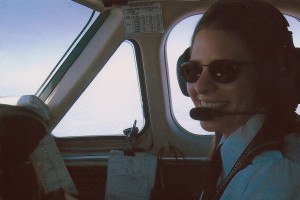 When choosing a flight instructor, interview! Don't just accept any flight instructor. You have to be able to work with that person, and you'll be working with them a lot. It takes 40 hours of studying and a minimum of 40 hours of flight time (the national average is 65 hours).
If you decide you want a career in this industry, go to school for a four-year degree. Student loans will allow you to pay for your flight training. Without a four-year degree, you'll never get into the industry.
You can learn more about becoming a pilot on the Seattle Ninety-Nines website, which is the Seattle chapter of the world's oldest and largest organization of women pilots.