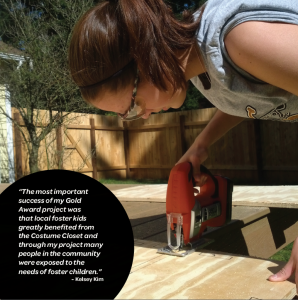 This summer, over 40 foster kids in western Washington will get the chance to play dress up, try on a cool career and make some great memories.
And it's all because of Girl Scout Kelsey Kim.
To earn her Gold Award, this Bremerton high school student dedicated over 126 hours to build a space where foster kids can engage in play therapy at summer camp. The results? An amazing dress-up closet stocked to the brim with pretty clothes and career-oriented costumes.
"Many foster children see themselves as having little or no opportunities to improve their future," Kelsey explains. "So my project was all about providing opportunities for foster children to 'try on' new futures."
Step 1: Identifying a Need in Her Community
Kelsey got the idea for her project when she learned about the Royal Family summer camp for Kitsap County foster kids. "I didn't really know much about foster kids and their needs," says Kelsey. "When I started out, I had no idea that there are 10,000 children in foster care in Washington State."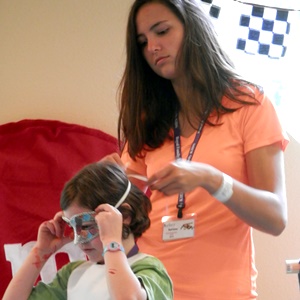 Kelsey was also surprised to learn how hard it is for foster kids to succeed.
According to statistics from the Arrow Child and Family Ministries that Kelsey discovered, 40-50 percent of foster care children will never complete high school and 66 percent will be homeless or go to jail within one year of leaving the foster care system.
While these numbers point to some of the huge obstacles foster kids face, Kelsey decided to tackle one small piece of the puzzle: play time.
"Foster kids in general don't have the best childhood. Playing dress-up and safely enjoying time with a trusted adult are normal childhood experiences many of these kids haven't ever had. Some of them haven't even had birthday parties. I wanted to help foster kids have something that was a natural part of my childhood."
"It was also my hope that by providing career-themed costumes, it would encourage foster children to start to dream of a future career. Just the simple activity of trying on a police outfit or an astronaut costume can help kids dream about their future. It's really awesome to see."
Step 2: Rallying Her Community
To help with her project, Kelsey enlisted the help of 40 volunteers who donated more than 100 hours of service. "I definitely learned how to involve the community to make a bigger impact! I could have made a few costumes, but I couldn't have made as big of an impact as I did without all the volunteers."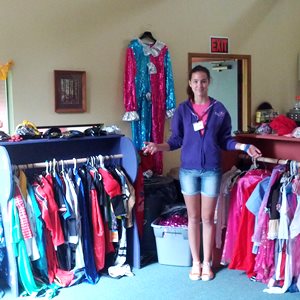 Her Girl Scout leadership skills got put to good use.
"One of the best and toughest parts about my project was working with so many volunteers," Kelsey laughs. "I had a LOT of people helping me, which meant that I was supervising and depending on those people."
But once she wrangled all the people and logistics, Kelsey was overwhelmed by the awesome results: "We had to pack my dad's truck, plus two other trucks, full of costumes and props! It was just crazy. And now the costumes are a permanent feature of the foster kid camp."
Step 3: Raising Awareness
Beyond creating the actual costume closet, it was important to Kelsey to "heighten community awareness of foster children and their needs. I hoped that as I recruited volunteers, they would be inspired to learn more and get involved with foster kids."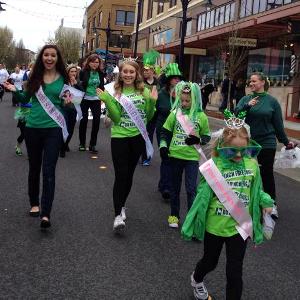 Kelsey is also Miss West Sound's Outstanding Teen and her platform is based on supporting foster kid needs.
For example, in her role as MWS's Outstanding Teen, Kelsey recently raised $575 for the Kitsap Foster Care Association by hosting a Taste of Home event. Businesses donated soup for tasting and she auctioned off pieces of art made by local Girl Scout troops.
"Now that I'm a title holder, I'm a bigger spokesperson for this cause and it's opened up even more doors," explains Kelsey. "But that really started in Girl Scouts."
"I joined Girl Scouts in the second grade … It was such a big part of my childhood," she remembers. "Girl Scouts really pushed me to grow my leadership skills. It opened up so many opportunities to be a leader."
How You Can Help Foster Kids 
According to Kelsey, the biggest way to help a foster kid is by fostering or mentoring a child. (Kelsey and her mom mentor an eight-year-old girl!) But if you can't make that big of a commitment, there are other ways to help too:
Participate in Respite Care: Sometimes foster families need a short break. Through a respite care program, you can host a foster kid for just a few days or a weekend.
Get Involved with Foster Care Organizations: You can get involved with local foster care organizations like Treehouse or the Kitsap Foster Care Association. You can volunteer your time, donate supplies and more.
Do a Girl Scout Take Action Project: There are many different projects you can do to help local foster kids, like making a Bedtime Bag, putting together a Birthday-in-a-Box kit, or creating Life Books.
Building a Brighter Future
Kelsey got to see the costume closet in action last summer and this summer she's headed back. "A lot of the kids are really quiet and it's amazing to see them open up and even smile. When they put on a silly hat, their smiles light up the room."
"There are about 400,000 foster kids in the US. Just being able to help 40 of them was awesome. Just as Girl Scouts seeks to build girls of courage, confidence and character, it's my hope that my Gold Award project will empower foster kids to courageously dream of and confidently pursue a brighter future."
Well done, Kelsey!
Kelsey Kim is a student at Olympic College and plans to study forensic pathology. This is a new series featuring some of our amazing Gold Award Girl Scouts. If you know a Girl Scout you'd like to nominate, please email web@girlscoutsww.org.