One tenacious Girl Scout came back swinging after vandals destroyed her Gold Award project.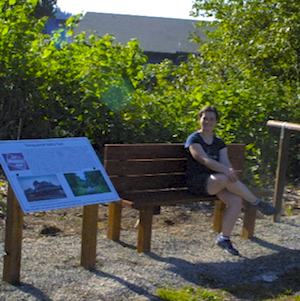 When Girl Scouts go for their Gold Award, they typically put in over 100 hours of work, raise hundreds of dollars, and wrangle dozens of volunteers and community partners.
In short: they do a lot of work.
So when vandals ripped apart Girl Scout Candace Loftus' Gold Award project—a Snoqualmie Valley Trail rest area with a bench, hitching rail, information sign and watering post—it was a big blow.
By the time the damage was discovered, her bench had been torn out of the ground, carved into and partially burned. The rest spot was empty and bare.
The first thing Candace felt was outraged. "I was angry and upset," she says. "I felt so disappointed." But the second thing Candace felt was determination: "I wasn't going to let the vandals win!"
This veteran Girl Scout set out to rebuild her entire project—making it stronger and more resilient than it was before.
How it All Started
The inspiration for this teen's project came from her love of animals. She'd noticed that the Snoqualmie River Valley trail wasn't being used by four-legged friends very often. "I looked into it a little bit and found out that there is no water access for horses or pets to get a drink on a long walk or ride," explains Candace. "The trail is almost 32 miles long!"
Candace's initial spark of interest transformed into a bigger idea: create a human- and animal-friendly rest stop where people and pets could enjoy the natural beauty of Snoqualmie Valley.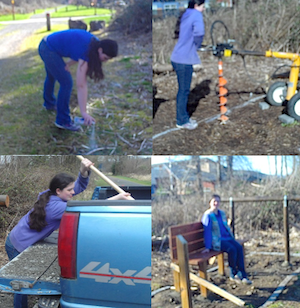 So Candace began researching, designing and building.
"I installed a bench, a hitching rail, a sign with information about the history of the trail, and a bowl that users can fill with water for their pets," says Candace. "I also installed a brick perimeter around the area and filled it in with a layer of gravel."
Candace didn't just invest her time, she invested her money: she used four years worth of Girl Scout Cookie Sale money to pay for the materials!
But right in the middle of construction, the vandals struck.
Vandalized!
Candace found out about the vandalism when a community member posted about the damage on Facebook. That's when she had to decide: would she let the project go or forge ahead?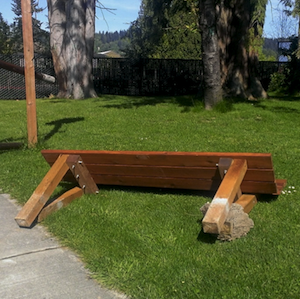 "So many people encouraged me to reinstall my project," Candace says.
"Over thirty five citizens and the entire Carnation City Council told me how upset they were, because they were very excited about the project."
Candace also drew on her Girl Scout training:
"I've been in Girl Scouts since I was six, and it really taught me not to let obstacles get in the way. I won't see a project go unfinished."
Rebuilding
So, with her Girl Scout grit and her whole community behind her, Candace rallied and rebuilt.
"I re-installed the project with some different construction methods," explains Candace. "For example, I used construction grade concrete to install everything that had been ripped out and I made the holes for the posts deeper, so there would be more concrete. I also hammered nails into the sides of the posts for the concrete to hold onto. Since the vandals carved off bits of the top rail on the bench, I flipped over the rail and re-stained the part that had be carved off."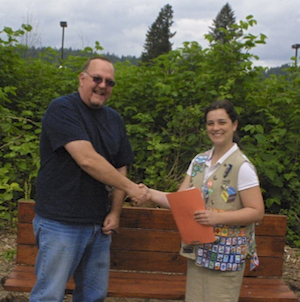 Once the rest stop was re-installed, it was time for Candace to share her work with the world. "I spoke at the April Carnation City Council meeting, and gave presentations at the Hoofs N' Paws 4H club, the Carnation City Council, and the Duvall City Council."
The King County Parks Department has even requested all of Candace's plans, research and list of materials to use as a blueprint for any future rest area projects.
For Candace, Girl Scouts and the Gold Award has been a way to grow.
"I wouldn't be where I am today without Girl Scouts because it's helped me set goals and reach them," says Candace. "Even though I was discouraged, I continued my project and met my commitment to the King County Parks Department. I've learned how to be tenacious."
A Rest Spot for Everyone
If you'd like to enjoy Candace's work, visit the Snoqualmie River Valley Trail—a 31.5-mile path that winds through parks, wildlife areas and farmland. To get to Candace's rest area, enter the trail at the Nick Loutsis Park in Carnation, and walk north for about a block.
Bring your favorite four-legged friend and enjoy!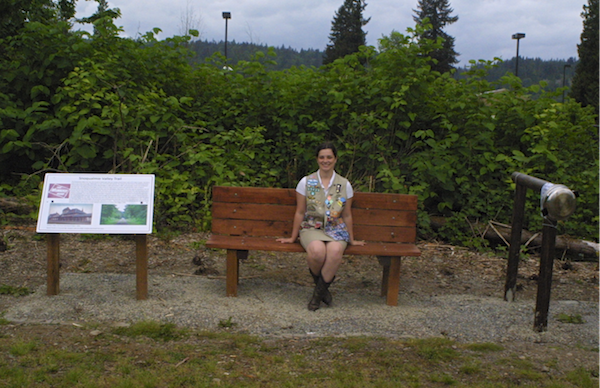 This is a new series featuring some of our amazing Gold Award Girl Scouts. If you know a Girl Scout you'd like to nominate, email web@girlscoutsww.org.