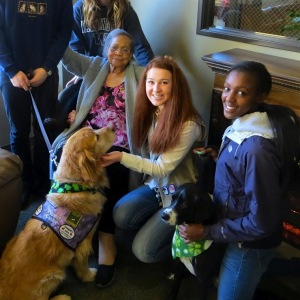 Last Thanksgiving, residents at the Cascade Park Vista assisted living facility stood waiting in the lobby, looking toward the front door.
Although it was the holiday, they weren't spending it with loved ones—some didn't have any family visitors coming at all.
But they didn't have to wait long before Girl Scout Emily Schneider—all red hair and smiles—walked through the door with her very special fuzzy friend: Charlie, the therapy dog. 
The dynamic duo was here for a holiday visit!
It was all part of Emily's Gold Award project, which was designed to help people in need break free of isolation through human—and canine—connection.
"The holidays can be a lonely time for many," explains Becky Donkersley, a Cascade Park Communities activities director. "But our residents enjoy the long visit from Emily and friends. It makes this time of year less lonely."
Or, as Monika Cubine, an activities coordinator, puts it: "When Emily and Charlie enter the building … cheers and claps can be heard all over the community."
How it All Started
Emily's grandfather was the inspiration behind the whole project: "He was my best friend," Emily states. "I had my first sleepover at his house—we were always so close!" When her grandfather took a fall and entered the Avalon Care Center in Federal Way, Emily and Charlie visited a lot.
Emily noticed that the other patients were really responding to Charlie: "They seemed to have a special bond with Charlie, so even after my grandfather passed we kept visiting." In fact, the pair visited so frequently that they racked up over 40 hours of community service during Emily's seventh grade year.
Charlie is born to be a therapy dog. He's small for a Golden Retriever, which means that he's the ideal height to rest his head on the lap of someone sitting in a wheelchair. But his personality makes him perfect: "He's very loving, calm and patient. He doesn't ever bark—unless there's a really good reason," says Emily. "He's just a people dog!"
"My favorite reaction to Charlie happened at a dementia facility," she adds. "We came in and one of the patients remembered Charlie. It's happened a lot now and it blows my mind. It shows how much of an impact Charlie makes."
Going for Girl Scout Gold
Emily knew she wanted to go for her Gold Award, because she felt it was a major capstone for her Girl Scout experience. "I thought it would be something that could be my thing—you know, the one thing that you've done that you're so proud of."
From her experience with her grandfather, Emily knew that many people in care facilities felt very isolated. So she decided to focus her project on breaking down those barriers by getting teens and therapy animals more involved.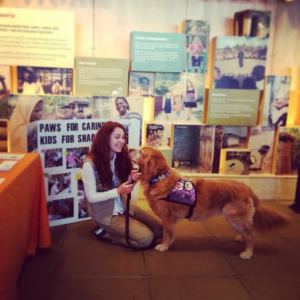 Emily chose to work with four different care facilities that serve a diverse range of people in the Tacoma/Federal Way area: Cascade Park Vista (assisted living), Cascade Park Gardens (specialized memory care), Cascade Park Active Day (adult day care for those with disorders like Alzheimer's and traumatic brain injuries), and Avalon Care Center (short-term rehabilitation).
"I worked with the activity directors at the facilities to brainstorm ideas of how young people could become more involved," explains Emily. And she came up with a ton of different ideas, including:
Bringing teens in to volunteer with sing-alongs, arts and crafts, BBQ's, holiday events and beyond.
Continuing her work with Charlie—plus bringing her dad and their family's other therapy dog, Snoopy!
Expanding her work to set up a full pet therapy program.
Making a Difference
After putting in more than 120 hours over the past year, Emily earned her Gold Award. And according to the staff at each facility, she's had a big impact. "Working with Emily these past years has been such a blessing for our residents!" says Becky.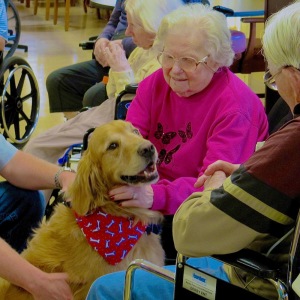 Some staff recount fond memories, like the day Emily and her family brought in a big cake with Charlie's picture on it and everyone sang Happy Birthday or the huge Halloween party where residents got to dress up and take snapshots with Charlie. And, of course, there are the times when Charlie does his famous tennis ball trick!
"It brings joy and laughter to our elderly residents and encourages them to talk to other residents and staff," explains Archie Aguirre, an occupational therapist at Avalon. "Patients that are in so much pain would have a chance to take their mind off their illness and start smiling as soon as they see them."
Some staff recount thoughtful stories too, like that of Sargent David. "He came to use with a traumatic brain injury and could only use his fingers to motion and tap on his table top, making Charlie's ball roll to the floor," notes Becky. "This was wonderful therapy as David got better and now is in a wheelchair and doing quite well. Emily and Charlie were great motivators."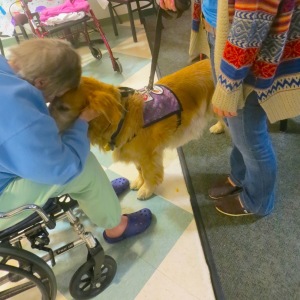 Even small gestures can make a difference, according to Charles Kotlan, recreation director at Avalon: "I cannot stress enough how important visits from young folks and pets are for the people here at Avalon. Most of them have raised children, raised pets and have very little access to either in their current situations. So you can imagine how good it makes them feel to pet a therapy dog that they get to know over time, or to interact with young teens that are here to visit out of the goodness of their hearts."
Emily is very humble about her own work, but is ready to praise Charlie at the drop of a hat: "People wait for Charlie to come. People have cried before … sometimes they barely get any visitors, so Charlie is core to their life. Some of them have pictures of Charlie in their room. The impact that Charlie has on their lives is so beautiful."
The Girl Scout Connection
Girl Scouts has played a major role in Emily's life. "Girl Scouts made me more of who I am," declares Emily. It taught me to be more open to everybody and more loving to everybody."
Anne Brennan, who's been the Girl Scout leader for Troop 41578 since Emily joined in second grade, agrees: "She used to be very shy. Now she's grown into a young woman who is self-motivated, capable of solving problems on her own," Anne said to The News Tribune. "She's serving from her heart. Emily enjoys bringing a smile to someone's face."
Girl Scouts also helped Emily realize her own power of conviction. "If you want to go do something, just go do it! It's really made me an independent young women—and the Gold Award helped with this ten times especially! I had to do it all on my own!"
Emily has expanded her Girl Scout career by serving as a member of the Highest Award Committee—the group of girls and adults who review and help out other Girl Scouts who Go Gold. "I love reading about the other awards and getting to see what other girls are doing, and helping them figure out what to do. Girl Scouts has been such a positive influence in my life and I like to share it with others."
Through her work on the Gold Award, Emily's also started seeing what the future could hold. "Girl Scouts led me to what I want to do: occupational therapy with the elderly or disabled kids. People have said that I have a knack, but it's because it's something I love and I want to be able to do something that I love."
Sustaining the Positive Impact
Reflecting on her Gold Award project, Emily knows that progress has been made: "The ultimate result of [my work] is that the care facilities now have an active Pet Therapy Program and a group of teens committed to carry on visits to the facilities."
Several care facilities have established on-going relationships with school districts and other teen organizations so that groups can come regularly. Inspired by Charlie, a few facilities have started training their own therapy dogs and one even got their own resident therapy dog!
"Many lives were enhanced and given purpose through this project," states Kim Beitelspacher, a Cascade Park Communities activities director. "Best of all, it will continue to be in the years ahead as well."
This holiday season, Emily and Charlie (and all the friends they have introduced) will be visiting and connecting with people in our community who need it the most—spreading a little bit of light wherever they go.
The Go Gold series features some of our amazing Gold Award Girl Scouts. If you know a Girl Scout you'd like to nominate, email web@girlscoutsww.org.