What's your story?
We know you've got one! Everyone has a story, but Girl Scouts, in particular, have especially cool ones.
Why is your story different? Because you've done things not every girl has.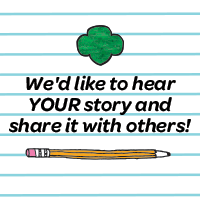 You might have gotten over your fear of heights by climbing a rock wall at camp (or even a mountain!). Perhaps you took a trip to Peru or watched turtles bask in the sand on the Galapagos Islands. Or maybe you stayed close to home, and started a recycling program, painted a mural or created an urban garden in a part of town no one noticed, and now you've changed things for a lot of people!
Did you do something cool with your cookie money? Discover new talents you never knew you had? Made lasting friendships? Had a troop leader who inspired you?
Tell us your Girl Scout story, and you could win $50 and a chance to get published in a local news outlet! Plus, the top three winners will be featured on the Girl Scouts of Western Washington blog and promoted in our social media!
What do I need to know?
Entries must be in your own words, and be between 300-600 words in length.
Here are some sample stories from Girl Scouts across the country who have been published in their local media!
First prize is $50, second and third prizes are Girl Scout Samoas keychains. All top three entries will be featured on our blog!
Submissions are due September 28 at 11:59 p.m. (Please note, letters may be edited for length and clarity.)
All entries must include a full name, troop number and city, phone number and email address submitted to Stefanie Ellis at stefaniece@girlscoutsww.org.