We are excited to announce our three top winners of our recent essay competition, Every Girl Scout Every Story, opened to all Girl Scouts in western Washington.
Our third place winner is Redmond resident Lauren Jernigan who shared her heartwarming story of building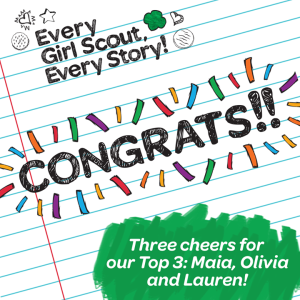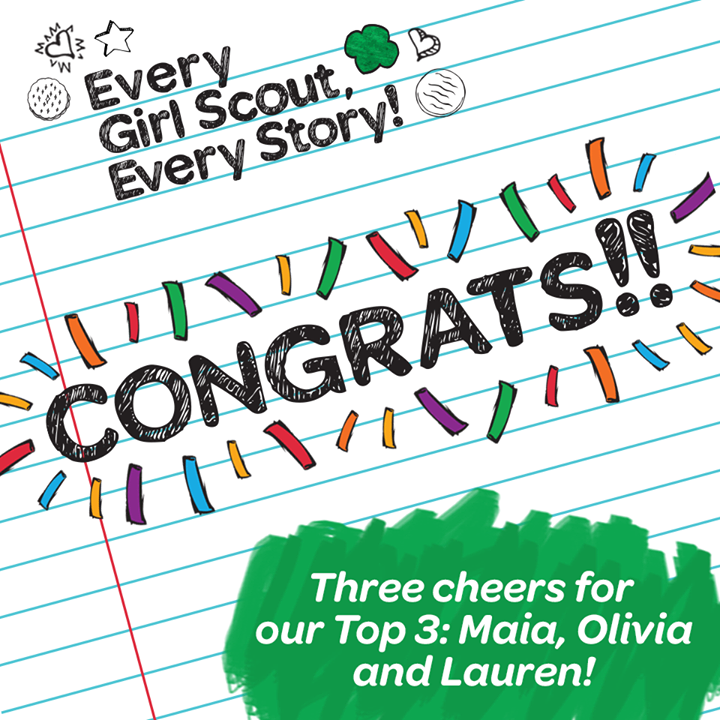 lifetime friendships with her troop over the past five years. She wrote about her mother (and troop leader) who recently had some health issues but when their family arrived home, they were welcomed by a package of get well cards from her fellow Girl Scout friends. Girl Scouts has given Lauren many important skills and opportunities, but most of all, she says, "Girl Scouts are best friends!"Read her essay here and check out this heartwarming article about Lauren's Girl Scouting experience featured in the Redmond Reporter.
In second place is 12-year-old Gold Bar resident, Olivia Condit. Read about her Girl Scouting adventures in her essay below.
I've been in Girl Scouts about 2 years, and I love it! I love how I'm able to meet new people and discover new things. I especially love selling Girl Scout Cookies! With our cookie money we went on a day trip to Seattle. We went on the Duck, to the aquarium, and to Chihuly Glass Museum. My favorite part was definitely the museum!

Girl Scouts is about more than just cookies and fun-times. It's about helping the community and meeting other Girl Scouts and making new friends. We went on a trip to Green Lake to meet a Girl Scout troop from Eureka, California. Each girl in my troop and been writing back and forth with a girl from that troop, and we finally got to meet them! I still talk to one of the girls online because we have a lot in common.

I switched troops once to the troop I'm in now, but in my other troop we got to walk in a small parade and we planted flowers and picked up garbage around a median that we owned. I love the feeling you get when you earn a new badge and you get to sew it on your own vest, it's a feeling of confidence.

We wouldn't be able to do it without our leaders though! They are the toughest of them all! Controlling a bunch of wild girls at least once a week!? That's hard, but they still do it and they do an awesome job too! I love the leaders of my troop. They are super patient and they are the perfect leaders to teach us how to be leaders! Where would we be without them?

Last wintertime we baked Christmas treats, this coming Halloween we are going to be doing a fun run around Lake Tye! So many adventures in the past and more to come in the future! That's my Girl Scout adventure. Keep Calm and Girl Scout On!!!

Olivia Condit, Troop 41835
Gold Bar,WA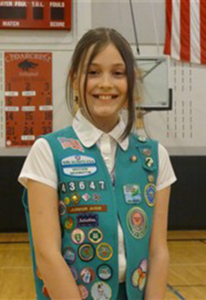 And the first place essay came from Maia McGrath, a 13-year-old Girl Scout from Duvall. Maia writes about how Girl Scouts has changed her life though exciting new opportunities, and how the program has helped her develop important new skills such as horse riding, pitching a tent, and being a leader. She writes about how local troops are helping the city of Duvall to be a better place with a range service projects from picking up trash in the park to helping the city raise money for crossing flags on Main Street. Maia's essay was featured in Macaroni Kid-Cherry Valley and The Valley View.
Please join us by congratulating these young ladies. We believe that every girl has a story and these are just three of many inspiring Girl Scouts in western Washington finding their greatness, sharing their ideas and working hard to make the world a better place!