Last July, Girl Scout alumna Sue Hislop woke up to this view: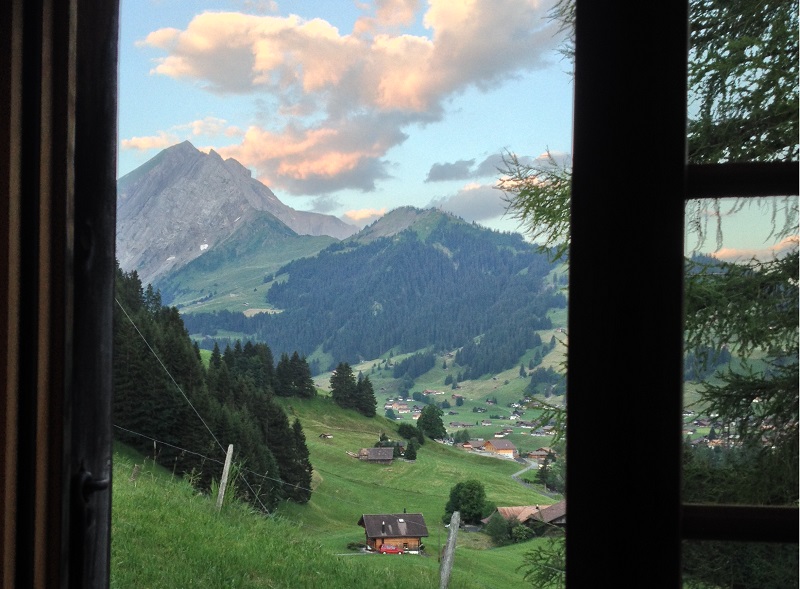 She had finally arrived at Our Chalet—a Girl Scout World Center in Switzerland—and she couldn't believe her eyes.
"When you get to that valley, it's like something out of a fairy tale," Sue remembers. "There are really steep valleys and mountains in the background, cows all over the place, very fresh, fresh air, and you're about 4,000 feet up in the air … it's just beautiful."
This was the culmination of a long journey that began when Sue was in elementary school …
How It All Started
Sue joined Girl Scouts in the second grade, and stayed with it through her high school years. She made close friends through the program, and eventually even ended up traveling to Europe with another Girl Scout alum!
During their trip, Sue got her first taste for the Girl Scout World Centers—she stayed at the Girl Scout Center in London, and visited Our Chalet in Switzerland. The trip to the chalet was short—they couldn't spend the night because it was too full—but meeting girls from around the world made a big impact on Sue: "I always wanted to go back."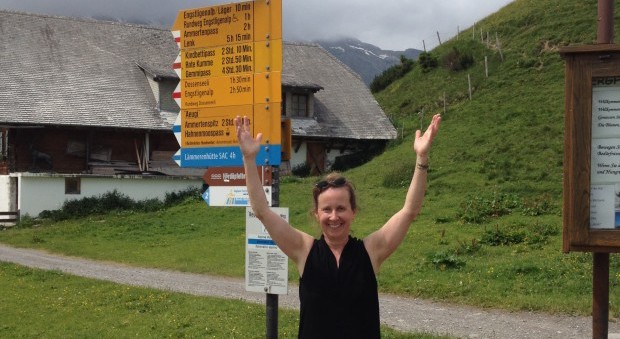 As Sue grew older and had a family of her own, she stayed active in Girl Scouts. When her daughter was old enough, they both took part in a troop, with Sue as the assistant leader. But Switzerland never left her mind: "I got a leader's magazine in the mail, and I saw a blurb that said 'Volunteer at the World Girl Scout Centers.' I tacked it up on my wall." That little scrap of paper stayed there for years, fading a bit with age, but never being tossed away.
Once her kids were grown, Sue was ready to learn more. She got online, checked out the Our Chalet website, and sent in a volunteer application to work the summer of 2015. She was off!
Our Chalet
Our Chalet is one of five international Girl Scout and Girl Guide World Centers. It was founded in 1932 by Girl Scout alumna and philanthropist Helen Storrow. Nestled in Switzerland's Bernese Alps, Our Chalet offers year-round activities and conferences for Girl Guides, Girl Scouts, and other leaders from across the globe.

Having tea at Our Chalet: Then (with founder Helen Storrow) and Now (with Sue and friends)!
Our Chalet is run by a small staff and a very large group of seasonal volunteers. For example, Sue had applied to work for a month as a guest services volunteer. In this role, she helped keep the Chalet running smoothly by doing things like washing dishes, doing laundry, and folding towels. "It was a great workout!" declares Sue.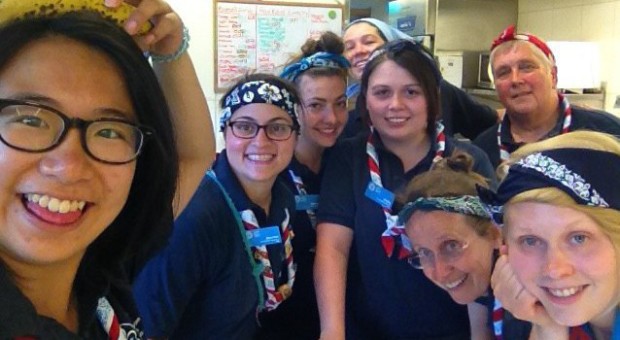 Sue with other Our Chalet volunteers, or "vollies"!
For the volunteers and guests at Our Chalet, there's a lot of fun to be had too.
"Every day there is something planned, like a big, strenuous, hike—you're either going up or going down—ziplining, rock climbing, rafting … there's also a big pendulum swing!" remembers Sue. "It's really neat for girls to get away and do thing on their own. There's no TV, there's minimal internet … [many girls] realized they could do things that they never even thought they would try. That was amazing."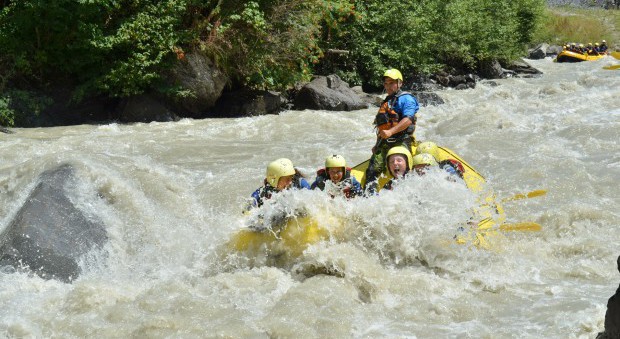 Making a Global Connection

The most exciting part for Sue was that she was surrounded by people from all over the world—both volunteers and guests. "There were people from Denmark, Canada, Ireland, England, and as far away as Hong King, South Korea, and Trinidad and Tobago," says Sue. "It was really eye opening, especially for the younger girls who weren't out of high school yet."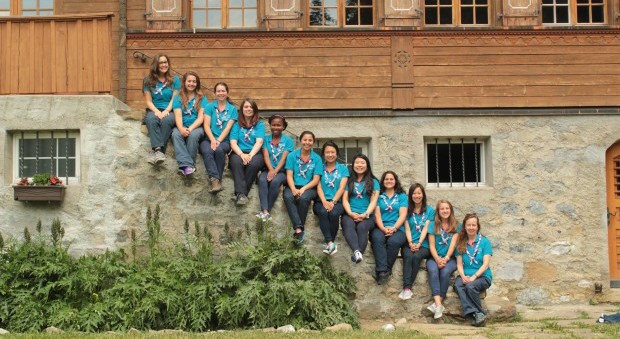 Sue, with the other summer "vollies." They represented seven different countries!
While Sue says staying as a guest at Our Chalet would be amazing, she thinks older girls would particularly benefit from volunteering. "I would especially recommend it as something to add to their resume for high school or college," says Sue. "They could probably run Our Chalet easier with just full-time people, but then the girls wouldn't be learning all that much. And that's something Girl Scouts does really well: they provide so much learning. It's a wonderful experience."
Now that Sue is back in the US, she couldn't be happier about the experience—she's even thinking of going back after she retires! But until then, she's content with the amazing Girl Scout connections she's made.
Or, as she simply puts it, "Now, I have friends all over the world."
Have you visited or volunteered at Our Chalet or another Girl Scout World Center? Let us know in the comments!