Girl Scout Alina and her mom, Sheryl, recently traveled to India – made possible because of Girl Scout Cookies and a Girl Scout travel scholarship! Alina and Sheryl share their adventures below, and show us India through the eyes of a Girl Scout and a Girl Scout troop leader!
Alina: "My name is Alina Guyon. I am 14 years old and a freshman in high school, and have been an active Girl Scout for seven years.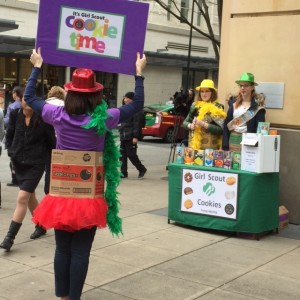 Girl Scouts has given me many lifelong friends and amazing opportunities. Recently, I was on Q13 with my troop mate, Grace, where we hung out with Kaci Aitchison (who was a Girl Scout!) and taught her some of our sales skills. That's Kaci in the red tutu!
In the United States we are Girl Scouts, but in the rest of the world there are Girl Guides. Together we are known as the World Association of Girl Scouts and Girl Guides, or WAGGGS. Did you know that there are five World Centers where Girl Scouts and Guides can travel and stay? Once I learned that there was a World Center in Pune, India, called Sangam, I was ready to go!
I was so motivated to travel that in 2015 I sold over 3000 boxes of cookies. I'm thankful for the Val Manuel Travelship that helped provide money for part of my airfare. Together, this paid for 100% of my trip.
Traveling to Sangam was a dream come true. From my earliest memory, India has held a fascination for me. It is a complexly beautiful and a breath-taking place. I fell in love the minute we walked off the plane. I gained a new perspective from this experience that I couldn't have found anywhere else.
Sangam is such a worldly place with girls from all corners of the earth. During my stay, there were nearly 40 girls participating in the Arts 4 Change program, from 14 different countries. I loved that we were all working toward the same goals and had the same ideals and values. I made so many new friends!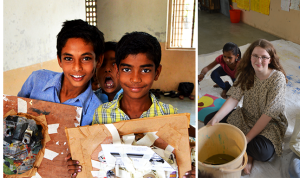 Arts 4 Change is a program that gives girls the opportunity to go out into the community of Pune, India and work with people in need. I chose to be part of the visual arts group. We planned two art projects for children going to Door Steps School. This school tutors public school students that can't afford other tutoring. Public school in India is very different than public school in America. The Public Schools there barely teach their students to read and write; it only lasts for half a day. Families that can afford it send their children to a tutor after school. The children we worked with lived in a slum area, and they were so sweet! Overall, working with the kids showed me how fortunate I am."
Cookies and the Taj Mahal
Sheryl: "We were in Agra and had our big day visiting the Taj Mahal. The first time you see it, it truly takes your breath away.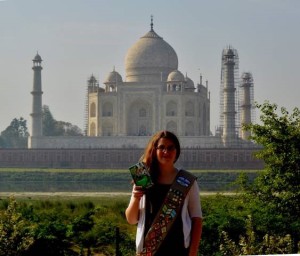 Once we were finished with the awe-inspiring view (including our cookies!), we promptly ran face-to-face with a camel (only in India!). There was a boy handler leading the camel back to where they hook them to a cart to pull tourists up to the entrance. I asked the boy if Alina could have a ride. His English was limited, but he agreed and offered a price of 200 rupees (about $3).
It was all pretty awkward trying to figure out how to get on the saddle.
Even more awkward as the camel stands up."

Monkeys and Cookies
Sheryl: "Alina and I were fascinated by the wild monkeys on Elephanta Island in India. The island is famous for the ancient Hindu temples which are carved into caves.
Monkeys are indigenous on the island and roam freely.

Alina posed with Girl Scout Cookies all over India, since cookies are what helped make her trip possible! Note the monkey in the background!!!
Much to our surprise, the monkey grabbed the Trefoils from Alina's hands! Here she appears to be checking the nutritional value. She then ran up into the tree and ate the whole box!"
Jaipur
Sheryl: "The region of Rajasthan was dry and arid, and the influence of the Mughal Empire was everywhere. Jaipur is famous for the Pink City, which was the old walled part of town.
The Pink City was lined with markets, selling everything from spices, fabrics, stationary and paper goods, to food and everything imaginable. While in other cities we were aware that the prices quoted to tourists were expensive, in Jaipur everything was much easier. We watched as local people purchased things and paid the same amount as we did. We bought chai tea, cinnamon bark, and cardamom.

The city markets were busy but friendly.
We purchased hand-made papers at the stationary store.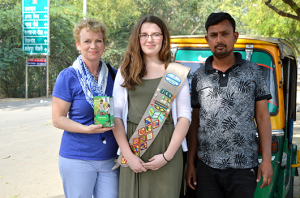 Every city had auto-rickshaws, most of the drivers spoke English and they were happy to just wait for you when you shopped. A driver for a half-day was about 500 rupees, or about $7.50.
In each city, we felt like our drivers were friends by the time we left. We even shared some Girl Scout Cookies!
We were so lucky to stay in an old palace in Jaipur. The Mughal estates are called Haveli, and many of the old properties have been converted into hotels. Compared to prices of American hotels, it was quite reasonable.
The best part of the property was the large walled garden. Outside was a busy street and the hustle of a small city. The gardens were shaded by large trees and full of every kind of bird! Wild parrots hang out in pairs in the trees, there were flocks of doves and at dusk small bats emerged to feed on insects. By far, our favorite birds were the peacocks.

Peacocks make the strangest sound – in the morning they made such a racket! They sounded like a bunch of feral cats. The best part was late in the afternoon when it started to cool off. The peacocks all congregated around the pool. If you were swimming quietly, they would come alongside and drink.
The males would display for the females.
We hoped to help them feed the peacocks, and the hotel noted that they didn't feed the peacocks, they just kind of foraged around and ate bugs, flowers, and left over peanuts that guests dropped by the pool. Alina did some quick research online and found out that in fact peacocks eat just about anything: poisonous snakes, plants, bits of left-over food or whatever they can find.
So, we had brought Girl Scout cookies along on the trip to share, and the Do-si-dos seemed like a safe choice.
They loved them!

In Jaipur, we spent the day at an elephant farm – it was a highlight of the entire trip!
We also got to wash the elephants!"
Alina: "Altogether, during our trip to India we visited Pune, Delhi, Agra, and Jaipur, and then stopped in Dubai on our way home to pose for a cookie photo at the top of the Burj Khalifa, the tallest skyscraper in the world!
This was a trip I'll never forget, and I'll never forget that cookies – and Girl Scouts – made my dreams a reality!"