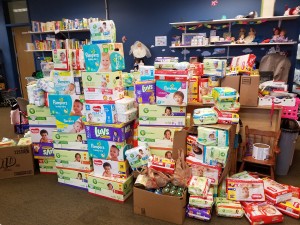 In their first year of life, babies go through about 2,750 diapers, about 8,000 wipes, and a lot of formula and baby food. According to Parenting magazine, the average family will spend close to $50 per week on those items alone. The costs rise if you have a child with allergies or special needs – or if you are homeless and need to purchase in small quantities in order to be able to carry everything with you. For these families, the cost of these basic needs is much higher.
Girl Scout Troop 41002 looked at these statistics and decided they could make a difference for families experiencing homelessness. This past October, they set up donation sites in front of two doors at the Fred Meyer on 164th in Lynnwood. They asked shoppers to help by donating diapers, wipes, formula and baby food.
"We have been working on our SOW What Journey badge," Girl Scout Emma S. explained. "This badge looks at the impact of food and nutrition on our society. We were really concerned by the impact of poverty and homelessness on babies' health and growth."
The ten Girl Scouts in the troop, who are 15 and 16 years old, took turns staffing the two sites over the course of eight hours. The project was a tremendous success! The girls were able to gather over 6,000 diapers, 8,000 wipes, and 60 containers of formula and food for babies, along with some diaper ointment, bottles, and other supplies.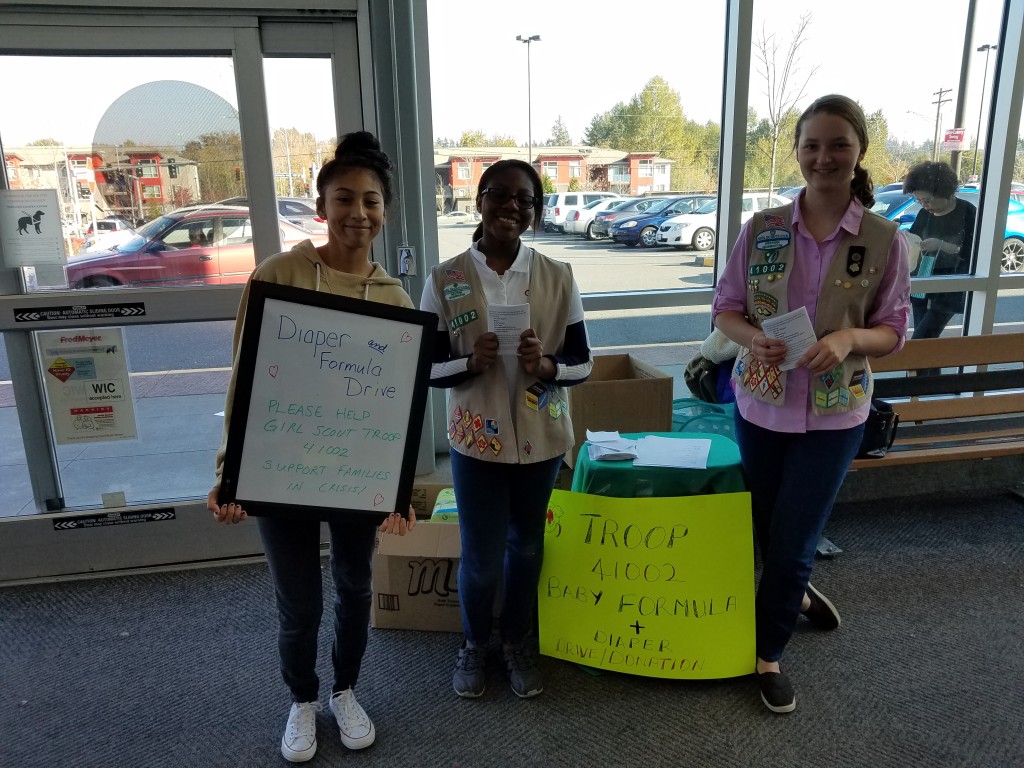 Girl Scout Troop 41002 is based in Edmonds and includes 10th and 11th-grade girls from Shoreline, Edmonds, and Lynnwood.
From left to right: Izabela S-N, Nina O, and Emma S.
All these supplies were delivered to Wellspring Family Services, an organization that serves families experiencing homelessness from south of Federal Way to north of Lynnwood. Their free store, the Baby Boutique, supplies families across the region with new and gently used clothing, strollers and other baby equipment, toys, and books for children of all ages, and diapers, wipes, and food for babies.
"Diapers are the items that go most quickly," said Thomas Powell, manager of the Wellspring Family Service Baby Boutique. "We serve about 2,000 families every year, and we go through hundreds of thousands of diapers. We are so grateful that Girl Scout Troop 41002 did this drive, and that the residents of Lynnwood made such generous donations. It will make an enormous difference for so many families who are struggling to make ends meet."
This article was authored by the Girl Scouts in Troop 41002 with the help of their troop leader, Heather Fitzpatrick.