Through Girl Scouts, both girls and adults embrace opportunities to mentor and be mentored.
January is National Mentoring Month, and at Girl Scouts, we know first-hand how mentoring can play an important role in a young person's life.
While an amazing troop leader or inspiring camp counselor can make a positive impact on girls, Girl Scouts aren't just mentees—they also become mentors as they grow and guide the younger girls following in their path. The result is an incredible cycle of mentoring that continues for generations of Girl Scouts to come!
Curious about how mentors play a role in Girl Scouting? Read on to learn about the impact of mentoring in Girl Scouts, how you can get involved, and how your girl can grow as both a mentee and a mentor.
Adult Volunteers Guide and Inspire
Volunteers are one of our most precious resources. They introduce girls to new experiences and act as their cheerleaders, guides and mentors, helping them develop crucial skills and creating a safe, supportive environment that allows them to unleash their inner G.I.R.L.: Go-getter, Innovator, Risk-taker, Leader.
According to the National Mentoring Partnership, 1 in 3 young people will grow up without a mentor. Girl Scouts helps bridge that gap by bringing more mentoring opportunities to more girls, and adult volunteers are critical in leading the way!
If you want to get involved as a volunteer but don't know where to start, learn more about ways to volunteer on our volunteer info page. You might be surprised to discover that being a troop leader is just one way you can positively impact the lives of girls. There are lots of other fun, flexible ways to get involved, from volunteering at summer camp to serving as a LEGO League coach.
Girls are Both Mentees and Mentors
When girls are mentored by caring and supportive adults, they learn by example and become leaders in their own right—in their troops, their schools, their communities and in the world!
Take camp, for example. Many girls start attending summer day camp or overnight camp as Girl Scout Daisies or Brownies, and they look not just to adult camp staff and volunteers for guidance, but also conquer challenges and step outside their comfort zone with support from older Girl Scouts and Counselors-in-Training. These older girls are inspiring role models, and at the end of camp, many young Girl Scouts aspire to one day return as counselors and lead the way for the next generation of Girl Scouts, furthering the cycle of girls mentoring girls.
But don't just take our word on the impact of mentoring on cultivating these leadership skills: Research from the Girl Scout Research Institute shows that Girl Scout alumnae are more likely than non-alumnae to consider themselves leaders. Girl Scout alumnae also report having more opportunities to be leaders than non-alumnae in various spheres of life, including educational settings, volunteer organizations, clubs and community organizations.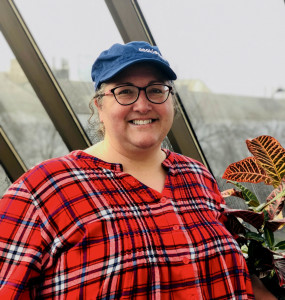 Mentors Gain as Much as They Give
As much as our volunteers love to support girls, they'll also tell you that mentoring is just as rewarding for them as it is for the Girl Scouts they serve.
"Volunteering with Girl Scouts has enriched my life and given my daughter, an only child, a whole group of "sisters." Prior to becoming a troop leader, I was volunteering at events and it was through this I found myself and uncovered a community where I felt welcomed and embraced with no pressure to be something I wasn't. The smiles on the girls' faces as they master a new skill, whether it be lighting and building their first campfire or the pride in donating handmade blankets to those in need, means so much to me. A picture is worth a thousand words, and here is my favorite part of volunteering…." – Staffer and volunteer, Jennifer Reck-Allen.
Want to learn more? For girls, learn about unleashing your inner G.I.R.L. by joining today. For adults, check out our volunteer page to learn all the ways you can be the mentor girls need.