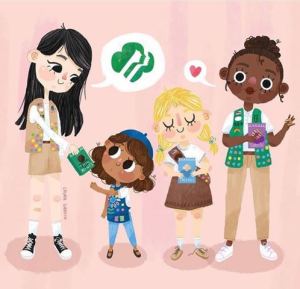 If there's one thing that's synonymous with Girl Scouts, it's cookies. Those delicious treats that come around just once each year are as iconic as they are delicious!
But there's much more to Girl Scout Cookies than you'll find inside a box of Thin Mints. The Girl Scout Cookie Program is the largest girl-led business in the world—Girl Scouts sell 200 million boxes of cookies worth nearly $800 million every year, and more than half of all female entrepreneurs are Girl Scout alums!
But does selling cookies really help girls build business skills? And how do girls use the proceeds from their cookie sales?
We're glad you asked! Today, we're going to look at how selling cookies equips girls with the real-life skills to become business leaders and financially savvy citizens. We'll also take a look at how girls use their cookie proceeds to support their dreams and their communities.
#1 Selling cookies teaches girls how to reach business goals.
When cookie season arrives, they're everywhere: Girls selling cookies at booths in the supermarket. Girls walking door-to-door with order forms in hand. Girls emailing sales pitch videos to friends and family around the country.
It's a lot of work, and it's all in pursuit of each girl's business goals. For one girl, that goal might be to sell enough cookies to complete a big service project. Another girl's goal might be to offset the cost of attending a STEM summer camp. Girls make important business decisions about how to run and promote their cookie sales and how to use their proceeds once the sale is over.
That early business experience has inspired countless girls to become leaders and business owners as adults. Take Molly Moon for example, The Seattle ice cream proprietress credits her early foundation in business to her Girl Scout Cookie selling experience. Today, she continues to support local Girl Scouts by purchasing Girl Scout Cookies in bulk to make Scout Mint, one of her top-selling ice cream flavors!
Lots of other notable Girl Scout alumnae, including Jennifer Shea of Trophy Cupcakes, have also put their cookie selling skills to good use as adults running their own businesses!
#2 Girls learn about financial literacy and business ethics.
Selling cookies teaches girls seriously important life and money skills, like how to make change for customers, how to manage cash flow, and how to create (and stick to!) a budget. Running a cookie business also means acting honestly and responsibly throughout each step of the sale, and this experience provides girls with an early lesson in business ethics.
Some lessons learned during cookie season are even more profound: By selling cookies, girls truly begin to grasp the value of a dollar as they work hard for each sale.
All of these skills are critical as girls get older and begin their careers. Negotiating a fair salary, creating a business plan and managing a personal budget are no sweat for seasoned Girl Scout Cookie bosses!
#3 Girls use cookie sale proceeds to support their dreams and their communities.
Whenever you buy a box of Girl Scout cookies, you can rest easy knowing that the proceeds will stay right in your community. Girls use their cookie earnings to support all kinds of adventures and worthy causes. Some save up their proceeds to offset the cost of eye-opening global travel experiences with their troop; others put their earnings toward impactful service projects right in their own back yard.
Girls also become philanthropists through the Girl Scout Cookie Program, as many opt to donate cookie proceeds to organizations they care about. Last year, Troop 43244 sold more than 11,000 boxes of cookies and used the earnings to purchase pet oxygen masks for the Everett Fire Department. Meanwhile, Troop 45356 of Redmond donated a portion of their cookie proceeds to the Seattle Aquarium.
Buying Girl Scout Cookies is a win-win: Girls gain valuable life and business skills while you gain a delicious box (or 10!) of cookies.
The Girl Scout Cookie Program runs from March 1-17, 2019, in western Washington. To find a cookie boss near you, visit girlscoutcookies.org.