Still craving Girl Scout Cookies? Online orders closed for the season on March 21, but don't worry – it's not too late! Girl Scout Cookies are available at participating grocery stores across western Washington until late May 2021, thanks to our new partnerships with QFC and select Thriftway & Red Apple stores! All proceeds go back to local Girl Scouts, so be sure to pick up your favorites on your next grocery run.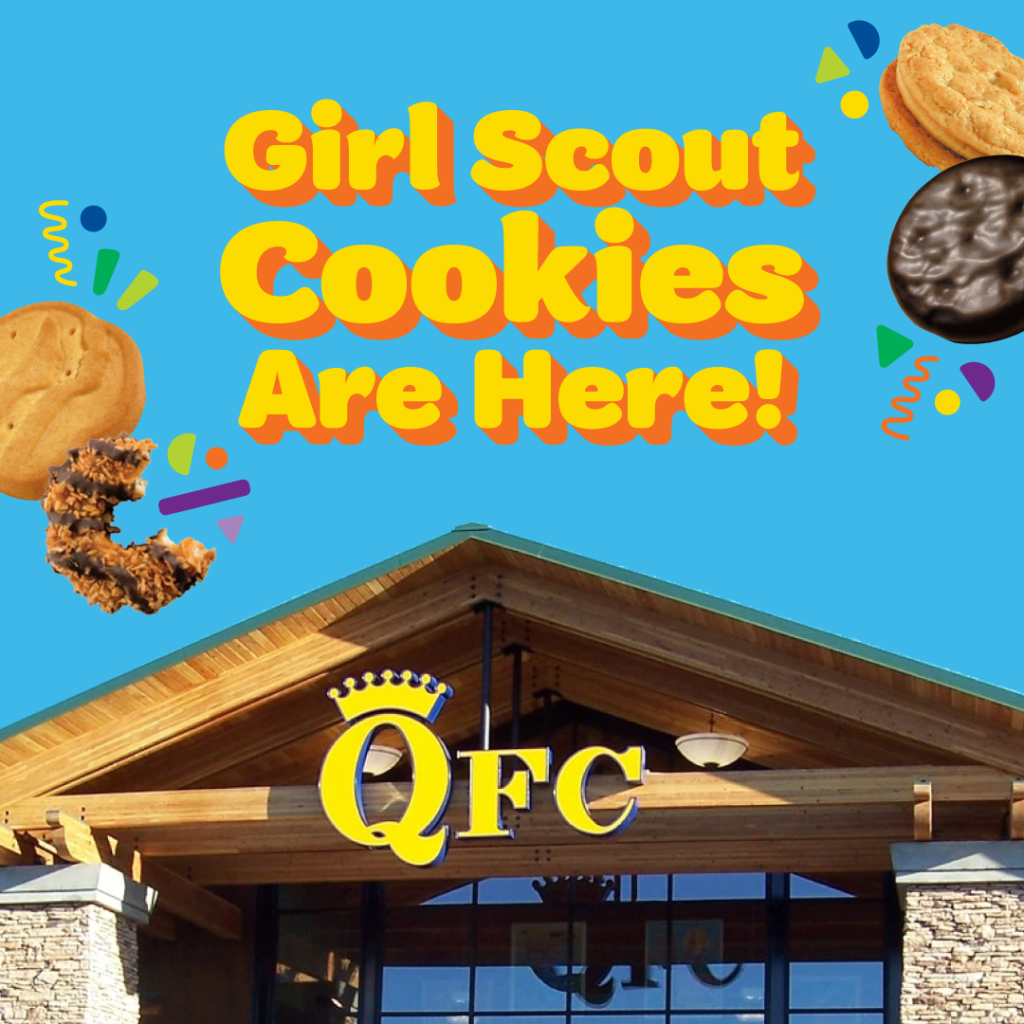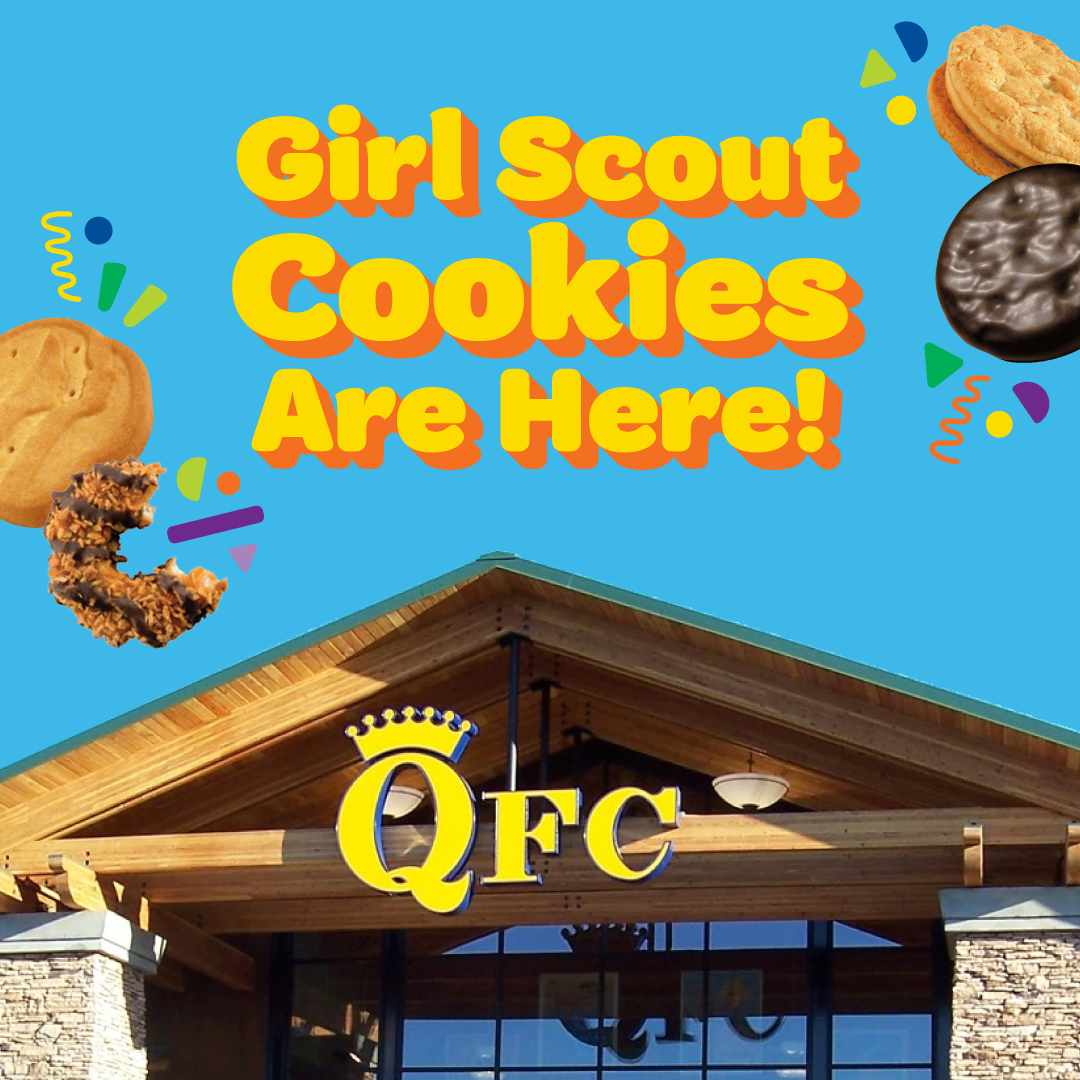 In-person sales weren't an option during the pandemic, so local Girl Scouts showcased their entrepreneurial creativity online, learning how to adapt and be flexible during these times. With self-created digital storefronts, videos, and even live cookie FAQs, local Girl Scouts rose to the challenge, setting new records for online cookie sales and building hands-on experience through digital sales and marketing.
Usually, Girl Scout Cookies are no longer available when pre-orders and booth sales end. But local participating grocery stores are stepping up to sell Girl Scout Cookies to help power life-changing programs and experiences for Girl Scouts and their troops all year long. Instead of buying from Girl Scouts in person at the stores, you'll find posters hand made by local Girl Scouts pointing you to displays of Girl Scout cookies near the registers.
We're so grateful to our partners for this important support of youth leadership and entrepreneurship. First, we'd like to thank QFC, which was founded in Seattle over 60 years ago and is now headquartered in Bellevue, WA. We're thrilled to collaborate with this long-time local grocer this cookie season. Girl Scout Cookies are available at 56 QFC locations in western Washington from March 22 to May 31.
Use the store locator to find a participating QFC near you!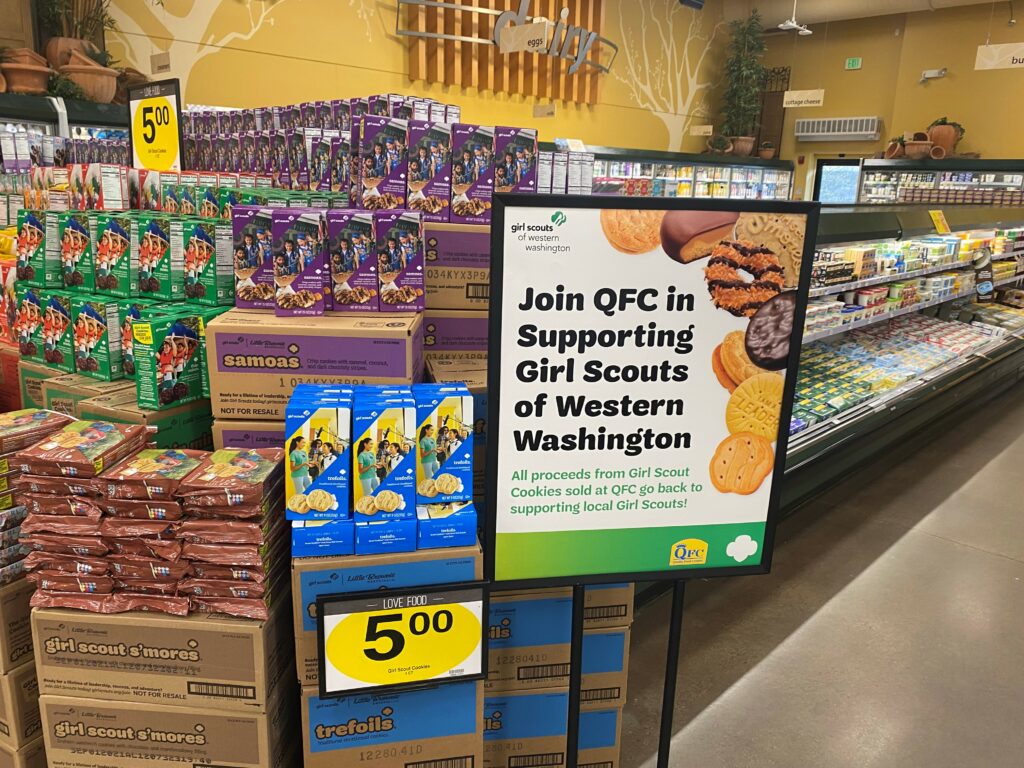 A big thanks also goes to the 11 independently owned Thriftway and Red Apple grocery stores in western Washington that are now selling Girl Scout Cookies from March 22 to May 25.
Participating Thriftway and Red Apple Stores:
Vashon Thriftway: 9740 SW Bank Rd., Vashon, WA
Stadium Market: 613 N 1st St. Tacoma, WA
Ralph's Thriftway: 1908 4th Ave. E., Olympia, WA
Bayview Thriftway: 516 4th Ave. W., Olympia, WA
Pick Rite Thriftway: 211 Pioneer Ave. E., Montesano, WA
Gordon's Select Market: 220 W Simpson Ave., McCleary, WA
Ralph's Red Apple: 6724 Kitsap Way, Bremerton, WA
Poulsbo Red Apple: 20441 Viking Ave. NW, Poulsbo, WA
Ken's Korner Red Apple: 11042 SR 525, Clinton, WA
Prairie Center Market: 408 S. Main St., Coupeville, WA
Mt. Vernon Red Apple: 820 Cleveland Ave., Mt Vernon, WA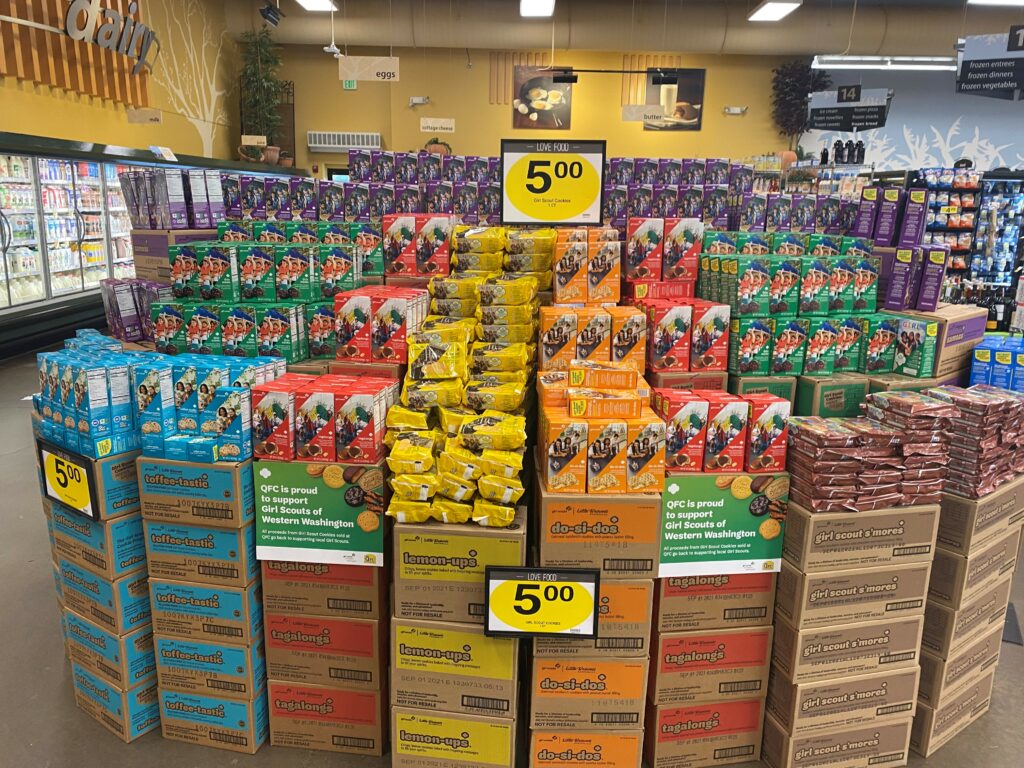 Community is key in Girl Scouting, to both our programming and the support that makes it possible. QFC and the participating Thriftway and Red Apple stores are showing that support by helping Girl Scouts reach more community members like you. With 100% of cookie proceeds going back to local Girl Scouts, every box you buy will come full circle. Girl Scouts give back to their communities by volunteering, donating, advocating, and taking action – and these habits last a lifetime, long after you've eaten your last Girl Scout Cookie for the year.