Girl Scout Alina and her mom, Sheryl, recently traveled to India – made possible because of Girl Scout Cookies and a Girl Scout travel scholarship! Alina and Sheryl share their adventures below, and show us India through the eyes of a Girl Scout and a Girl Scout troop leader!
Alina: "My name is Alina Guyon. I am 14 years old and a freshman in high school, and have been an active Girl Scout for seven years.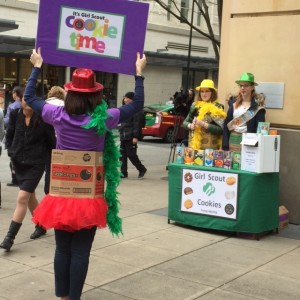 Girl Scouts has given me many lifelong friends and amazing opportunities. Recently, I was on Q13 with my troop mate, Grace, where we hung out with Kaci Aitchison (who was a Girl Scout!) and taught her some of our sales skills. That's Kaci in the red tutu!
In the United States we are Girl Scouts, but in the rest of the world there are Girl Guides. Together we are known as the World Association of Girl Scouts and Girl Guides, or WAGGGS. Did you know that there are five World Centers where Girl Scouts and Guides can travel and stay? Once I learned that there was a World Center in Pune, India, called Sangam, I was ready to go!