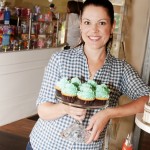 How many times have you had a dream about doing something cool, gotten super excited about making it happen, then quickly talked yourself out of it?
Maybe you didn't think you had enough experience or money, maybe you lost your confidence or maybe you thought someone else could do it better.
Perhaps you didn't follow that dream, and were left wondering what could have happened.
Jennifer Shea, the founder, baker and party-maker of Trophy Cupcakes, was almost one of those people. Read more