One tenacious Girl Scout came back swinging after vandals destroyed her Gold Award project.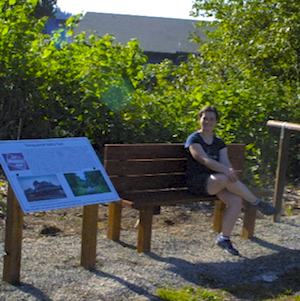 When Girl Scouts go for their Gold Award, they typically put in over 100 hours of work, raise hundreds of dollars, and wrangle dozens of volunteers and community partners.
In short: they do a lot of work.
So when vandals ripped apart Girl Scout Candace Loftus' Gold Award project—a Snoqualmie Valley Trail rest area with a bench, hitching rail, information sign and watering post—it was a big blow.
By the time the damage was discovered, her bench had been torn out of the ground, carved into and partially burned. The rest spot was empty and bare.
The first thing Candace felt was outraged. "I was angry and upset," she says. "I felt so disappointed." But the second thing Candace felt was determination: "I wasn't going to let the vandals win!"