This year's Gold Award Ceremony at the Governor's Mansion was an inspirational gathering of girls from diverse communities around the state (and one Idahoan!).
On June 4, our CEO, Megan Ferland, and the CEOs from Girl Scouts of Oregon and Southwest Washington and Girl Scouts of Eastern Washington and Northern Idaho stood proudly alongside Girl Scouts from their councils at the ceremony. "The girls had such poise and command of the room as they described their projects after being recognized by Secretary of State, Kim Wyman, and their council's CEO," said our council's Annual Giving Manager, Amy Goodloe. At the event, the 23 award recipients also had the opportunity to meet First Lady Trudi Inslee, the wife of the Governor of Washington, Jay Inslee.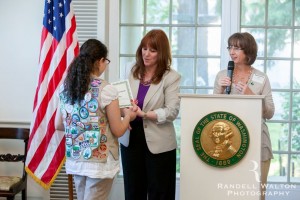 This was the fifth year Girl Scouts were awarded certificates for their accomplishments at a celebration at the Governor's Mansion. During their speeches about their projects, the girls displayed their strong leadership skills and their commitment to their communities. "You could hear each girl's passion for her project and could feel the impact they had on their communities," explained Amy. "Secretary of State Wyman remarked on how these girls are so much more prepared for conquering the world than she was at their age, so it will be no surprise when these girls become leaders in our state in a few short years. I left the event inspired by these girls to change the world and confident in their ability to steward our country into a new age."
Achieving the Gold Award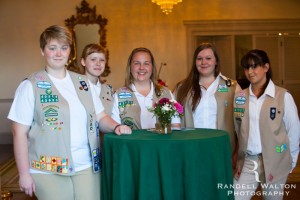 The Girl Scout Gold Award is the highest achievement in Girl Scouting. In order to earn this prestigious award, girls must first choose an issue that is important to them in their community that they can take action upon to fix/enhance or find ways to provide a service. Girls must perform the following steps:
Identify an issue
Investigate it thoroughly
Get help and build your team
Create a plan
Present your plan and gather feedback
Take action
Educate and inspire
For many, the leadership skills, and sense of community and commitment that come from "going for the Gold" sets the foundation for a lifetime of active citizenship.
Friends & Family Network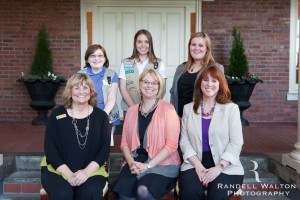 The family, friends, staff, volunteers and project advisors have put in hours of support to help these young women accomplish great things. Huge thanks goes to all of them for being mentors and supporting girls as they work through the logistics of their awards and for encouraging them to tackle these phenomenal projects.
Here are the numbers that supporters have dedicated to leadership development and making our communities a better place to live!
Girl Scouts in Washington
23 Girl Scout Gold Award Recipients = 1,840 hours of civic leadership
Volunteer Facilitators and Committee Members: 32 volunteers = 2,304 volunteer hours
Gold Award Take Action Project Advisors: 23 girls = 184 hours of guidance
We also want to thank our community partners for their role is supporting Girl Scouts! We are always proud of the achievements of our Girl Scouts and want to congratulate all the Girl Scout Gold Award recipients of 2013. Please join us in sharing our pride and recognition of each girl recognized at the event: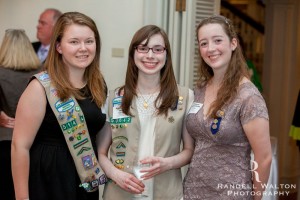 Girl Scouts of Oregon & Southwest Washington
Lillian: Cat Home Improvement – Vancouver, WA
Zoe: SWE/SMT Mentor Program – Battle Ground, WA
Girl Scouts of Eastern Washington & Northern Idaho
Carmen: Project S.A.V.E.I. (Superheroes Are Victorious Over Evil Illness) – Spokane, WA
Josie: Impaired Driving/Texting – Rosalia, WA
Larkin: Aim for Empowerment – Coeur d'Alene, ID
Girl Scouts of Western Washington
Aisha: Building a Trail Broadwalk – Kirkland, WA
Alycia: Girl Talk: Helping Girls Find Self-Confidence – Anacortes, WA
Aurora: Sewing with a Mission – Bellevue, WA
Desiree: Nursery Refurbishment – Roy, WA
Emily: Rest Area Recycling – Everett, WA
Hajin (Jinny): The Green Leader in Me – Sammamish, WA
Jaime: The Spirit of Art – Bellingham, WA
Jennifer: Self-Guided Nature Walk – Issaquah, WA
Jessica: Quilts and Incubator Covers for Seattle Children's Hospital – Snohomish, WA
Jordan: Arts and Crafts on Wheels – Ellensburg, WA
Kelly: Everyone Can Go to Sixth Grade Camp – Covington, WA
Maegan: Educational Displays on Habitat Destruction and Wildlife Rehabilitation Education – Snohomish, WA
Margaret: Bridging Communities – Redmond, WA
Prabha: Charity Circle – Sammamish, WA
Rachael: Healthy Lifestyles Website – Mercer Island, WA
Renee Marie: Native American Trail – Maple Valley, WA
Trina: Brain Injury Care Package – Silverdale, WA
Wynter: Puget Sound Starts Here in Snohomish – Snohomish, WA
Congratulations to all of this year's recipients!