Most of us think a dream takes years, maybe even a lifetime, before it becomes real. We assume we have to put careful thought, planning and effort into getting something off the ground. Though that is certainly the case for some dreams (like becoming an astronaut!), sometimes, all it takes is a single conversation to get you started. For Anne Phyfe Palmer, owner and education director of 8 Limbs Yoga Centers in Seattle, that's exactly what happened.
"When a friend casually asked what my dream business would be, 'yoga studio' immediately popped into my head," she recalls. "At that time, I was at a holistic health monthly in Seattle, and had fallen in love with yoga. It brought together my longtime passions for physical movement, personal growth and community into one practice.
"After months of searching for the right space, I stumbled upon our first location on the second floor of a costume shop on Capitol Hill. I received 100 calls before we even opened on October 13, 1996."
At the time, Anne recalls that there were less than ten yoga studios in the city. Not long after she opened her first studio, however, the number of yoga studios began to increase. Thankfully, she remembered that when it comes to dreams, there may be others who have the same dream, and there may be competition. But if you believe in what you're doing, that won't stop you from moving forward and thinking even bigger! Anne decided to forge ahead at full speed, and opened another location in Wedgwood in 1999. In 2005, the third 8 Limbs Yoga Center opened in the West Seattle Junction. Now there is a fourth studio in Phinney Ridge!
Anne's Girl Scout Story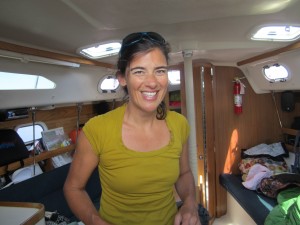 Most folks love to go camping near lakes, but for Anne, there were only swamps. Her options, as a girl growing up in New Orleans, were fairly limited. She used to read the Girl Scout badge books, dreaming about what she could earn. One of the badges was for camping, so her dad took her, and she says that's one of her best Girl Scout memories. Most of her Girl Scout lessons in courage, confidence and character would come much later, when she was an adult. It was then that Anne would learn how to become a successful business owner, and use some of the skills she learned camping (self-reliance, trying new things and stepping outside of your comfort zone, to name a few!) to grow her 8 Limbs Yoga studios!
Giving Back to Her Community – Girl Scout Style!
Just three months after opening, Anne began to teach free yoga classes to a youth group called The Service Board, founded by Thomas Goldstein. Since then, she says, "our teachers have taught hundreds of free yoga classes, such as Yoga for HIV and Yoga for Cancer. In 1997 we started to hold benefit yoga classes, where the fees collected go to a chosen non-profit or cause. Every Thanksgiving, proceeds from the three morning classes at our studios go to non-profits chosen by the volunteer instructors." 8 Limbs also offers a work-study option for those who aren't able to pay for yoga. They can offer their time in exchange for a yoga membership. 8 Limbs has also donated hundreds of class passes to non-profits and schools for fundraising purposes.
An Eco-Friendly Yoga Center
Just as Girl Scouts are taught to care for the environment, Anne has adopted that philosophy in her studios. "When 8 Limbs opened in 1996, I ordered a bike rack from the city to encourage bike transportation. In 2004, we committed to turning our Yoga Boutique 50 percent sustainable/organic by our 10-year anniversary in October 2006. We succeeded, and are now 70 percent sustainable in both clothing and yoga props. When our last studio props wore out, we invested in green materials and donated the used props to local schools. We use eco-friendly cleaners and light bulbs. The 25 windows at our original location were replaced with double-paned energy-efficient windows. We are always looking for more ways to reduce our impact on and off the yoga mat."
What Anne Wishes for Girls Today: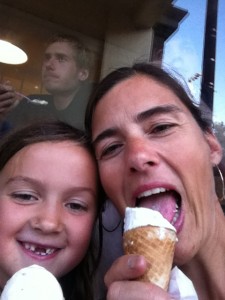 Anne has two daughters, so she is always thinking about the future she wants for them. This translates to all girls, of course, and Anne has high hopes for the future of girls today.
"I want girls to feel good about themselves," she says. "I want them to be aware of their insides, not just their outsides. I also want them to think more about what other people are going through. Don't make assumptions based on how people are acting. Assume the best rather than the worst."
As you might expect from someone interested in yoga, Anne believes in quiet. She says our culture doesn't make space for quiet. "We need to create more spaces for quiet and for unplugging," she says. "Some people are fed by others, and some are drained by others. If you know which one you are, you can take care of yourself."
Finally, Anne believes in being objective about what you're experiencing. She wants girls to understand that the mind doesn't always need to be listened to. "Our minds say a lot of things," she says, "but not all of those things are valuable or true."