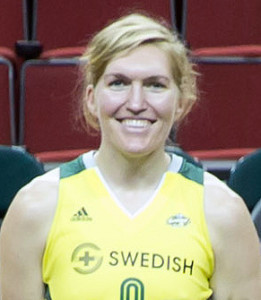 At a height of 6'6", former Girl Scout and Silver Award earner Carolyn Swords seemed destined to play basketball.
Carolyn Swords has been a pro basketball player for six years. Currently playing center for the Seattle Storm, she was drafted into the WNBA by the Chicago Sky upon her graduation from Boston College in 2011. Carolyn has also played for the New York Liberty and spends her winters playing in Europe. But before all this, she was a young girl with a creative spirit who wasn't afraid to dream big.
Creativity and Inspiration
Carolyn has played basketball since she was a kid, but it wasn't until her freshman year in college that she thought about it as a career.
"I was interested in teaching, art and writing," she says. "I still keep a sketchbook nearby in case I get the urge to draw." Also still a writer, Carolyn recently served as guest blogger for Visit Seattle, documenting her favorite things to do around the city.
Traveling during the winter basketball season to places like Spain, Turkey and Poland has brought out the shutterbug in her, too. "I love taking photos. I enjoy taking walks and capturing what I see. I'm so fortunate to have such exciting places to photograph!"
The third child of five, Carolyn grew up in "one big, happy family". But there were some challenges along the way, and she credits her strong family connections and one pretty powerful role model with giving her the support and courage to overcome them.
"My aunt, who I now call my mom, took us all in after my parents died. We really were one big, happy family together. We always see failure as a chance to grow. Our family motto is 'keep moving forward' and we help each other push through the tough times.
"My mom embodies love and strength. She encouraged all of us to dream big, work hard and learn to step out of our comfort zones. And she is tall, which helped me to embrace my height with confidence."
Teamwork and Dedication
Carolyn also credits her time as a Girl Scout with teaching her life lessons that she still values today.
"Being a Girl Scout taught me how to set and achieve my goals," she says. "That time in my life holds a special place in my heart. I learned the importance of teamwork, which is a huge part of basketball!" She remembers working with her fellow troop members to earn badges and complete projects, recalling that she always gravitated to the ones that required creativity, including sewing and crocheting.
Leadership was also a big part of Carolyn's time in Girl Scouts. "The leadership badge was my favorite one to earn. I gained some valuable skills," she says. Carolyn's troop leader also encouraged her to leverage her basketball experience to earn the badge.
A Girl Scout through twelfth grade, Carolyn earned a Silver award with a project that demonstrates her commitments to service and community. "Our troop visited girls at detention centers. These girls were our age, which had a big impact on us." Working with these girls, spending time with them, learning and laughing, left a lifelong impression on Carolyn.
"Confidence, service and teamwork are Girl Scout values that I still use as an adult," she says. "These are what give us the courage to achieve our goals and keep growing, and the desire to help our communities. They teach us to appreciate the importance of working together to achieve a common goal."

Discovery and Connection
Those lessons certainly translate well to a career in professional basketball. Carolyn values her time in the WNBA, the places she has traveled and especially her teammates and the friends she has made.
"I love having the opportunity to travel the world, meet different people and discover new cultures. I have grown so much through my travels and have made friends all over the world. These friendships and experiences are so important to me!"
Of all the places she has traveled, Carolyn says Italy is her favorite. "I loved meeting the people, seeing the country, soaking up the history and studying the language. Although," she concedes, "the beaches in Australia are spectacular!"
The time she spent in Italy is also close to Carolyn's heart because it was her first season back after recovering from a significant knee injury. After two surgeries and over a year of recovery time and physical therapy, her return to the basketball court in Italy was very special. And she was able to return stronger than ever.
A message of empowerment
Carolyn has an important message for today's girls. "I tell girls to dream big and have courage – the same thing my mom always tells me. My most valuable memories and lessons have come from moments when I stepped out of my comfort zone and worked hard to reach my goals."
She also feels strongly about embracing what makes you unique. "I looked up to the basketball players at Boston College who were as tall, or even taller, than me. I was always taller than everyone in my class growing up, so it really impressed me to see these women using their height in such a powerful way. Embracing our differences can be very empowering!"