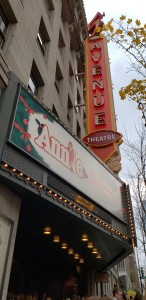 As a dedicated volunteer for Girl Scouts of Western Washington, I have worked with The 5th Avenue Theatre for over 10 years to provide opportunities for girls to attend live musical theatre performances.  Over time the program has grown from a few girls and their leaders attending an occasional show to 100's of girls, leaders and family members from throughout western Washington attending shows throughout the year.
This partnership helps to fulfill Girl Scouts of Western Washington's mission to build girls of courage, confidence, and character, who make the world a better place. For girls who are interested in the arts, it provides meaningful experiences that reflect their diverse interests and needs–an opportunity to attend live musical theatre performances, often for the first time—something that might not otherwise be available to them. Recognizing that attending theatre is often a family event, The 5th Avenue Theatre provides discounted pricing not only for the girls but also their leaders & families.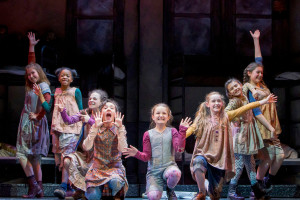 Girl Scouts Attend ANNIE
The winter holiday shows have always been among the most popular, and this year was no exception, with over 500 members of the Girl Scout community attending ANNIE.  For many families, attending the holiday show has become an annual tradition involving multiple generations—girls, their siblings, parents & grandparents.
ANNIE was an especially meaningful show for Girl Scouts, with a young girl as the central character, a theme of hope and dreams coming true & a look to the future that allows current challenges to be put into perspective.  This was especially true for one Girl Scout whose grandparents lost their home & pets to the recent fires in California.  The grandparents were visiting for Thanksgiving, and through our partnership we were able to provide the Girl Scout, her mom & grandmother with ANNIE tickets on Thanksgiving weekend.  This "Once in a Lifetime Experience"  brightened their holiday spirits, created cherished memories, allowed them to feel thankful and, for a while, took their minds away from the devastation they had recently experienced.
Others commented that the show was magical, got them in the holiday spirit & many found themselves silently singing along or humming the songs after the show.  One Girl Scout was ecstatic to get to actually meet ANNIE after the show!  This is the 7th year that one troop has participated in the Girl Scout theatre program, enjoying 1-2 shows each year since the 6th grade.  They make a day of it together—they get dressed up, go out to dinner and see the show. It has been special to get the girls to the theater and build a lifelong love for live performances.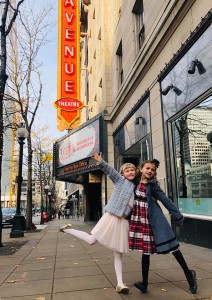 Theatre and Living the Girl Scout Law
Part of the Girl Scout Law says, "Be a Sister to Every Girl Scout" & the Girl Scout mentioned above whose grandparents lost their home in the wildfire was pleased to do just that by passing their original tickets to another Girl Scout family going through challenging times so they, too,  could see the show later in the run.
Another young Girl Scout participated in a drama camp version of ANNIE when she was 5.
Seeing it from the audience perspective (she's now 8) helped her fully understand the story and sparked an interest in helping the homeless and reaching out to kids in her school who may have different living situations.  In her words, "Girl Scouts are friendly and helpful and considerate and caring.  I want to help the kids who don't have as much as I do." Two more parts of the Girl Scout Law brought to life by theatre!
Finally, the Girl Scout Law says, "Make the World a Better Place" and the 5th Avenue Theatre's annual charity drive during the holiday show provides an easy opportunity for girls to do just that.  This year, many Girl Scout families brought donations of new warm clothing for Tree House serving King County foster children.  One family, with older girls, found clothing with various positive statements that they were excited to donate in hopes of increasing the self-esteem of the girls who receive them.
Girl Scouts in the Cast of ANNIE
Girl Scouts is a world where girls can do, and be, whatever they dream.  These are the girls and young women who dream bigger and do bigger and Girl Scouts inspires them to go beyond dreaming to actually doing.  One Girl Scout, Caroline Dunbar, did just that, and played the role of the oldest orphan, July, in ANNIE.  Here are her thoughts on the benefits of the partnership between Girl Scouts and The 5th Avenue Theatre:  "Being a part of Girl Scouts has been a big part of building up my character and how I present myself in my everyday life, and getting to play a character on the amazing 5th Avenue stage and be a role model for the Girl Scouts sitting in the audience is such a blessing. The Girl Scout show tickets have really helped me see more theatre than I ever would be able to on my own and has only helped my love for the theatre to blossom!"
In addition, the all-female creative team (director, choreographer, music director) for ANNIE provided great examples of females in creative leadership roles for girls who dream of a future in the arts, especially theatre.
In Summary
I believe the following quote about The 5th Avenue Theatre's Pay It Forward campaign captures the essence and goals of the partnership between Girl Scouts & The 5th Avenue Theatre:  "The future of our community will be determined by the creativity of its youth. Musical theater is uniquely able to inspire hope, spread the joy of self-expression, and show young people the power of collaboration on a large scale. We believe that fostering an equitable arts community in which all youth have access to exhilarating performances will help create a future in which everyone has a vision and a voice."
If you would like to see a show at The 5th Avenue Theatre, use the promo code GIRLSCOUTS and receive 25% off tickets to locally produced shows and 20% off tickets for Broadway National Touring productions at the Paramount Theatre on the 5th Avenue Theatre's website.
Tami Micheletti
Girl Scouts of Western Washington Volunteer
~Theatre Event Director~
For more information, contact Tami at GSTheatre@comcast.net.
This blog post was originally written for and published on the 5th Avenue Theatre blog.