A 2017 Girl Scout Research Institute Impact Study showed that Girl Scouts are twice as likely as non–Girl Scouts to participate in activities that shape their character and open them up to new worlds. For 14-year-old Michaela Renick, there were two major activities that have made a considerable positive impact on her life–Girl Scouts and inline speed skating.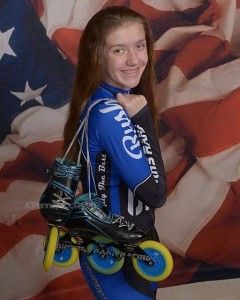 Michaela, or Micki, has been a dedicated Girl Scout since she was a Daisy at the age of 5, and the only thing she has actively participated in longer than Girl Scouts is speed skating. Both outlets have combined important aspects for Micki—friendship, goal-setting, adventure, and perseverance. Like most rewarding experiences, hers have been hard-fought, and for Micki, the journey has been tough, filled with many setbacks, detractors, and with the odds stacked against her from the day she was born.
Skating has been a huge part of the Renick family. Her parents met at Olympia's roller rink, Skateland, where her mom, Megan took part in roller derby, hockey and speed skating and Micki's dad, Mike, was a speed and jam skater. The story goes that when Micki was just eleven months old her parents took her to the rink to skate for the first time and by her fifth birthday, Micki was already skating in official competitions.
Lacing Up Her Skates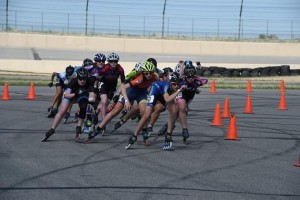 Speed skating can take place on indoor or outside tracks, with varying race distances, where competitors clad in inline skates, skinsuits and helmets are fighting to cross the finish line first. Because of team placement rules and Micki's late December birthday, she has always been the youngest skater in her division, often competing with girls two years older than her. Her teammates and competitors were not just older, but they were often more experienced, stronger and would sometimes bully young Micki.
"It was a really hard thing for me, and I would come home from practice crying," Micki recalled. "Having those people on my team toughened me up, though. I learned to not listen to them."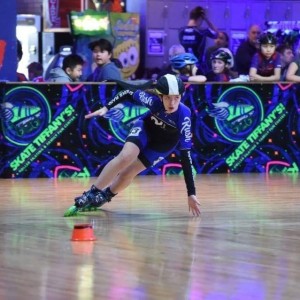 She's pushed back against those who doubted her and tried to tear her down. Her perseverance combined with her dedication—plus constant cheerleading and coaching from mom—has led Micki to continued success in the sport, and helped her find the niche race-style she excels at—endurance skating. Her skills were put to her biggest challenge yet this past summer.
In May, Micki traveled to Colorado to race for one of six open spots on the USA Speed Skating team at the national outdoor Track and Road Championships. If she made it, she would be on a plane to Barcelona the next month to compete at the World Roller Games. Throughout the multi-day competition, the group of skaters narrowed, and the pressure heightened.
"When I was looking at my other competitors, I knew some of them had been training for so many more years then I had," Micki said. "But I knew my strong suite is in endurance races, and I knew the races in Spain were endurance based."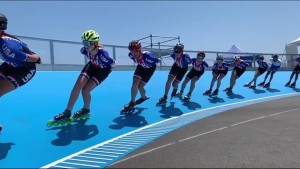 In the final event, it was the 15,000 meter (9.3 miles) race that broke a tie for Micki to scoop the final spot. Her hard training and perseverance rewarded, she became the youngest female skater to join Team USA. After some quick fundraising and packing, Micki and the team spent three weeks abroad in July, and although she didn't become a world champion this year, she did make it to the finals and placed in the top 20 for her race category.
Her Girl Scout Journey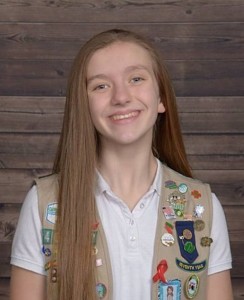 Her dedication and love for speed skating is paralleled to that of her time in Girl Scouts. Since her start as a Daisy 10 years ago, Micki has made Girl Scouts a big part of her life. Some of her favorite memories have been the experiences and travel her troop has been able to take advantage of with their cookie money.
The girls of Troop 40502 took planning and organizing their product and cookie sales very seriously, often giving up precious spring break time and setting higher goals year after year to help fund their travels. Oh, and the places they've been as a troop! This past August they traveled to and toured Washington D.C., and when they were bridging to Girl Scout Cadettes, Troop 40502 found themselves in the most magical place on earth—Disneyland.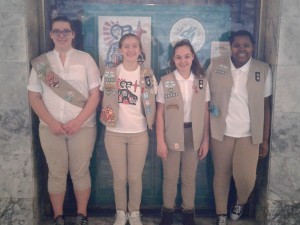 Micki has already been a top cookie seller four years in a row, a Service Unit Girl Delegate, camped at every one of Girl Scouts of Western Washington's camp locations—except River Ranch, but summer 2020 is just around the corner! She's earned her Bronze and Silver Awards and is narrowing in on her Gold Award project focus. Even with so many accomplishments, what remains most important for Micki is also at the heart of Girl Scout values.
"Making new friends," Micki answered quickly. "It's the same thing with my sport and it's how I've lived my life as a Girl Scout." Making friends, making goals, and dedicating herself to her commitments.
A Future of Opportunity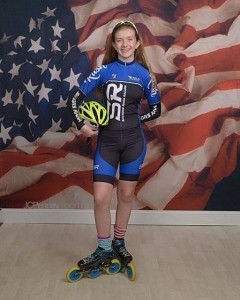 It might be hard to name something this Cadette hasn't tried! She's played basketball, ran track and swam competitively. She tried tap dancing, ballet, and cheerleading. Last summer she served as a page in the Washington state senate. Oh, she can also play 13 musical instruments—her focus is clarinet, but she also enjoys trombone and xylophone.
Managing her time can be tricky, and a lot of school assignments and badge work is completed in the car along to way to one practice or another, but the sacrifices are worth it for Micki and staying active is crucial for her parents.
"My parents are my biggest supporters for everything I do," Micki said. "They never force me to stay with something I don't like, and they allow compromise if I want to say 'no' to something they want."
At 14-years-old, Micki's future holds a lot of exciting opportunities. She's looking forward to the next year of competitions with Team USA. She's been investigating a career in politics, and still has three and a half years before she graduates high school! Athlete, musician, friend, leader, Girl Scout—wherever she puts her focus and passion, we're rooting for this Girl Scout!