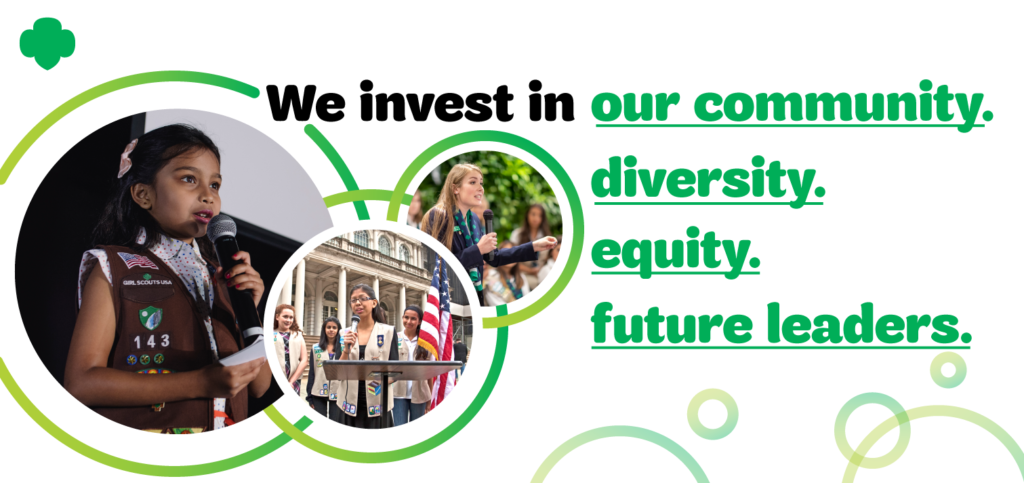 Dear Western Washington Girl Scouts Community,
With 2020 behind us, Girl Scouts of Western Washington (GSWW) is looking forward as an organization. We're proud of how our Girl Scouts, their families, our volunteers, donors and staff have risen to the challenges of the past year with tremendous strength, resilience and innovation.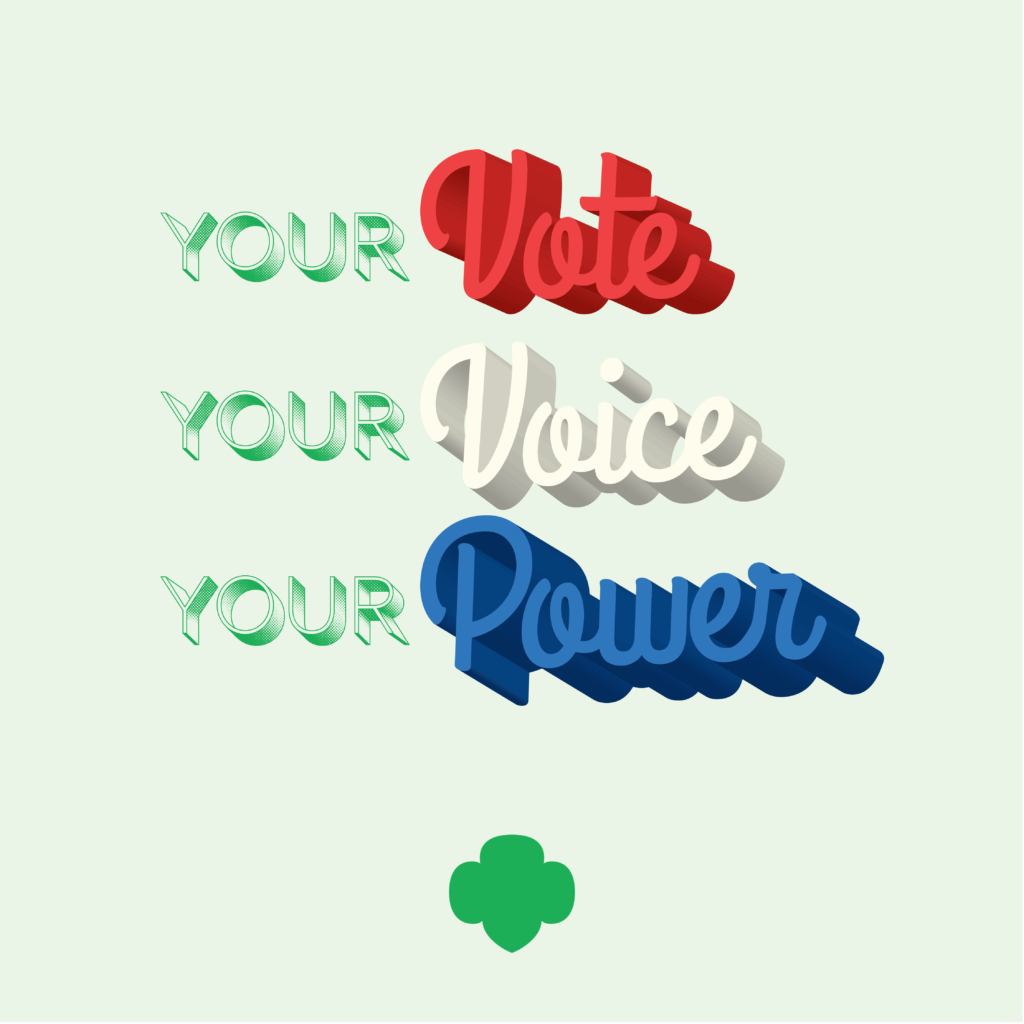 As we honor Black History Month and celebrate our first Black Vice-President woman in office, we're underscoring the importance of building a Girl Scout community of every race, ethnicity and facet of diversity, that's a source of connection and mutual support for its members. We're also calling out the critical nature of Girl Scouts' commitment to civics education. There are complex issues facing us as individuals and as a nation. The Girl Scouts who need us today are the leaders our world needs tomorrow.
Despite its founding with a value of inclusion, Girl Scouts is a historically and predominantly white organization. To address that, nearly a decade ago Girl Scouts of Western Washington committed to diversity, equity, and inclusion (DEI) as our paramount priority, and have been working since then to embed that lens throughout our operation. So many things that have happened in this past, tragic year have deepened our understanding of the weight of growing our cultural competence and humility, and our resolve to do so.
GSWW is committed to taking and sustaining action towards greater equity. We recognize that systemic racism is ingrained in organizations and are working to dismantle those practices in ours. We're continuing to learn, develop and grow throughout this journey. Our aim is that every young person from a Black, Indigenous, People of Color (BIPOC) community sees a place for themselves in Girl Scouts. The work we've done, and pledge to continue doing, stems from our vision:
We invest in our community through Girl Scouts. Our community represents every race, ethnicity, income level, sexual orientation, ability, and religion; reflects a spectrum of gender identity; and connects across geographic locations. By focusing our attention on community members who are furthest from racial, economic, and social justice, Girl Scouts can be an instrument of change, promoting equitable outcomes for all. We wholly commit to taking action to grow as an anti-racist and anti-oppressive organization so that, through Girl Scouts, our members are affirmed as they strive to make our community and world better.
We aspire to these values in our work toward that vision:
Cultivate Inclusion: We listen to, welcome and value different identities, perspectives, and experiences to enrich our lives and work environment, inform equitable decision making, and enhance our work with members, employees, and the communities we serve. 
Adapt:  We are an agile, resilient, learning organization that embraces change and is responsive to the dynamic needs of our members, employees, and the communities we serve. 
Collaborate: We operate with transparency, leverage collective genius, partner internally and externally, and communicate transparently with unwavering candor, honesty, and respect to deliver life-changing outcomes for Girl Scouts, preparing them to do big things.  
But how do we live up to this vision and values? What are we doing as an organization to fulfill this commitment as we serve our communities? Our department leaders examined the activities we are engaged in or planning to meet the needs of BIPOC girls, families, volunteers, donors and employees, which resulted in the development of our DEI work priorities and activities across the organization. Most importantly, we're listening to our BIPOC community members to better understand their needs, how we can remove barriers to access and better meet their needs. Today, I wanted to share examples of the specific ways we're putting our council's vision and values into action.

1. Embed Our Vision in Our Structural Systems, Business Processes and Efforts
We're committed to ensuring that our vision and values drive everything we do across our organization and are applying an equity lens to all decision-making, programming and operational practices.
We've challenged our national organization, Girl Scouts USA's, database systems to ensure racial profiling within the troop formation process is nullified and to re-evaluate gender-related language within their database systems.

Given that many of our offices and properties in the western Washington region occupy the ancestral lands of many indigenous communities, we developed a Native Land acknowledgement that we include at the beginning of calls and meetings and are posting these acknowledgements at our properties. We recognize the impact of our colonial history and are developing a plan for reparations to non-federally recognized tribes in our region.

We've been updating gender-specific language in materials to be more inclusive and are incorporating pronouns at the start of all staff-led programs. We're also evaluating facility naming conventions in camp properties; have changed camp weekly themes and naming conventions to non-commercial generic themes to promote inclusion and reduce microaggressions; and are learning and incorporating elements of sign language.

We use qualitative and quantitative data measurement and evaluation to show progress and hold ourselves accountable. For example, we evaluate demographics of our membership and employees on a monthly basis, and we're regularly evaluating our adult and youth membership's sense of belonging and inclusion.
2. Educate Volunteers and Employees on DEI Topics
We have a DEI team investing in continuing education on issues related to equity, helping us amplify our efforts, and focus on action and growth, both as individuals and as a collective unit so we can be better advocates and agents of change.
For our volunteers, we offer DEI-focused webinars and a virtual workshop series on topics such as: how to talk to youth about race, anti-oppression in action, allyship behaviors and addressing inappropriate comments, and empowering LGBTQ+ pride. We integrate DEI content into conferences and workshops, the New and Experienced Leaders Learning Paths and on the online volunteer learning platform, gsLearn. Our Spotlight Program provides specific DEI resources for volunteers and coaches during training. We are also offering a DEI-focused series for volunteer-led camp volunteers. We create, institutionalize, and train on anti-discrimination policies for volunteers and troops, explaining the real consequences for discriminatory actions.

For our employees, we host ongoing workshops and trainings focused on building awareness, knowledge, skills and action/advocacy on topics related to racial justice, white privilege, disability justice, anti-racism, ableism, classism and understanding gender identity. Our staff have formed affinity groups for People of Color, LGBTQ+, and White Accountability. Our managers attend our Leadership Labs focused on education, coaching, and collective learning around inclusive leadership practices to support GSWW values and priorities.

For our board, we're actively developing training for board members to support their individual cultural competence as well as the board's collective responsibility for strategic oversight of better service to BIPOC communities. The board continues to prioritize recruitment to ensure that diverse, equitable and inclusive identities and perspectives are represented in the council's governing bodies.

3. Offer Programming that Removes Barriers to Participation and Teaches Girl Scouts About Social Justice and Racial Equity
Our work involves weaving inclusive and antiracist best practices into the fabric of all programs to provide inclusive, meaningful, and relevant experiences to all members.
We're expanding the DEI section of our website to include information and resources ranging from how to be allies and advocates for the Black community, to disability justice, LGBTQ+ rights and topics that allow us to continue working toward our commitment to ensure we are an inclusive and welcoming environment. We've also added the Girl Scouts USA pledge against racism to our website.

Given that our camp program can have cultural barriers for Black families, our goal for future camp programming is to expand our staff diversity efforts: we want to specifically call attention for the need to recruit and retain more BIPOC camp counselors. Also, once we're able to have in-person summer camp, we'll have a session specifically for Black Girl Scouts and their families. We also plan to offer rotating summer resident camp sessions focused on LGBTQ+, BIPOC, and campers with differing abilities.
New special programs and patches:

Global Action Team Summit: This 2020 event taught action through advocacy to 65 Cadettes with topics around DEI and economics, education, healthcare, LGBTQ+, race and religion/culture. You can learn about the focus for the 2021 Global Action Team and other Global Initiatives here.

Tattoo Artist Program: This introduced Girl Scouts to the art of tattooing and incorporated an aspect of culture and religion related to the expression of tattooing. Girl Scouts also learned about the science of tattoo ink and the difference between tattooing on lighter pigmented skin versus darker pigmented skin.
American Indian Heritage Patch. We're working to develop a partnership with one or more tribal communities to create an American Indian Heritage Patch program by November 2021, which is Native American Heritage Month.
We're partnering with Erin Jones, a Girl Scout Board member and an education consultant specializing in equity and culturally responsive practices, who is delivering a series of age-appropriate online learning sessions for Girl Scouts and their families. They're learning about microaggressions, what it means to engage in civil discourse, and to differentiate between action, activism and advocacy.
Global Action Team Summit: This 2020 event taught action through advocacy to 65 Cadettes with topics around DEI and economics, education, healthcare, LGBTQ+, race and religion/culture. You can learn about the focus for the 2021 Global Action Team and other Global Initiatives here.
4. Forge Partnerships with Other Organizations That Share Our Values
We're partnering with community organizations whose work is exclusively focused on DEI, striving to continuously learn while also supporting the work these organizations are doing to create an equitable, sustainable community focused on racial justice and advocacy.
GSWW's volunteer facilitators focus on their own DEI competency to better integrate DEI into all curricula and develop their capability to lead DEI workshops.

We're developing virtual programs with Boys and Girls Clubs of Lakewood and Al Davies/Tacoma and Metro Parks of Tacoma: Star Community Center, Eastside Community Center and People's Community Center.
Tacoma Public Schools is working with us on a virtual after-school program, while the University of Washington and its Diversity Department are planning troop programming, plus mentorship and foster care programs.
5. Recruit and Retain Racially Diverse Volunteers, Board Members and Employees so All Girl Scouts See Themselves Represented 
We aim to be a welcoming organization that values diversity, made up of staff and board members who are reflective of the communities we serve in western Washington. While women of color are 50% of our executive team and 33% of our board are people of color, we continue to strive to increase the diversity of our organization.
Our People & Culture Team has made strides in recruiting employees of color and continues to improve our application review and interview processes to reduce implicit bias, strengthen HR practices, and increase representation of people of color at all levels of the organization. We've created standardized resources for interview teams to evaluate candidates consistently and equitably to mitigate bias and are reevaluating the criminal background check process with a DEI lens.

We've been reviewing our recruitment and placement procedures to identify and address racial biases—unintended or not—occurring during the troop placement process and leveraging demographic data to drive recruitment strategy plans.
We're revising and updating our onboarding and ongoing learning process for volunteers that ensures they're focused on inclusion best practices. As an organization, we work to develop and instill a philosophy of inclusion to help people feel a sense of belonging and strengthen volunteer and Girl Scout engagement.
We're striving to be what our community needs us to be by standing united in the face of injustice, demanding and working toward progress, and championing the ambitions of Girl Scouts across our region. We'll continue to work together toward a community where every Girl Scout feels they belong.
Looking ahead with conviction and hope,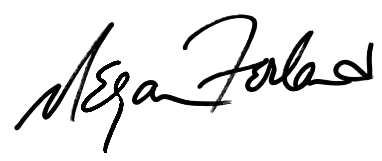 Megan Ferland
CEO of Girl Scouts of Western Washington