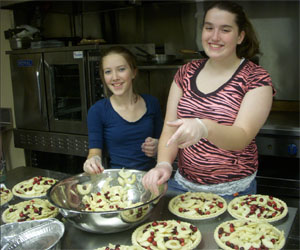 When most people think of sweet treats offered by Girl Scouts, they think of cookies. And though cookies are certainly an integral part of the unique programming Girl Scouts offers, it's not the only sweet part of this organization.
Supporting and recognizing girls in their efforts to take an idea and see it to fruition is an important part of the Girl Scout experience. Helping girls develop the courage and confidence needed to reach their full potential is part of the Girl Scout mission! Whether through participation in the Girl Scout Cookie Sale Program, a destinations trip, the Gold Award or community service, girls learn how to expand their horizons by trying new things.
Making pies is just one of those ways.
When the girls in Troop 40392 decided they wanted to attend the 2010 Vancouver Olympics, they came up with an innovative way to raise money for their trip: they started a pie-making business called Sweetie Pies.
A tasty business idea, indeed, but not one whose sweetness was derived solely from pies. Cookies were also involved. The troop built upon the skills they learned in the Girl Scout Cookie Program, and used their cookie proceeds as start-up money for their business. This group of entrepreneurs identified all the tools, permits and ingredients they'd need to have frozen, ready-to-bake pies ready to sell in time for the holidays.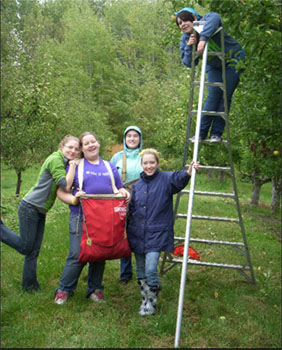 Using connections developed through other Girl Scout activities at the Chamber of Commerce, Troop 40392 found restaurants willing to donate their kitchen space, an orchard that let them pick apples and pears for free in exchange for help making cider and jam and an ever-growing list of customers. The success of this endeavor allowed the girls to finance their trip to the Olympics using cookie money and proceeds from Sweetie Pies.
Beyond the benefits of watching their ideas blossom into something successful and sustainable (Sweetie Pies is now two years old, and still going strong), the girls also learned more than they ever imagined about running a business and creating relationships with customers. Four of the girls received food handlers training from the Everett Department of Health, and everyone involved forged important connections with those in their community. There is certainly no shortage of confidence and courage from this experience!
The girls are hoping to grow their business and earn enough money for a trip to Europe. The pies, which sell for $10.95 each, are available in apple crumb and cranberry almond pear, and the girls also sell cinnamon rolls, cookie dough and hand-sewn shopping bags. You can contact troop leader, Carol Robinson, at (360) 668-6116, for more information or to place an order!