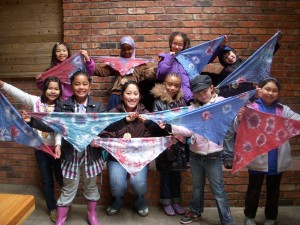 Welcome to the Girl Scouts of Western Washington blog!
You may already know us from our posts on Facebook, Twitter, YouTube or Instagram. Maybe you're a not-so-secret Girl Scout cookie enthusiast. Whether you're simply curious about Girl Scouting or you're a lifelong member, we're excited to launch this blog as a place to share and connect with our incredible community of girls, families, volunteers and supporters.  Our blog will bring you regular updates, but you can always use social media and our website to learn about what's going on in the world of Girl Scouting and how you can get involved.
So what can I expect?
This blog's purpose is simple: to showcase the incredibly diverse and dynamic world of Girl Scouting today. Expect to see snapshots of girls participating in everything from kayaking and volunteer service, to video production and horseback riding, to learning to compost and more! Our girls are learning and growing in amazing ways – we count ourselves lucky to be able to share their journeys with you. We'll aim to bring you regular weekly posts where we illustrate just how cool it is to be a Girl Scout.
We're also proud to feature an "Awesome Woman of the Month" series where we'll profile local women doing remarkable things in our community. These women inspire us through their compassion and generosity, embodying strong leadership, tenacity, an entrepreneurial spirit and a commitment to making the world a better place. We want to recognize these Awesome Women as strong role models for girls, helping blaze paths for the next generation of leaders! Look for our inaugural post in July kicking off with a tie to everybody's favorite summer treat.
Sound interesting? We hope so! Look for future posts to highlight adventures in robotics, archery, public speaking, college prep, good old arts and crafts, and of course, COOKIES!
Rules and Helpful Tips
Please comment and share freely; we're here for you to talk to! Please keep in mind the following basic guidelines if you want to comment on this blog:
Be respectful:  It's okay to disagree, but be polite or we'll have to remove your comment. Avoid the obvious missteps by not posting anything that's abusive, unproductive, offensive or unlawful. This blog is kid-friendly, which means you need to be too.
Privacy matters: Be conscientious of protecting not only your own, but girls' privacy too. Any post that identifies a girl with anything more than a first name will be immediately removed.
Spam is obnoxious: While you may have an awesome new service/product that would make everybody's life better, this isn't the forum to share that info. Sales-related posts or anything that's clearly geared to drive traffic to your website (for personal, political or monetary gain) will be removed.
Are you an employee? Excellent! Just make sure you disclose it. We're grateful for our employees' passion for Girl Scouts but want to make sure the community is aware of any biases you may have.
But, I want to know more! 
We're on it! If you want to learn about Girl Scouts of Western Washington news, click on over to our news page.
Likewise if you're curious about our press coverage or want to read profiles of local Girl Scouts, we have great resources to keep you tapped into everything current.
Need to talk to us right now?
If you have an urgent question, just pick up the phone and call us at (800)767-6845! If you like to keep your correspondence digital, you can shoot us an email, tweet at us or post a message on our wall.