We're proud of our partnership with the American Red Cross (ARC) and often collaborates in workshops where girls get to work directly with ARC volunteers. This spring, Girl Scouts in grades 6-12 participated in a workshop called It's Your World – Change It: Exploring International Humanitarian Law at the DuPont Girl Scout Center. The workshop was held on April 21 and focused on international humanitarian law and principles, and their relevance to our daily lives. 
The curriculum for the day was created from an ARC program and was tailored to meet the needs of Girl Scout programming by including portions of the Girl Scout Journey, It's Your World – Change It! This particular Journey allows girls to develop knowledge about humanitarianism.
Simulating Real-Life Crisis
ARC has been instrumental as a humanitarian organization and for developing international humanitarian law. International humanitarian law (IHL) is the law of regulating the conduct of armed conflicts. The ARC curriculum for the afternoon taught girls what happens to civilians during war through two activities. The first activity was called "Artillery" and focused on the use of weapons that hit unintended targets. The second activity called "Wounded" covered the treatment of wounded people (friends and enemies) and also of people who have died. The curriculum was not politically biased and remained neutral, keeping participants focused on their role as global citizens and the part IHL plays.
Prepping for Emergencies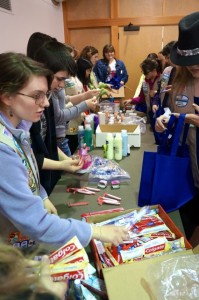 Part of the day also included building emergency kits for immigrant communities served by the ARC. Girls donated toiletry items and we were able to build 20 kits! Girls brought donations of necessary everyday items to be included in the emergency kits:
Hygiene items such as shampoo, conditioner, soap, toothbrushes, toothpaste, combs/brushes
Glow sticks, rain ponchos, flash drives (to store important documents and family photos), can openers, reflective emergency blankets, emergency whistles
Duct tape, dust masks, work gloves
First aid supplies (hand sanitizer, alcohol wipes, bandages, etc.)
Recipient organizations of the kits included:
In the Latino community: SeaMar, Consejo, New Futures, Casa Latina
In the Somali community: East African Community Services, Somali Community of Seattle, King County Housing Authority
In the Vietnamese community: Vietnamese Friendship Association and various faith based groups
Local Women and Humanitarianism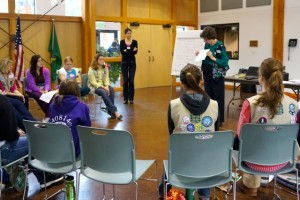 In the afternoon, adult leaders joined discussions about humane treatment for all people as part of an older girl networking opportunity. Participants had the chance to hear stories of women who have advocated for humanitarianism worldwide and put it into practice.
Featured presenters and panel members included:
Amal Bouman Ali (ARC AmeriCorps, Iraqi refugee and Language Bank Coordinator)
Holly Jacoby (ARC AmeriCorps, JD with International & Comparative Law Certificate)
Emily Fortman (ARC Regional Director of Preparedness & Community Engagement, Habitat for Humanity Board Member and International Volunteer)
Joanne Dufour (ARC volunteer, EHL Master Educator, former Peace Corps member)
Becky Fontaine (ARC Development Manager and lifetime Girl Scout)
Amy Dyck (ARC Youth Preparedness Programs Manager)
Sarah Rothman (ARC International Services & Language Bank Manager)
Taking Action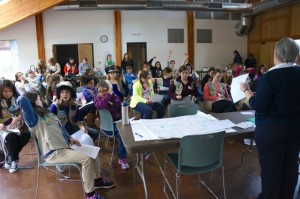 This event brought together over 45 girls from Pierce County, Everett, and Sequim. Thanks to the work they accomplished that afternoon, the girls completed two-thirds of their age level Journey! At the end of the day, Girl Scout staff and volunteers helped the girls brainstorm ideas on how to complete their Take Action Project so they can finish the Journey with their troop. Girl Scouts received a pin from the ARC for participating and once they complete the Journey, they will earn their "It's Your World – Change it!" badge. This joint venture with American Red Cross allowed Girl Scouts to walk away from the experience with greater knowledge about humanitarianism and how they can be representatives of equal treatment to all people.