On May 4, an uncharacteristically sun-drenched Saturday, Girl Scouts of Western Washington with the Women's Funding Alliance and many other partners convened the inaugural State of the Girl(s) Summit in DuPont, WA.  More than 75 government, education, health, non-profit, philanthropy and business folks gathered with girls to discuss how we can work together across sectors to improve girls' quality of life. Together, we took a fresh look at data trends, explored what's working and discussed ways to work to create change.
Megan Ferland, Girl Scouts of Western Washington's CEO, opened the summit. She explained, "As a region, we are known for innovation and we have a pivotal opportunity to bring that innovation to how girls access opportunity as they grow up." Megan emphasized, "Academic, health and leadership gains have not been shared equally by girls who are of color and/or who grow up in poverty. That needs to change. We need to support access to opportunity for all girls."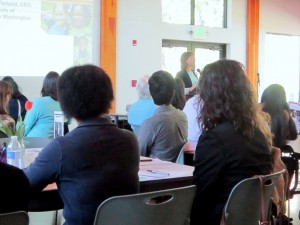 Dr. Lori Pfingst of the Washington State Budget & Policy Center explained favorable regional data trends in education, while also outlining issues that hold girls back such as poverty, violence and lack of equal representation in elected office. As she challenged us to consider solutions, she told us, "Poverty is a bottom line issue and solutions have to address it if we want to unleash the power of girls in our region."
Jen Estroff, Children's Alliance Government Relations Director, moderated a lively panel to showcase regional solutions that are helping to create economic security for girls. State Representative Laurie Jinkins, Microsoft DigiGirlz Program's Jacinda Chislum , President of Attachmate Kathleen Owens and Bean Sprouts Café and Cooking School Co-founder Shannon Seip shared insights on business and legislative policy and program strategies, as well as entrepreneurship. 
"As early as second grade, Washington State girls think math is not for them," explained Chislum.  DigiGirlz, a program developed by Microsoft to boost girls' involvement in STEM (science, technology, engineering and math) careers, is a model for corporate and youth development sector collaboration.
To help explore the realities of girls' lives that aren't reflected by statistics alone, Caroline Rex-Waller of Powerful Voices used a story based on a girl's life to guide an interactive activity called In Her Shoes. That definitely hit home with James Dorsey, ED of Washington Mesa, who said, "I haven't done this type of out-of-the-box activity before. It got me in touch with these issues in a new way."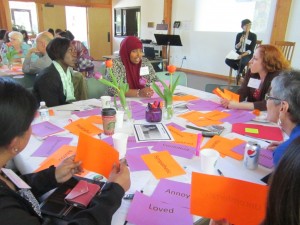 After lunch the discussion turned to cross-sector conversations, as we broke down how we can do more to work together in innovative ways. Liz Vivian, Women's Funding Alliance Executive Director, kicked off the conversation by asking participants to think about where we want to go next as a region. Later, she recapped the insights and solutions she heard participants advocating for. Liz and Megan, themselves representing a successful effort between the philanthropy and youth development sectors, closed the summit and explained, "This is a first step, a beginning." Tweets that captured the conversation included:
"How do we create a pipeline for girls to be successful, with measurable milestones along the way?"
"Cross sector conversations – people seem energized around ideas about how to innovate for girls, together."
"Closing comments – a mix of hopefulness and frustration. What if a powerful day like this doesn't succeed in making change?"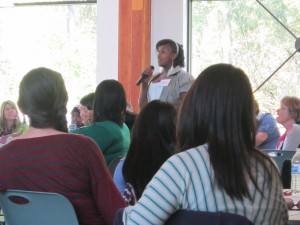 Before the summit's close, participants were asked to write down their commitments to local women and girls.  Some comments included:
"Do More Mentoring!"
"Ensure more decision makers are clear on the value proposition of investing in girls."
"Be a fierce advocate for young women age 18-25 who aren't in college."
"Advocate for strategies and policies to improve girls' lives across sectors."
"Scale opportunities for exposure to career opportunities and attending Summit 2: Action."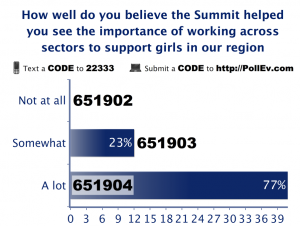 Megan text polled participants to see what they believed they gained from participating. Nearly four out of five said they believed the summit helped them "a lot" to see the importance of working across sectors to support girls in our region. Three out of five believed the summit helped them "a lot" to understand promising efforts to improve the state of girls in our region.
Plans to keep the summit momentum going are in the works. Members of the State of the Girl(s) Summit Advisory Committee as well as leaders from Girl Scouts of Western Washington and the Women's Funding Alliance will meet soon to sketch out where we want to go from here. Stay tuned!
For more information on this effort please contact Ann Muno.