We love sleepovers! Staying up late, doing silly things, telling stories, eating junk food… it's always so much fun! A few weeks ago we held a special sleepover as part of the Girl Scouts Beyond Bars (GSBB) program at Mission Creek Correction Center for Women. 
The GSBB program fosters and strengthens healthy and meaningful relationships between girls and their incarcerated parents (like Jazmin and Kizmet pictured on the left), providing long-term benefits for both. Previously the sleepovers have been held at Camp St. Albans with daytime events at Mission Creek, but this year the entire event took place at Mission Creek!
With excitement in the air, a dozen girls and moms came together for a night of fun and emotional connection. There were hands-on activities like scrap-booking and manicures/pedicures, board and card games, dress up time and more.
There were cool crafts where girls and mom could create photo boards and decorate to their hearts' content. To burn off all the extra energy, there were also laughter-filled hours of hula hooping, Simon says and other old school playground games. And of course, since it's a Girl Scout sleepover, everybody saved room for s'mores!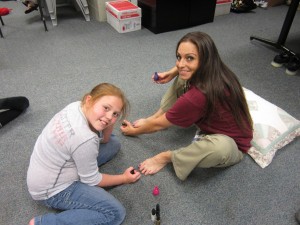 One of the most powerful parts of the GSBB program is that it allows girls and incarcerated parents to overcome the barriers in their situation to maintain and strengthen their connection to one another.
For some girls, this program is the only opportunity they have to see their incarcerated parent, and many girls who enter the program haven't seen their parent in several months. Tune in below for the moms' thoughts on the sleepover and what GSBB has done for their relationship with their daughters:
Words can't describe how much it meant to have my daughter be able to spend that precious 24 hours with me. We had a blast! Our favorite part was probably being able to do each others' nails, stuffing our faces and snuggling while watching movies. I felt like I was temporarily back at home for these 24 hours.

I think it's great that we have Girl Scouts Beyond Bars because it helps us stay connected to our children and helps us with our transition back into the community. Girl Scouts is a true blessing!

-Sasha Gray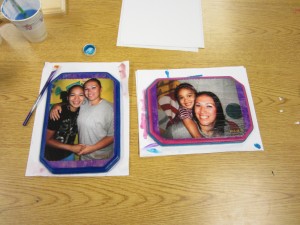 This was my daughter's and I third Girl Scout sleepover. This day is such a blessing. The therapeutic circle is by far the emotional connection that helps both of us deal with my incarceration and making plans and hopes for our future when I'm released. This program is so good for the girls – thank you!

-Adele Ewing
Having a sleepover with my daughter meant a lot to me. Being able to do normal things with my daughter was wonderful, and it put to rest some worries I had that we might be drifting. I loved being able to connect with my girl and the other moms. It's important to have contact like this with our daughters because we crave that connection that says "I love you" better than snail mail. I love Girl Scouts Beyond Bars and the opportunity it has given us.

-Katherine Clark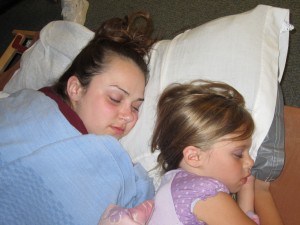 The sleepover meant so much to me and my daughter. It was great to be able to spend all that time with her and all the other mothers with daughters. It was night to have so much time with my daughter. I appreciate Girl Scouts and can't wait till the next sleep over. Being able to read to her falling asleep was something I'll never forget. Thank you.

-Jessica Valdes
Our experience was so much fun. It meant the world to me. Understanding that coming to prison, we lose most of our ability to enjoy our daughters in the allotted time given. This time with my daughter was fabulous. We were able to enjoy each other's company and relax and discuss how my daughter feels about our separation and given this time we are able to feel the aftermath but also enjoy this experience. I feel so much more connected after this overnight.

-Violet Axlen
The overnight was a big success, and both the girls and moms can't wait for the next one! If you'd like to learn more about GSBB, please contact Elizabeth Hodges or visit our website.