Have you ever wondered who gets to choose which animals live at the zoo?
Most of us never think about the selection process, or even know what it involves, but thankfully, there are people like Dr. Nancy Hawkes, the general curator at the Woodland Park Zoo, who does all the thinking for us! All we have to do is enjoy the animals.
"I manage all the people who take care of the animals, and am responsible for the animal collection and all the decisions made about those animals," says Dr. Hawkes.
This means she needs to understand how everything works at the zoo, including how all the different departments operate and what the functions of the zoo are – whew!
"Someone with my training would end up in academics, teaching and doing research," she adds. "But I decided I didn't want to go into that."
So, instead, she used her Ph.D. in biology with a focus on mammalian reproduction, to choose the animals we see at the Woodland Park Zoo in Seattle. That's a very big job, and it comes with big responsibility! Thankfully, Dr. Hawkes' training has been far-reaching and extensive, starting in graduate school, where she studied in East Africa, and first learned that zoos played a significant role in supporting conservation.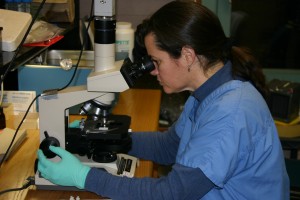 "The things we know about animals in the wild and how they live can be learned in zoos," says Dr. Hawkes. "There's so much we don't know, and so much work that needs to be done to protect animals in the wild. Our goal is to connect people to animals they only see on TV, so that they can have an authentic experience."
She got a fellowship at the San Diego Zoo, and spent five years there, learning even more. Later, she worked at the National Zoo in Washington, D.C., and was on the opening team at Disney's Animal Kingdom in Florida, where she was the curator of primates.
Something else that's pretty cool about Dr. Hawkes is that she helped develop an artificial insemination process for elephants that is used all over the world!
Her Love for Learning Had to Start Somewhere, and it Started in Girl Scouts!
Nancy was a Girl Scout for ten years in Suffolk County, New York, and earned badges in everything you could imagine – music, fire safety, First-Aid, cooking, camping, wildlife and more! She remembers that her troop always marched in parades, where they wore their full Girl Scout uniforms, including berets and white gloves.
"Girl Scouts was a big part of my growing up," she recalls. "We had a fabulous leader, and it made all the difference in my experience.
"Our leader introduced us to camping, and I loved feeling confident being in the outdoors and taking care of my needs. It wasn't just something boys could do."
Dr. Hawkes says that, as a Girl Scout, she never thought there was something she couldn't do because she was a girl.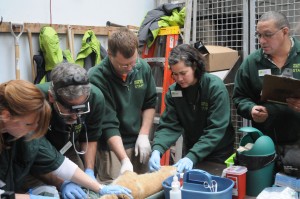 "In my culture," she remarks, "people often said, 'girls shouldn't do that.' I don't ever remember feeling pressured by that way of thinking, and I credit Girl Scouts with making me feel confident that I could do anything, and it didn't matter what my gender was.
"The fact that I wanted to make the world a better place came from Girl Scouts."
Her father was a biology teacher and a naturalist, and Dr. Hawkes saw 48 states by the time she was 12! Last year, she hit 50 states, by traveling to Alaska for the first time.
"My interest is in the natural world, and how animals make a living and how the habitat supports them, and how they support the habitat," she says. "Girl Scouts reinforced that, since we spent a lot of time outdoors, but it mostly emphasized the service aspect in terms of caring for the world."
What a glowing account of Girl Scouting. Thanks, Dr. Hawkes, for taking what you learned as a Girl Scout and turning that into passion for making the world a better place for both humans and animals. What an awesome career you have! Certainly this must be a career many girls are curious about, so Dr. Hawkes wanted to share some advice to those who want to work with animals.
Dr. Hawkes' Advice for Girls
"If you're interested in a career in veterinary medicine, the zoo is a phenomenal place to work," she says. "You should start by volunteering at the zoo. PAWS in Lynwood, an animal rescue and rehabilitation center, is also a great place.
You can also be a seal sitter, and can volunteer at a veterinary clinic or animal shelter.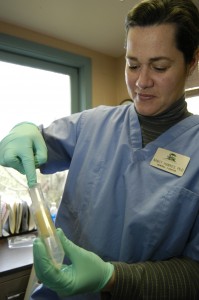 Hands-on experience is important. Go and see animals in the wild. Watch raptors for an hour, or the marmots on Mt. Rainier. See how animals really live, and why they're so special.
You can go the science or medicine route, as well as veterinary school. You can get a certificate as a veterinary technician, or get a master's or Ph.D. in biology or zoology, if you're interested in research.
Most of our zookeepers have a bachelor's degree. You don't have to have your Ph.D. to be a curator.
It's also important to get a good liberal arts education. You need to know how to write, speak and understand history and human behavior. Get internships and take as many summer programs as you can."