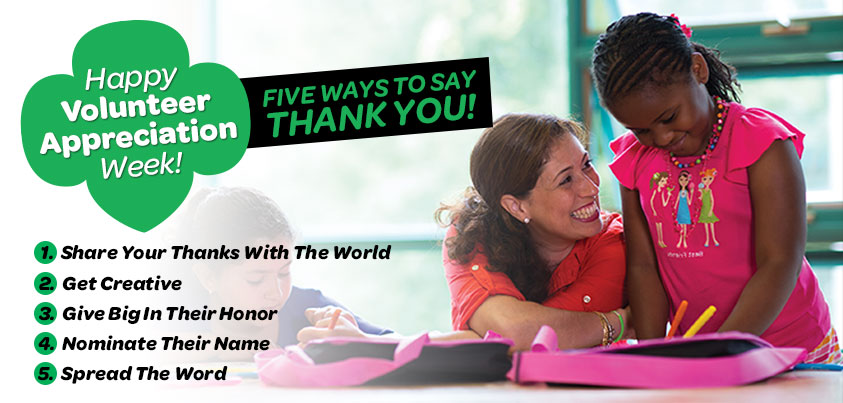 Did you know that more than 12,000 volunteers gave an estimated 250,000+ hours to make Girl Scouts happen in western Washington last year?
From troop meetings and camp outs, to cookie sales and all those tricky logistics (banking, anyone?), our volunteers always give it their all. They wear so many hats—and weather so many storms!—to help Girl Scouts achieve great things.
Girl Scouts wouldn't exist without these amazing people.
Now we need help from our Girl Scout community to recognize them! To celebrate Volunteer Appreciation Week (April 21-27), we hope you'll take a minute to say thank you to the Girl Scout volunteers who have made a difference in your life. Here are five great ways:
1. Share Your Thanks
Write a note, take a picture, or draw a doodle expressing your gratitude and then post it on our Facebook page  or email it to thanks@girlscoutsww.org and we'll post it for you! We'll share Thank Yous from across the council on social media throughout Volunteer Appreciation Week, so get in on the fun!
2. Get Creative
We love this list of 25 outside-the-box ways to thank a Girl Scout volunteer, like creating your very own "Thank You" video or making a mini time capsule filled messages about your favorite memories together, pictures, and fun artifacts. What would you add to the list?
3. Give Big
Did you know that you can donate to Girl Scouts of Western Washington in honor of a volunteer? Whether you want to give $5 or $500, you can celebrate the people who make a difference with a Tribute Gift.
4. Nominate Their Name
Recognizing our wonderful volunteers is a strong tradition in Girl Scouts. You can nominate a volunteer for any of our Girl Scouts of Western Washington Adult Recognition awards—like the Juliette Low Leadership Award or the Vivian Caver Diversity Award. You can also go national by submitting their name for the President's Volunteer Service Award.

5. Spread the Word
If you know other girls, families or Girl Scout fans, it's the perfect time to let them know that Volunteer Appreciation Week is happening April 21-27. Please help us spread the word so everyone can join in!
While we celebrate Girl Scout Volunteer Appreciation Week just once a year, our CEO Megan pointed out that "seven days is nowhere near enough time to adequately say 'thank you' to the thousands of volunteers who are the heart of Girl Scouts of Western Washington."
It's a great reminder to express your gratitude this week, and then carry that appreciative attitude forward throughout the rest of the year.
Thank you, thank you, thank you to our entire Girl Scout community!