Girl Scout alumna and KEXP radio superstar Cheryl Waters shares her story—plus advice for any girl who wants to be a DJ!
What would it feel like to have a famous voice?
Would you be nervous knowing people as far away as Copenhagen and as close as Kirkland listen to your jokes, watch the live music sessions you organize and take your recommendations about which bands to check out?
Most people might be nervous, but if you're Cheryl Waters, midday host and producer at KEXP, it's just a day's work.
But it's a totally awesome day!
When you get to spend your day playing songs you love, interviewing your favorite artists and going to concerts, nerves seem to take a back seat to the fact that your job rocks.
"I love getting up every morning," Cheryl admits. "I never don't want to get up for work."
Even when you've been doing this as long as Cheryl has (20 years!), you're not immune to getting nervous from time to time—especially if you're a big fan of the person you're interviewing!
"I interview bands almost every day live on the air, and that can sometimes be a little scary," Cheryl says. But it always seems to work itself out, and Cheryl's interviews are just as informative as they are fun. Plus, she's happy to be doing what she does, and it shows in her voice!
The Road to Radio
Being a radio host on an incredibly popular, internationally recognized radio station is a coveted gig. How does one get to that point in their career? The answer, in Cheryl's case, is accidentally.
Cheryl never set out to have a career in radio. She was an environmental science major and, after she graduated, accepted a job doing something that aligned with her degree.
"King County was in the process of looking for a site for incinerators," she recalls. "The public had an outcry, and they did not build the incinerator, but, instead, built up their waste reduction and recycling. I was the yard waste expert for King County, and we created a master recycler/composter education training program, and helped set up all of programs for curb-side yard waste and recycling pick-ups as well as hazardous waste disposal. I was able to utilize my education and experience, which was very exciting and rewarding.
"While I was working, I started volunteering at the University of Washington public radio station KCMU (now KEXP) as a hobby. I started as an overnight DJ, on the air in the middle of the night from 1-6 a.m. I was actually hesitant to apply for the position because I didn't have any radio or music-related experience, but loved music and I thought it would be fun. I ended up really enjoying it. And, after some time, I ended up being pretty good at it.
"A few years after I started volunteering, I started working half-time at KCMU, and half-time as an environmental consultant. In 1999, it turned into a full-time job. This year is my 20-year anniversary, so I guess it paid off to take that risk. I never imagined my hobby would turn into such a rewarding career."
Inspiring Other Girl Scouts
Cheryl was the speaker at this year's Girl Scout Gold Award Gala at the Tacoma Art Museum, and spoke to the girls about her unique career path. Mostly, though, she spoke about the importance of using your voice to make a difference in the world.
"When I was in high school, and even college, I didn't envision a life behind a microphone.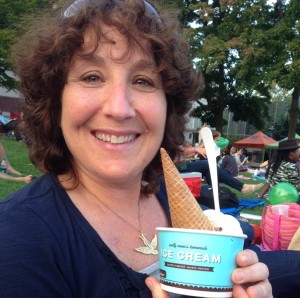 I'm grateful to have such a valuable platform to share my passion with such a huge audience. That platform extends beyond music. Last year, I was receiving treatment for breast cancer. And, if sharing that information with my listeners made just one person get a mammogram, then I made a difference with my actions. I have the attention of a world-wide audience and have an opportunity to make an impact and make them think about something in a way they haven't thought about before. Listeners tell me every day that I make a difference in their lives. Girl Scouts has given you the tools to begin making a difference through action. You make a difference when you reach out to others in both big and small ways.
Every action we take makes waves in the world. You know what some of your skills and strengths are but you don't know all the things that you might be really good at and really enjoy. So, keep learning. Through education, volunteerism and life experience. And, take what you've learned through your Girl Scout experience and make the most of it. Don't stop here. This is just the beginning. Go find your passion. That's where your voice will be heard. We want to hear your voice in the world."
Cheryl says that, often, when we see people we admire, we think need to be doing what they're doing, but we are all good at different things, and can contribute to our communities in different ways. She wants girls to know they don't have to do anything the same way as someone else. Their voice is unique, and it matters. Talk about the Girl Scout mission in action!
Camping Superstar!
Cheryl still lives the Girl Scout mission today, by having the courage to face life's obstacles and the confidence to learn new skills and forge ahead in her dreams. One of her most beloved past-times to this very day is camping – something she first experienced as a Girl Scout!
"In fifth grade, I joined the Girl Scouts," she recalls. "My mom took me to the local store and got me the whole outfit, including socks and the sash, as well as the handbook. My friend's mom was our troop leader. It was great hanging out with other girls. What I remember most is that it really was the first time I went overnight camping. Camping is something I really value and enjoy, and have continued to do my whole life. I remember sleeping in a tent, staying up late in the dark with flashlights. It's also the first time I had a s'more. It was the first time I did something that really meant a lot to me that I continue to do to this day."
The Importance of Hard Work
Even so Cheryl ended up in a career that had nothing to do with her degree, and she has found both success and happiness doing what she does, she says it wasn't luck that got her to this place. She encourages girls to find what they love, and give it their all.
"My success didn't come overnight," she says. "I worked hard for the things in my life. But I found my passion. If you can do that, and enjoy what you do, you have won in every way."
Cheryl's advice to girls interested in a radio career:
Volunteer: "At KEXP, almost every DJ started as a volunteer. We have a volunteer and internship program. Commercial radio stations also have volunteers for street teams. Radio positions are pretty coveted. In my observation, it's unusual to just step into being a DJ. You need to spend time volunteering and work your way up. You also need to be interested in the entire culture of radio."
Be Curious: "Investigate what's available in your community, and find out what's available for you. Get involved early. Check community colleges, universities, high schools and community radio stations, and then volunteer."
Give it the College Try: "If you're in college and your college has a radio station, go in and volunteer and try to get a radio shift. Generally, anyone can be on the air right away. If you get a communications or broadcasting degree, often working at the radio station is a part of that program. That gives you experience for going on to a commercial radio station."
Look at all the Opportunities: "There are a lot of opportunities beyond being a DJ. You can be a music director or program director and there is a team of dedicated and talented individuals working hard behind-the-scenes in a variety of positions at every radio station."
Cheryl recommends doing your homework about a career you're interested in, whether it's radio or something else. Check out all the possibilities, and try things out to see what you love!