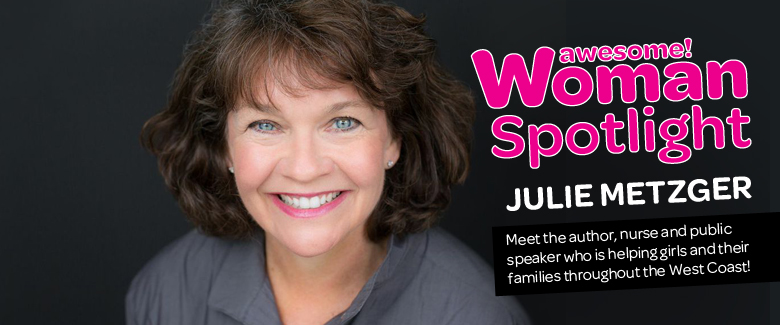 Girls grow up to become women. We all know it's true, but sometimes it's hard to talk about the middle phase: puberty.
Whether you're a parent, guardian or volunteer who works with girls, it can be a struggle to find the right words to help the girls in your life navigate the acne-clogged road to adulthood with the confidence and security they need to keep moving forward.
That's where Girl Scout alumna Julie Metzger comes in.
As a professional speaker, nurse, author and co-founder of the youth-focused, Great Conversations, she's been helping adults and kids navigate the important conversations about growing up for the last 25 years.
The Inspiration Behind the Conversation
"I've always had a really strong passion for girl, pre-teen and teen issues," Julie says.
"The focus of my [graduate] thesis was on what girls knew about their periods growing up, from whom they learned it and how that prepared them. Most people say they learn this from their mom, but you can imagine the range of those conversations. Some are between ten seconds and a thousand hours. Some range from confident to embarrassing, clinical to myth.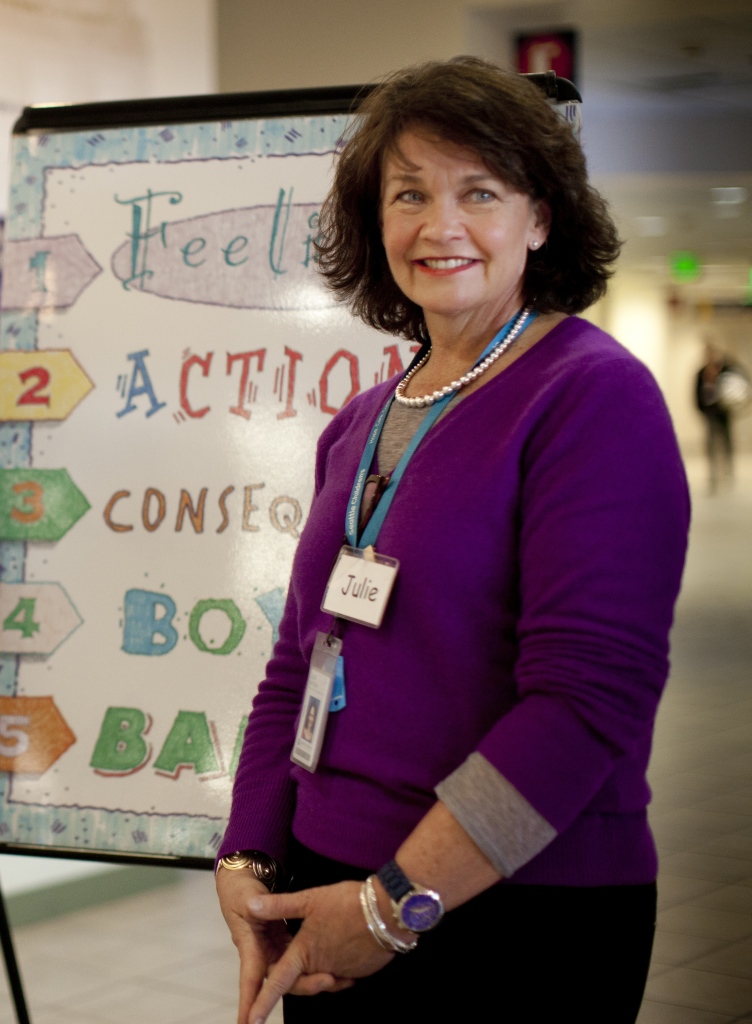 "I remember sitting in a study carrel wondering what would happen if we created a class where parents and children sat together and heard this information at the same time, and it would be interactive, engaging and funny, so everyone would walk away having a shared experience and a starting point to a conversation."
Julie shared her idea with a community educator at a hospital she was working at in Pittsburgh. "She said, 'Let's try it.' That was October of 1988. The class was so filled, we had to run it twice, back to back. And it's been that way ever since."
Julie—who has worked as a nurse at Seattle Children's Hospital for most of her career—offers classes with her colleagues at Seattle Children's (a sponsor of the classes) and Overlake Hospitals, and in Tacoma, Federal Way, Everett and on Bainbridge Island. Classes are also sponsored by Lucile Packard Children's Hospital in Palo Alto, California. More than 13,000 boys and girls have gone through Great Conversations classes last year alone, and classes are going into their 27th year! She's thrilled to do this work with Great Conversations co-founder, Dr. Rob Lehman, an adolescent medicine doctor.
In addition, Julie does about fifty parent talks at community groups and schools each year. She has also co-written the book, Will Puberty Last My Whole Life? and most recently published a journal for girls, This is Me.
Although Julie's work has focused on medicine and public speaking about developmental issues, it always comes back to one thing: helping girls and guardians navigate adolescence.
Issues Facing Girls

Julie says there are many recurring issues for girls that come up in her classes, workshops and retreats: Girls worry a lot about what other people will think of them.
"It could be, 'What do people think of me in this moment—about my body, my performance, about me as a friend or as a daughter?'" Julie says.
"If we took the tens of thousands of questions we've been asked, I could put them in four buckets:
Am I normal? Am I okay?
How will I fit in? Will I be important and included in my friendships?
How do I manage all these feelings? I feel super sad/super mad, and I'm happy one moment, sad the next.
Who can I talk to? Who are my adult mentor/teachers? How do I create conversations of meaning around these topics?
It's easy for parents to think their daughter needs more As in school, when, really, learning how to articulate feelings and emotions in a way that helps her communicate better with others is vastly more important."
The Girl Scout Connection
Julie's Girl Scout career started in the second grade. "We used to walk to our Girl Scout meetings from school, and it felt so grownup. I loved that," remembers Julie. "I loved the accomplishment of pursuing badges and learning … I was drawn to the science badges, and loved things that involved interviewing someone."
Girl Scouting became a family tradition when Julie's daughters joined Troop 168, a father/daughter group in Seattle.
"They look back at their Girl Scout experience so positively," notes Julie. "There were girls from all different schools in their troop, and that was a healthy, wonderful thing for my girls. They could be with their dad, but also met people from all over the city."
Girl Scouts was also a connecting point for guardians and girls in Julie's classes. "One time, in one of my classes, these two moms were sitting in an auditorium," recounts Julie. "One mom saw the name tag of another mom. Turns out, they were in the same Girl Scout Troop together growing up, and had not seen each other since grade school. And here they were with their daughters, just a few chairs away from each other."
Julie's Advice About Finding Your Gifts
"Public speaking is a gift. If I were a writer, I would have written ten books about this topic, but I'm a speaker, so I give a class. What I'm passionate about drives me.
I have the best job in the world. I feel like what I do is such a natural extension of who I am. I come from a family of presenters and teachers. I love a microphone, and love presenting. I also love the families so much. I delight in what I do.
My advice would be to find your passion. I love the quote from Frederick Buechner, 'The place God calls you is the place where your deep gladness, and the world's deep hunger, meet.'
It's all about finding your deep gladness. And then thinking, where does the world need that?
Girl Scouts gives girls a chance to explore who they are, which is the way to find deep gladness.
My mom found a letter I wrote to her when I was in nursing school, where I said that, some day, I thought it would be fun to teach a class. I had it in me, and it came out when it was ready. There is a deep hunger on this topic. My gladness and this deep hunger just continue to meet."