"Imagine that you're a patient at Seattle Children's Hospital and you have to be here for a month and you have to be in your bed. What would you be thinking? What would you be feeling? What would you want to help pass that time?"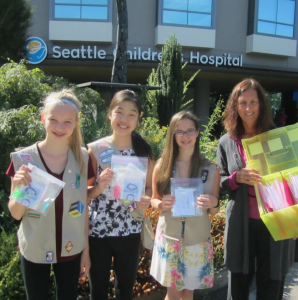 That's what Janel Wohlers, the In-Kind Gift Coordinator at Seattle Children's Hospital, says to Girl Scouts who are brainstorming ways they can help young hospital patients.
Hundreds of kids come to the hospital each year—and many local Girl Scouts donate their time, energy and enthusiasm to make their stay just a little bit brighter.
"There are always Girl Scout groups looking for ways to help the hospital. Doing that exercise gives the girls a sense of connecting with the patients," explains Janel. "And it helps them get creative. You can really see the lights go on!"
When it comes to Girl Scout Take Action projects—Bronze, Silver and Gold—Seattle Children's Hospital is a popular place to give back. We rounded up three of the most recent (and super creative) projects where local Girl Scouts teamed up with the hospital.
Read on to get inspired or get involved!
Bracelets Bringing Smiles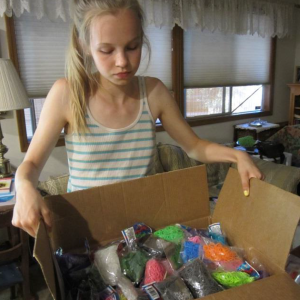 For their Silver Award Project, Troop 44180 Girl Scouts Cathy, Karin and Elisabeth put together 300 rubber band bracelet craft kits!
Their goal? "We wanted to help entertain patients during their hospital stay" says Cathy.
"I pictured what it would be like for the kids in the hospital and imagined myself in their place. I thought about how bored I would be," explains Karin.
"Each kit includes rubber bands, instructions, a looper and a hook!" points out Elisabeth. The kits also come in multiple skill levels—from easy to advanced—so kids at all ages can enjoy them.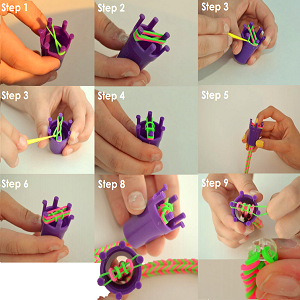 Troop leader Susan was impressed with the girls commitment: "They worked around vacations, and they each stepped up their game even more to fill the void when someone was gone to make sure things were on track," she notes.
"As in all projects, there were definitely hurdles and road blocks to overcome, but they all persevered and never lost sight of the end goal, which was to make children staying at Seattle Children's Hospital smile!"
As the team's official adviser, Janel was happy with the results too: "This was a wonderful group to work with—they were so detailed and thoughtful in the project and took it several steps further than what we normally get in terms of donations. And the bracelet kits definitely provide a distraction for kids that are here in the hospital!"
Want to Join In?
Follow these instructions to make kits to donate to Seattle Children's or your local hospital! (Or, you can also make your own bracelets with these instructions for Easy, Moderate, Intermediate or Advanced bracelet makers!) 

Bands for Beauty
"Childhood cancer is a terrible thing that no one should have to endure. Kids with cancer have to put life on hold … and we wanted to do something to brighten their day!" That's how Troop 42195 Girl Scouts Danielle and Kelsie introduce their Bands for Beauties Silver Award Project on their webpage.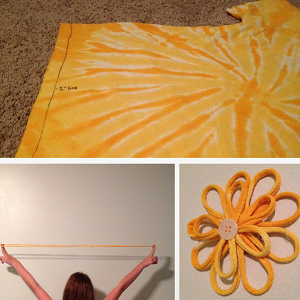 Working with their mentor Casey—a cancer care nurse at Seattle Children's Hospital—Danielle and Kelsie created beautiful (and cozy) headbands and hats for young cancer patients.
"We sewed strips of t-shirt material for the headbands and larger pieces for the hats," explains Kelsie. "For the flowers, we used a button hot glued onto the center to put them on the headbands. There are different sizes of headbands and hats to fit different patients."
Kelsie was inspired by her cousin, who was diagnosed with leukemia when she was three years old: "She never felt great about her appearance. So, Bands for Beauties is about helping young cancer patients feel more confident."
"You never know what small gift or small act of kindness will make someone feel a whole lot better," says Danielle.
Want to Join In?
Make your own headbands and hats to donate by following these instructions!
Puppets for Patients
As a kid, Girl Scout Rebekah remembers "being petrified of needles." But at a hospital, lots of kids have to deal with needles and tests every day. So Rebekah—along with her troop mate Katie—decided to do something.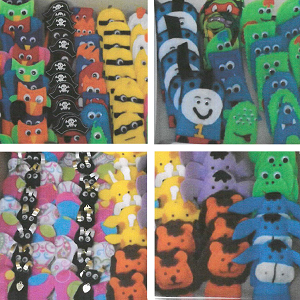 "We wanted to help some children either overcome that fear, or make the process a little more rewarding," she explains.
The results: 210 hand-sewn finger puppets for children undergoing finger prick blood tests.
There were all different kinds of puppets—everything from cute giraffes to googly-eyed monsters!
"After the blood test, they will get a finger puppet to put over the band aid to brighten their day and help them forget about the pain," says Rebekah.
During the project, Rebekah and Katie ended up getting pricked a few times themselves—with sewing needles!
Neither of them had sewn much before and 210 puppets is a lot of work.
"At first the finger puppets were extremely time consuming," explains Rebekah. "The project seemed never ending."
The girls solved the problem by coming up with easier patterns—although they were no less imaginative! "My favorite part of the project was that we got to be creative and design new patterns," says Katie.
"I loved knowing that each individual puppet would make a different kids' day," adds Rebekah.

Want to Join In?
Seattle Children's Hospital has patterns—created by Katie and Rebekah—that they can provide if you'd like to make your own finger puppets for kids in need.

Have you ever teamed with up a hospital for a Girl Scout project? Share your stories and ideas in the comments!