How's this for a rock star quote?
"I would quit my job and help sell Girl Scout Cookies every day of my life if I could."
Whoa! Who said that? Do you think it was a girl? Nope. It was a dad!
"I love helping my daughter reach her goals!" says Elliott Gustavson, a troop leader from Lynnwood whose daughter has some mighty impressive goals.
"Her first year she sold 500 boxes, her second year she sold 1100 boxes and this year she sold 1600 boxes," Elliott chuckles.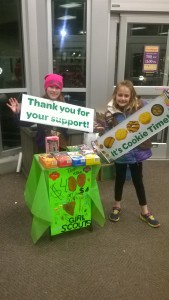 One of the things Elliott loves teaching his daughter, Aly – who is in his troop, along with 13 other girls – is how to set important goals. Because Aly is only 8, he knows he'll have to help her along a bit more in the process, but she's slowly beginning to understand what it all means.
For example, when she set her goal for this year, he reminded her that if she wanted to sell that many cookies, she'd have to sell every day.
"Next year, she'll have to figure it out herself and tell ME what she plans to do, instead of me helping her figure it out!" Elliott says.
How It All Began
"Originally, I'd take my daughter to Girl Scouts, and then leave," recalls Elliott. "I knew nothing about the organization, but I was involved in helping with cookies. The troop needed help, so I offered to help. That's when I found out what Girl Scouts was all about.
"The troop I was in didn't have a mixed troop, but we really wanted my daughter and her cousin to be together, so that's why we decided to create a mixed troop."
Elliott leads a troop of Daisies and Brownies – all of whom go to seven different schools and represent two different school districts!
He says that getting first and second graders who don't know each other together in a group was often a struggle.
"We quickly realized we needed to build unity in the troop," he says. "So in every meeting, we go around in a circle and say our names and then say something about ourselves.
"Consistency is really important for the girls. It's just like a family. They should have troop leaders who are strong and consistent. My co-leaders Lisa and my wife Bethany came on board with the new troop. Lisa had been a leader before and decided it was time to start up again."
Why Girl-Led?
Elliott believes girls need to learn how to set goals and create plans for themselves, which is the hallmark of Girl Scouts. Girl-led is something very important to him, and is one of the biggest reasons he became involved in Girl Scouts three years ago.
"I feel strongly that girls should be able to make their own choices," he says. "We have two award ceremonies a year, and we passed out questionnaires of all the badges the girls could earn, and we asked them to circle which ones they'd like to do. Next year we plan to sit down with the Brownie book, and let them decide.
"At this year's cookie sale, our troop sold over 5000 packages. We came up with some goals and examples of things the girls could earn if they hit certain levels. I made a thermometer with the different levels so girls could see what the levels were. Some of the options were a bowling party or a skating party, s'mores or an ice cream social. We had them vote."
Troop Fun!
"Our life is Girl Scouts," Elliott admits. "We do a lot of stuff. At the last award ceremony, my daughter got close to 15 patches, badges or pins.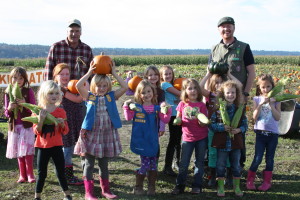 "I love the outdoors. I told parents at our info meeting that our troop will be heavily involved outside and that's what we want to do. We got our hiking badge at an encamporee, and we worked on our WAGGGS soil badge, which is almost like a journey, but you can earn it at any program level. We went to visit a farm in Snohomish, and a farmer gave us a tour. They also had produce, so some girls got corn and some got pumpkins.
"After that, we did a grocery store visit. The girls looked at the vegetables and talked about where they came from. We had to buy food for the awards ceremony. Each girl got a budget and money, and each leader allowed the girls to buy one thing. After that, we put it all in the car and went on a hike through Mountlake Terrace to a park. We had flashlights because it was pitch black out. I think the girls really enjoyed it.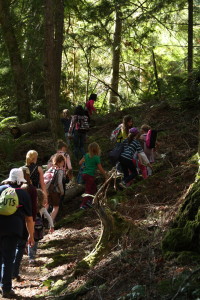 "We had to throw a soil celebration to complete the badge, so we had the girls make a dessert. They made chocolate cake, but made it look like dirt. We talked about ways we could make it look like dirt. Then they added gummy worms, crumbled Oreo cookies, mint and rosemary, and they loved eating it. One group decorated the gym and one group cooked, and they took turns."
What Does Girl Scouts Mean to This Dad?
Many people are surprised to learn that Girl Scouts has male volunteers. Men do everything from teaching safety skills on the water, to facilitating workshops to leading troops. Most dads who serve as troop leaders tell us they love it because they get to see their daughter and her friends find their strengths, develop more confidence and make their communities better. Plus the obvious part – bonding! For Elliott, though, that's not the only benefit he sees.
"This is something my daughter and I can do together," says Elliott.
He also stresses that Girl Scouts isn't about having time to spend with your child. He believes it's about your child learning to spend time away from you.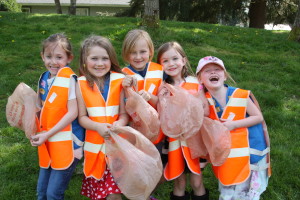 "They're learning to be with other girls," he says. "Learning skills that their parents don't think about teaching them or don't have the time to teach them because they're busy doing their own things.
"But all that said, I do get to spend time with my daughter. I have two full-time jobs. I'm an avid do-it-yourselfer, and I don't get to see her as much, and it does give me an opportunity to do things with her.
"The fact that I'm allowed to be a part of this organization is amazing. The girls are here to be with other girls and I'm here not as a friend and not as a girl."
Elliott sees himself as a strong male role model in girls' lives. Really, it's a role not unlike that of all parents, and is definitely the hallmark of a Girl Scout volunteer.
"I'm leading girls to be leaders," he says.
Are you a dad who wants to become a Girl Scout leader? Click here to learn more!