We're thrilled to be partnering with the Point Defiance Zoo and Aquarium once again on their holiday lights recycling program!
Thanks to a longstanding partnership between the zoo and Girl Scouts of Western Washington, when visitors come to the zoo between now and mid-January, they can bring in their old light strings for recycling and leave them at the main entrance.
There also are several places around Puget Sound where lights may be dropped off until mid-January, including all five Girl Scouts of Western Washington regional offices!
"The holiday lights recycling program truly highlights the Girl Scout motto of using our resources wisely and making the world a better place," says Girl Scouts of Western Washington CEO Megan Ferland. "Recycling lights and keeping them out of landfills while supporting animal conservation is truly remarkable, and we're happy to do whatever we can to support those efforts."
A Local Girl Scout's Bright Idea!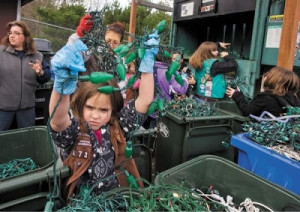 The recycling program began eight years ago as the brainchild of  Girl Scout Jessica Lam. And in 2009, Girl Scouts of Western Washington jumped on board to join her in her conservation efforts! Each year, the proceeds from the recycled lights go to support a different animal conservation effort. This year it's walrus conservation!
Check out a story about Jessica's bright idea, and how it started a wonderful recycling program still going strong today.
When Girl Scouts have ideas and find ways to make them become reality, everyone benefits!
Recycling Drop Spots
To recycle lights, remove all twist ties and rubber bands and put the lights directly in the bins with no boxes, bags or other extraneous material.
Drop off your holiday lights between now and mid-January at the following locations:
Metro Parks Tacoma locations
Northwest Trek Wildlife Park (during open hours)- 11610 Trek Drive E., Eatonville
Metro Parks Tacoma headquarters – 4702 S. 19th St., Tacoma
Tacoma Nature Center – 1919 S. Tyler St., Tacoma
STAR Center – 3873 S. 66th St., Tacoma
Center at Norpoint – 4818 Nassau Ave. N.E., Tacoma
Portland Avenue Community Center – 3513 Portland Ave., Tacoma
Peoples Community Center – 1602 S. MLK Jr. Way, Tacoma
Girl Scouts of Western Washington
Closed Dec. 19-Jan. 3
Call ahead to check office hours: 1-800-541-9852
Seattle Administrative Office – 601 Valley Street, Seattle
King County Regional Office – 13029 NE 20th St. Bellevue
North Region Office – 3224 Wetmore Ave., Everett
Peninsula Girl Scout Program Center – 1600 NE Winters Road, Bremerton
DuPont Girl Scout Center – 1000 Davis Place, DuPont