Carla Corkern, CEO of Talyst and Girl Scouts of Western Washington board member, has a compelling Girl Scout story, and we're so excited she is sharing it with us!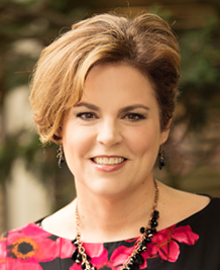 "Girl Scouts of Western Washington is investing in our communities to build girls of courage, confidence and character, and I watch Girl Scouts every day who are paying it forward by giving back to the communities in which they live. As a transplant to this region, I am amazed at the resources and opportunities this beautiful state has to offer – and amazed at the commitment to girls from those in our community.
I grew up in a time and an area where the resources for girls were much different. A few years ago, when I would meet people and they would ask, 'Girl, where are you from?' I would say, 'Lou-ee-see-ana,' pronouncing it like I knew they expected to hear it, not Lou-see-ana like every true native knows is right. And, always people would say, 'Oh, I love New Orleans!' Well, I grew up about as far from New Orleans as you can get in Louisiana and still be inside the boot. Luckily, or unluckily, now I can tell people where I am actually from – and most of them – although they hate to admit it, have seen my hometown on reality TV. Yes, I grew up in the land of Duck Dynasty. So, if you've seen the show, you know the men are all grungy and outdoorsy and for some odd reason the women are all beautifully made up and ready to go to town all the time (and trust me, there isn't much there to actually go do in the town that you need to get dressed up for except church on  Sundays).
Anyway, I tell you this story to give you a backdrop of a place and a time for my Girl Scout journey. My mama was (and still is) a woman like those duck dynasty women, a beautiful, poised, well-dressed woman who earned her beauty school license to help put my Dad through college. When I was born, she was overjoyed to have a life-sized doll to dress and mold into her image.  Unfortunately for her, by the time I'd started school, it was pretty clear – that wasn't gonna be the way it was going to go. Every chance I could get I was sneaking out of the house to catch bugs in a jar or trap crawfish in the ditch or crawl around the construction sites in our neighborhood picking up coke bottles (for money, not environmental reasons).
However, my mama held out hope for me. She signed me up for all kinds of things to make me a lady. First up was baton twirling! After I had blackened my eye and broken several treasured knick knacks in the living room, I came home one day to find my baton had mysteriously been run over in the driveway, although I distinctly remember leaving it in the laundry room when I left for school that day. Next up was ballet, then acrobatics and tap dancing.  All of these required dressing up and going to town which I fought tooth and nail. After school, I  just wanted to run wild outside in the woods.
Finally my mother (probably because it was an after-school activity and didn't require a trip to town) signed me up for Brownies. She even got excited when she saw the cute little dress and beanie that I'd have to wear on meeting day.  Although I hated wearing dresses more than anything, I was willing to give Girl Scouts a chance because some older tough girls from the playground I knew were in the troop and I looked up to them. From that first day, I was hooked. The classroom was filled with energy and unlike what usually happens in school classrooms, the girls were in charge. The older girls ran most of the meeting and before long I was swept up in the songs and the games and when we went outside to play a game of Red Rover I knew I had found my tribe. I loved the fact that no one shushed me or told me to sit down and be quiet (unless it was one of those older tough girls and you can bet I did it, too!).
When cookie selling season came around, I really found my place. I loved to sell cookies! Seems I had a knack for asking people for money! I loved to fill up my little red wagon and walk from house to house and knock on doors. I started going to my mom's beauty shop after school and setting up a little card table during cookie season to sell cookies.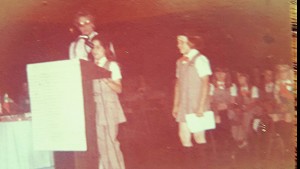 I pestered people at my church, I pestered people at my dance lessons (you thought I got out of that, didn't you?) and I sold so many cookies I was named Girl Scout of the Year in 1976 for the Silver Waters Council! It was a little council and in a small rural area but I was on top of the world!
I have no doubt that my love for selling cookies and the lessons I learned there led me to my current career. Girl Scouts took me to President of my Middle School Student Council and to the state championships in Speech and Debate. My Girl Scout selling skills came into play when I started my first company at 26 had called every bank on an SBA approved lenders list and set up meetings with people twice my age (most of whom laughed me out of the room, but hey, it only took one to say yes!).
The skills I learned in Girl Scouts helped me in my role as CEO today!"