What do you think when you hear the words "emergency preparedness"? Even for adults, it can sound daunting.
But emergency preparedness doesn't have to be scary! Through a fun zombie-themed patch program, Girl Scouts in western Washington are taking a positive and proactive approach so they can be prepared, not scared, in the face of an emergency or disaster.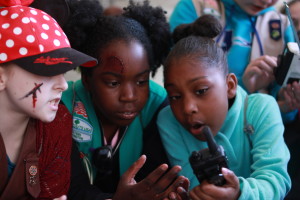 This zombie-themed emergency preparedness patch program helps remove the fear factor from emergency preparedness and empowers girls to take a leadership role in their families, neighborhoods, and communities. After getting "zombiefied" in full zombie hair and makeup, girls and adults begin a survival journey, visiting different stations to learn about emergency fundamentals including how to obtain food, shelter, water and first aid in the wake of a disaster.
The Great Cascadia Zombie Survival Challenge Launch Party in Bremerton was the event that started it all. The event was inspired by the 2016 Cascadia Rising Drill in which local, state, and federal agencies came together to test response and recovery capabilities in the event of a 9.0 Cascadia Subduction Zone earthquake and tsunami, and the drill highlighted the need for residents to be prepared for conditions like power outages, extreme storms, flooding, or landslides.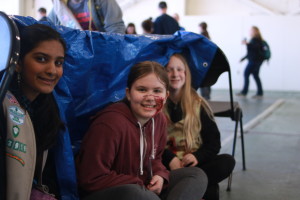 The results of the Cascadia Rising Drill event were startling but Kari Murphy, our Peninsula Regional Program Manager knew that getting girls involved with emergency preparedness planning could really make a difference for local community readiness. She immediately took action and created this amazing fun patch program with a purpose.
"The Girl Scout motto is to Be Prepared. Emergency Preparedness, however, is often approached from a place of fear. Let's face it, the subject can be daunting and scary" she said.  "I wanted to make this subject fun for girls and volunteers. It is the intent of this patch program to take the fear away and replace it with empowered Girl Scouts helping their families, neighbors, and communities."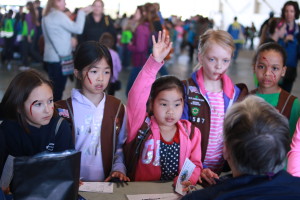 The Zombie Survival launch party was so popular, we brought the program to our entire council so that girls and families throughout western Washington can access the best possible information about what to do in the face of disaster. We've held zombie events across the council in:
Bremerton, where 300 girls participated in the initial launch and another 250 the following year
Magnuson Park, where over 700 girls, adults, and volunteers participated.
Capitol Mall in Olympia, where 300 girls participated.
Everett Mall, where over 300 girls and adults participated.
Silver Lake in Everett, where over 300 girls and adults participated.
Many troops and individual girl members across our council have also completed the Survival Challenge on their own or within their service units.
For girls, the zombie patch programs make the lessons of emergency preparedness tangible and engaging. Since the program started, we have received requests for the Great Cascadia Zombie Survival Challenge from all over the world – our store just recently received an order all the way from New Zealand! Wondering what the challenge looks like in action?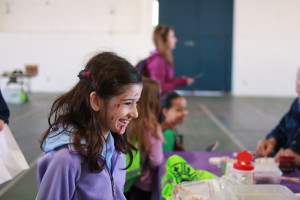 How Zombies Get Prepared
It all begins when girls get their zombie backpacks to begin collecting the tools needed to keep their zombie safe. Next stop is the Zombification Station to get "zombiefied!" Girls will start the challenge at the makeup station for total zombie transformation! Once hair and makeup are complete, they sign a pledge promising to keep their zombie safe and earn their patch before they make their way to each survival challenge station using their best zombie walk.
But first things first: As part of the pledge, girls must brainstorm at least three different emergencies their zombie could encounter. These could be natural or man-made disasters.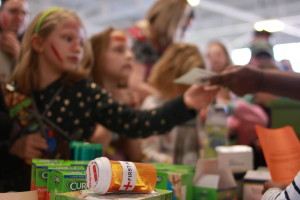 Girls walk from station to station and start designing their emergency plan. They'll move among the stations to learn about topics including food, water and shelter, along with other important considerations in a disaster situation, like communication, heat and light, and pet safety.
Each station tasks girls with a set of exercises and action items: At the communication station, they'll establish a troop and family reunification plan; at the cooking station, they might whip up a full meal without electricity. As they work through the stations, they'll also earn rocker patches to give their zombie an extra boost! Rocker patches are small patches placed around the main patch that are earned by learning emergency preparedness skills.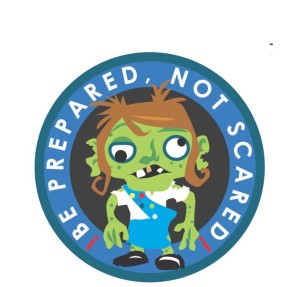 Girls earn their patches and leave with confidence. After keeping their zombie safe and completing the stations, they'll not only leave with new patches but also with the knowledge and confidence to embody the original Girl Scouts motto: "Be prepared."
The Great Cascadia Zombie Survival Challenge encourages girls to be a part of building resilience at the neighborhood level. After completing the challenge, girls are can take leadership roles in their families and in their communities when it comes to preparedness.
Faye Peebles, whose daughters Meadow and Rose recently participated in the challenge, says the conversations and hands-on learning at each station made a lasting impression on her girls.
"My daughters learned quite a bit about what types of things to think about in a disaster situation," she said. "The biggest takeaway for them was the work that goes into making drinkable water and thinking about the weight of food."
Are you ready to take on the zombie survival challenge? Join us for the next event on June 15 in Montesano, or keep an eye on our Events page for future challenges near you!