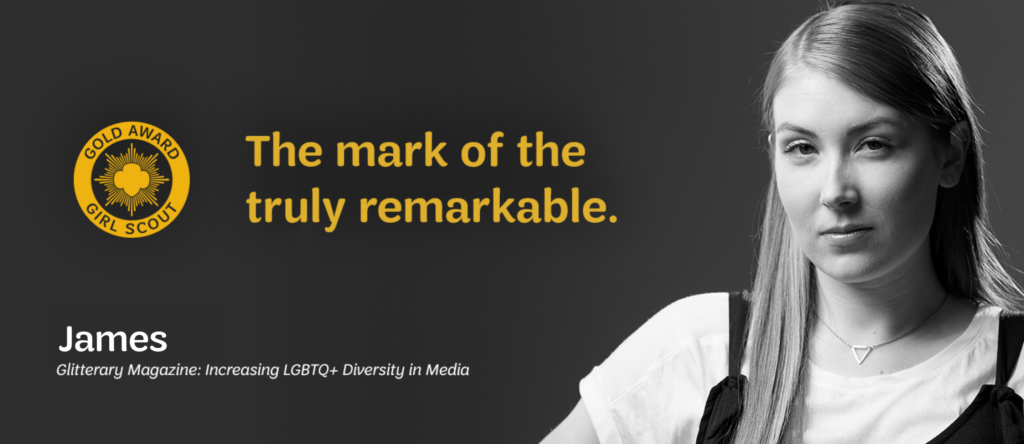 James was a speaker at this year's Seattle G.I.R.L. luncheon and we were so inspired by their story we wanted to share it! 
They were recently nominated as a National Gold Award Girl Scout and honored across the nation as a shining example of what it means to Go Gold.
James is now at Stanford University studying aerospace engineering. What an incredible go-getter, innovator, risk-taker, and leader! 
Edit Sept. 17, 2021: National Gold Award Girl Scout James Wall (they/them) has requested that their speech remain as they originally wrote it in 2019. Girl Scouts of Western Washington recognizes that gender is not binary, and we welcome children from across the gender spectrum: those who identify as transgender, agender, androgynous, etc., and those who are in transition or questioning their gender identity.
Meet the 2019 National Gold Award Girl Scouts—10 extraordinary young leaders who each tackled a real-life issue and dedicated their time, energy, and passion to creating a lasting solution. From environmental concerns to social justice to community problems, Gold Award Girl Scouts don't just change the world for the better, they change it for good.
My name is Phoebe Wall, and I'm an Ambassador Girl Scout, a senior in high school, and a new Gold Award Girl Scout. I joined Girl Scouts 12 years ago when two moms at my school, Cathy and MaryAnn, volunteered their time every Thursday and formed a troop. I remember one of the first activities we did as Brownies was perform three random acts of kindness. Cathy and MaryAnn instilled in us the value of giving back, and through the years our troop donated frequently to the Animal Humane Society.
In middle school, our troop leaders encouraged us to run meetings ourselves, developing agendas and having the awareness to stay on task. We planned trips and pitched them in power point presentations to our parents. We sold Girl Scout cookies to raise money, and I wrote a song that we sang during site sales. Some of my favorite memories as a Girl Scout have been standing outside a Safeway in the cold, bursting into song every time we saw someone walk out the door.
In high school, we realized that if any of us were to start on our Gold Award, we would need to complete two journeys. For our Girltopia journey, we developed a Respect Workshop, an anti-bullying workshop that taught middle school girls not only how to be kind to one another, but also how to love themselves.
Over these past twelve years, the girls in my troop have become my sisters and my troop leaders like moms. From road tripping to Yellowstone to practicing skits for encamporees, I've made connections that go beyond friendship.
Girl Scouts is more than just a group of friends meeting once a month, it's an organization designed to support us in taking risks and becoming leaders. My freshman and sophomore year, I was a girl delegate representing my service unit at the Annual Meeting for Girl Scouts of Western Washington. For junior and senior year, the adult lead delegate of my service unit, Ulrike, asked if I would be interested in becoming the lead delegate myself. The fact that troop leaders in my service unit trusted a girl with an adult's responsibility is an excellent example of how Girl Scouts empowers girls to constantly grow as leaders, and I'm so grateful for my service unit's support. One delegate memory that will always stand out was the celebration of the For Every Girl campaign. For those of you who don't know, about four years ago Girl Scouts of Western Washington received a donation of $100,000 that they returned because the donor would not support transgender girls. Our council launched the For Every Girl campaign, eventually raising over 300,000 dollars.
Which is why, when I realized I am lesbian, I immediately knew that Girl Scouts is not only a safe and enriching community for girls of every sexual orientation, gender identity, race, and socioeconomic status, it's a community that celebrates that diversity. I realized I wanted to tackle a project that addressed a need in the LGBTQ+ community, and I had no doubt that Girl Scouts of Western Washington would support me in that project.
For my Gold Award Take Action Project, I founded Glitterary magazine, an online LGBTQ+ literary magazine for youth. Because we publish works written by and for LGBTQ+ youth, we empower them to simultaneously identify gaps in representation and fill those gaps themselves. In this way, my project addresses the common perception that being straight and cisgender is "normal" while everything else is "other." This pervasive idea hurts the self-esteem and mental health of LGBTQ+ youth as they feel shunned from a heteronormative culture. In contrast, when reading Glitterary, youth can relate to the characters and situations presented and can see themselves in every genre and type of work. In this way, we are validating and normalizing the experiences of this minority group. Furthermore, we address the representation of diversity within the LGBTQ+ community that is often depicted as only cisgender gay men by publishing works with characters of a broader and more accurate spectrum of gender and sexual identities.
In my Gold Award project proposal to Girl Scouts of Western Washington I wrote, "Wherever there are people, there are gay people." However, I never imagined Gitterary would receive international readership covering 29 countries across every continent but Antarctica, including nations where homosexual activity is illegal. Taking on the challenge of the Gold Award taught me to expand my horizons beyond my troop, my service unit, and western Washington; I finally found my place among a global community and will always seek to help and improve this community.
By earning my Gold Award, I honed valuable leadership, organizational, and community problem solving skills that will empower me for the rest of my life. However, these skills were built on a foundation going all the way back to my first three random acts of kindness as a Brownie. Over the years, I learned how to manage money from selling Girl Scout cookies, how to become a leader through the support of my service unit, how to be an organized thinker by watching troop leader Cathy Whiteside plan encamporees for hundreds of girls, and how to be a kind friend by becoming a sister to every Girl scout. These are skills that every Girl Scout carries forever.
Looking to the future, Glitterary magazine will thrive as I leave to study aerospace engineering. I'm leaving behind a strong and capable editorial board to continue to run this project for years, fulfilling the final Gold Award requirement that the project be sustainable. My dream is to become an astronaut, and it's no coincidence that virtually every female astronaut was once a Girl Scout. Thank you to my troop leaders, to my service unit, and to Girl Scouts of Western Washington for supporting me and thousands of other girls on our journeys to become strong and compassionate women!