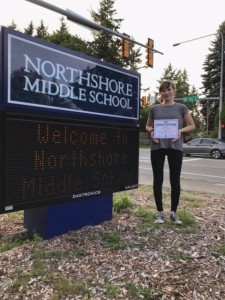 According to the National Institute of Mental Health, three out of every fifty teens aged 13-18 are grappling with severe anxiety disorder.
There's a lot to grapple without in the world when you're a young person, and each day can carry with it its own challenges. It can feel incredibly isolating when you go through your day and don't feel you have a place where you can go to take a break from it all, sitting with your emotions in a safe space, away from everyone else.
Julia G., a 14-year-old Girl Scout from Bothell, who is a champion for mental health advocacy, wanted to change that, so she started at her school, Northshore Middle School, by creating the school's first-ever ME space.
What's A ME Room?
A ME space is a short way of saying Mental Emotional, Mind Escape, which is a room created for students struggling with anxiety or overwhelming emotions to visit during the day when they need a mental health break. The room is filled with resources like weighted blankets, comfortable seating, hand putty, drawing materials, and calming sounds to help students clear their mind and cope with anxiety or any overwhelming emotions they experience at school.
"When I would have anxiety attacks, I would have to go home and miss part of the school day," Julia recounted. "I just wanted help make an overall good school environment for everyone because having a bad day impacts how much and how well you learn."
As she began designing the first ME room, Julia found that by advocating for students to have space to help cope with their mental disabilities, school staff members would become more supportive and recognize mental health as an important issue facing young people. The bigger challenges she faced were persuading schools to dedicate a room just for a ME space and providing them with important resources.
After researching the brain science of anxiety and mindfulness techniques, Julia applied for and received a grant through WE Charity—an international charity and youth empowerment movement that offers tools, resources, and a platform for youth to make "doing good, doable"—and was able to stock the ME space with calming supplies. She then worked alongside school officials in her district to create the space for any students who needed it.
Through her work, Julia is hoping to bring more awareness to students and staff about how to employ healthy coping methods for the range of emotions they may experience.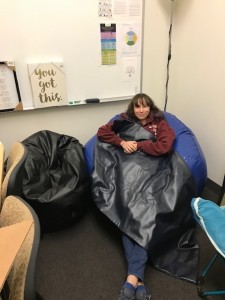 "In a ME space, school counselors keep situations confidential and help you when you're hit with an extreme anxiety attack," Julia said. "When you're stressed you can get very vocal and aggressive toward other people, and the room helps calm you down to be able to continue the school day at school."
Staff at Northshore Middle School have been tracking how useful the first ME space has been and found that as of December 2018 there were 25-30 students visiting the room per week and several major incidents were de-escalated through use of the room and its mental health resources.
Even though she's a high school student, Julia isn't planning to stop her advocacy any time soon; she has been sharing the success of her work while advocating for the creation of more safe spaces for students across Washington. Recently, a ME space opened at Kenmore Middle School after a parent in a committee Julia was working with approached her, wanting to create a space for her daughter who also lived with anxiety. Julia worked with school officials to dedicate a space at the school and brought in a ME space starter kit to set up counselors with resources for the middle school students. After a recent presentation to influential leaders in the Northshore School District, Julia saw interest in bringing ME spaces to other schools, as well as expanding education surrounding anxiety, stress and developing healthy coping methods for students within the district. Her ultimate goal is to create ME spaces across the state!
"One of my goals is to spread this to all middle schools, and eventually every high school!" Julia said. "I'm a freshman now, so I've lost access to that space, but I'm still going through a lot. Having a ME space here would help me work through problems I am dealing with in high school too."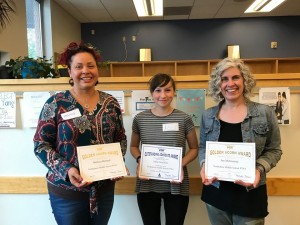 Julia received the humanitarian award from the Northshore School District and was recognized by her middle school with an outstanding advocate award. She's also taking her advocacy to the state capitol, where the Washington State PTSA has asked Julia to testify to the legislature in Olympia on mental health and school advocacy.
She has been able to attend every WE Day event hosted in Washington, which is a celebration of young people and educators who have made a difference in their communities. Attendance is only available to young people who have committed to local and global action through the WE Charity program, demonstrating Julia's commitment to helping others and creating positive change in Washington.
You go, Girl Scout! Thank you, Julia, for making schools and students' lives better through your work.
October 10 is Mental Health Awareness Day. It's a day that offers an opportunity for those working on mental health issues to bring attention to their work and continue the fight to make mental health care a reality for people worldwide. Share your story with us!