It's that time of year again — time to honor our Gold Award Girl Scouts! We were unable to have our Gold Award Gala in person this year because of COVID-19, but we want to honor our 25 Gold Award Girl Scouts for their accomplishments and passion in improving their community.
The Gold Award is the highest award a Girl Scout can earn, and Gold Award earners spend countless hours creating, implementing, and reflecting on a project that is impactful and sustainable within their community. Girl Scouts can use their projects to tackle issues, big and small, that are important to them. They build important career skills, such as organization, collaboration, and confidence in leadership, while making the world a better place in the process.
In western Washington, we saw youth find creative solutions to all kinds of challenging problems, from helping local students with education goals to raising awareness for teenage mental health to helping members of the homeless community in need. These Girl Scouts rose to the challenge, dedicating themselves to causes they care about. Here is a list of all those Girl Scouts!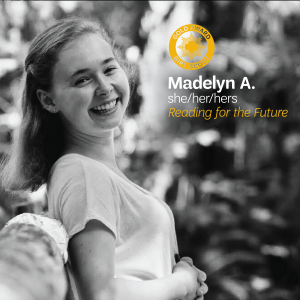 Madelyn Archibald
Troop 42116, Forks, WA
Reading for the Future
Madelyn worked to improve reading levels among children by encouraging reading through different methods. She held a book drive in her school district and gave these books to local elementary school students. She also worked with older students to read out loud to preschoolers, who each received books to take home as well. An article that she wrote explaining the importance of reading to children will be included in the beginning-of-the-year elementary school paperwork in order to encourage parents to read to their children at home.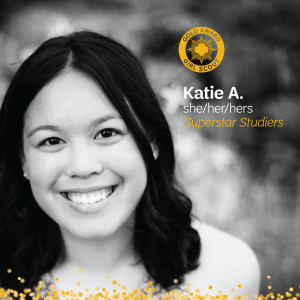 Katie Armstrong
Troop 52900, Mill Creek, WA
Superstar Studiers
Gold Award Girl Scout Katie Armstrong created an after-school tutoring program, Superstar Studiers, aimed at students who were passionate about school but did not necessarily have the means to effectively study at home. Armstrong worked to create a safe and caring atmosphere where students could excel in their schoolwork. The program consisted of equal time for reading, outdoor play, and homework help. She found that these students seemed to enjoy learning and were completing more assignments after attending the program.
Kiana Bellamoroso
Troop 40819, Tacoma, WA
Bridging the Education Gap: The Role of Tutoring in Reducing Poverty-Related Inequality in Education
Kiana used her project to address the issue of how childhood poverty affects academic performance in at-risk elementary schools. She worked with 5th grade students in a lower-income elementary school to improve their math skills and interpersonal problem-solving skills. She also created a blog to increase public knowledge of childhood poverty and education, as well as a volunteer manual to make it easier for future volunteers to tutor students in similar situations.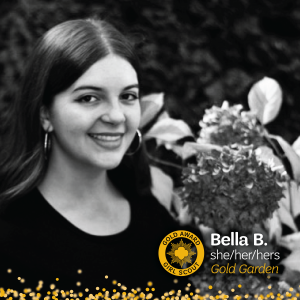 Bella BeSerra
Troop 41228, Federal Way, WA
Gold Garden
Bella built a community garden at a local church—LifeWay Church—to grow fresh produce for low-income families in Federal Way. The garden was implemented through numerous donations from local hardware and garden stores, as well as volunteers recruited from the wider community who helped plant, grow, and harvest the produce. She also put plans in place for volunteers to sustain the garden through the winter and beyond, and the garden itself should last for 10 years.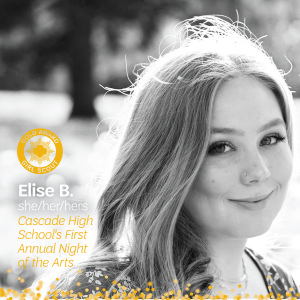 Elise Bingay
Troop 42815, Everett, WA
Cascade High School's First Annual Night of the Arts
Elise created an annual Night of the Arts event at her school, Cascade High School, to showcase and celebrate the artists within her school. The evening displayed a variety of crafts, including visual art, music, and performing arts. This event allowed many students to display their work for the first time, raising awareness and appreciation for art in the community. Over 500 people attended the event, and every attendee said they would like to return in following years.
Zoe Bucher
Troop 40220, Tacoma, WA
Benevolence Blankets
Zoe created a community club for high school students and adults to make no-sew blankets for local community members in need. The club met once a week for 11 months at a local library, creating a total of 200 blankets, many of which Bucher donated to Tacoma Rescue Mission's Search and Rescue van. She received support through donations of fleece fabric and volunteers who helped make the blankets. The club will continue to make blankets bimonthly with the support of the Tacoma Public Library.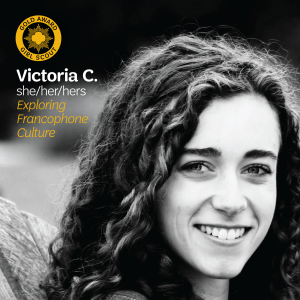 Victoria Christopher
Troop 52818, Bellevue, WA
Exploring Francophone Culture
Victoria started a French club at her high school in order to bring the benefits of learning about different languages and countries to her classmates. Students were able to explore the cultural aspects of French-speaking countries, such as music, holidays, food, and more. Christopher made the club available to any student, not just students taking French classes so that anyone who wanted to experience francophone culture could participate. By encouraging students to explore other cultures, they were able to cultivate a consideration and appreciation for areas around the world.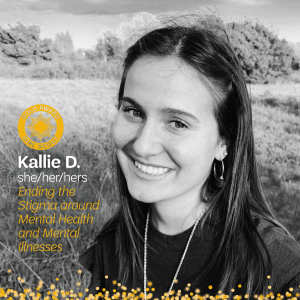 Kallie Dimaris
Troop 41239, Mercer Island, WA
Ending the Stigma Around Mental Health and Mental Illnesses
Kallie worked to end mental health stigma by creating a video about mental health and mental illness. The video included interviews with teens and adults in order to bring light to mental illnesses and reassure others that they are not alone. Dimaris presented the video to many members of the community, including Girl Scout troops, and shared it on social media, where it has had hundreds of views.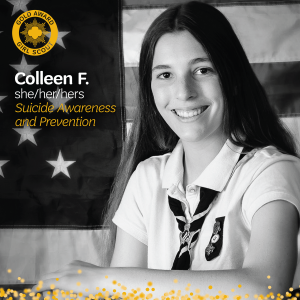 Colleen Fanning
Troop 43891, Roy, WA
Suicide Awareness and Prevention
Colleen used her project to raise awareness about teenage suicide. She created flyers and business cards for suicide prevention that listed numbers of suicide prevention and crisis lifelines, distributing them throughout the community. Fanning teamed up with Greater Lakes Health Mental Hospital to set up a yearly booth at the annual All Bethel Communities Day in Spanaway, Washington. She spoke with three Washington legislators about suicide awareness and prevention in teens and worked with Bethel School District to ensure her business cards are offered in every counselor's office in the district.
Kaitlyn Farris
Troop 50050, Burien, WA
Highline Area Food Bank Cookbook
Kaitlyn focused on the Highline Area Food Bank for her project, specifically helping those with food insecurities create healthy meals with the food they are provided from food banks. She worked with the director to create a cookbook with 28 recipes, many of which centered around the most common foods at the food bank, and passed them out to registered families as they picked up their food. Farris used recipes that are nutritious, easy to make, and use a variety of cooking methods (such as stoves, microwaves, and ovens). The food bank will continue to distribute her cookbook to future patrons.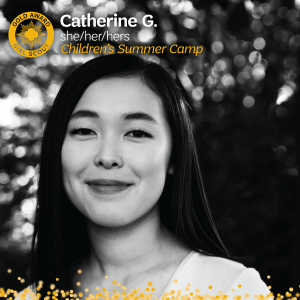 Catherine Goto
Troop 43734, Sammamish, WA
Children's Summer Camp
Catherine created and hosted an evening summer camp for children at Acres of Diamonds, a transitional home for women and children experiencing homelessness. She noticed that children in homeless shelters and transitional housing programs don't always get to go to summer camp due to limited time or income, so she wanted to give them an opportunity to go to a free, accessible camp with activities tailored to them. She filled the week-long camp with activities, games and provided dinner for each camper.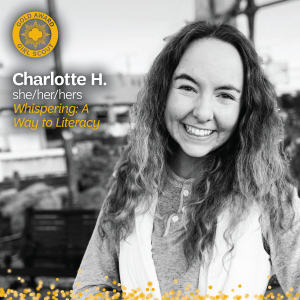 Charlotte Hanson
Troop 50243, Kingston, WA
Whispering: A Way to Literacy
Charlotte wanted to create a project that could be impactful on a global and local scale, so her focus turned to literacy. With the help of her high school's service clubs, Hanson created 40 whisper phones — simple devices made from PVC pipe and duct tape. These devices allow new readers to develop confidence in reading comprehension and pronunciation, aiding students in their literacy skills. She donated 35 whisper phones to local kindergarten classrooms and partnered with Embrace Liberia to donate the remaining 5 phones to Embrace Liberia Academy in Liberia.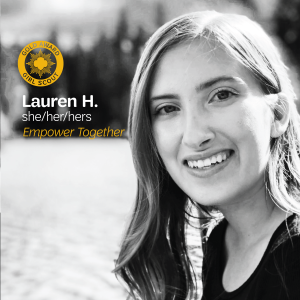 Lauren Heiberg
Troop 42756, Sammamish, WA
Empower Together
Lauren wanted to find a way to empower women at a younger age by challenging norms and encouraging girls towards leadership positions. She created a leadership program for girls that taught them important skills like public speaking, working with teams, and confidence in leadership. Heiberg funded the event by creating and selling t-shirts and bags with the motto "Empower Together," and created a leadership kit of online resources to distribute to attendees.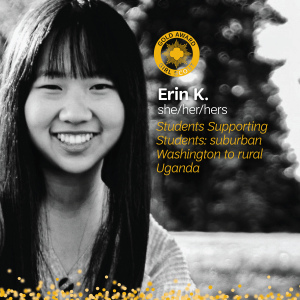 Erin Kim
Troop 43734, Sammamish, WA
Students Supporting Students: Suburban Washington to rural Uganda
Erin noticed that most students tend to throw away perfectly usable school supplies at the end of the year and decided to find a use for these supplies rather than let them go to waste. She collected new and gently used school supplies through a drive at Margaret Mead Elementary School and recycled them by donating everything to rural schools in Uganda. Kim received donations of over 2,600 school supplies from students, and created pamphlets that explained how to implement more drives like these and distributed them throughout the school and the Sammamish community.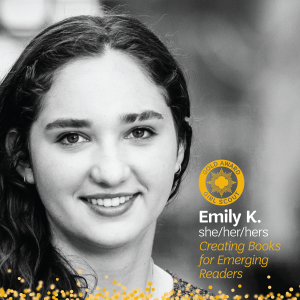 Emily Kovarik
Troop 42503, Mercer Island, WA
Creating Books for Emerging Readers
Emily addressed the need for engaging reading materials for young readers. She noticed that lower income schools have limited resources for basic reading materials, so they often use unengaging materials that tend to discourage children from finding enjoyment in reading. Kovarik created a set of basic storybooks for elementary school students at Atlantic Street School in Rainier Valley. These books supplemented the current curriculum by replacing a set of phonics and reading materials, and could be used as a reusable resource for future classrooms.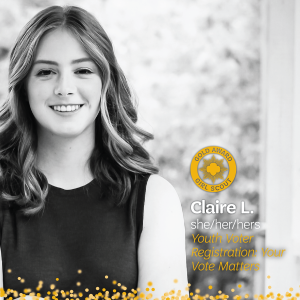 Claire Longcore
Troop 52236, Kirkland, WA
Youth Voter Registration: Your Vote Matters
Claire noticed that young voters are not always politically invested. She hosted multiple voter registration days at college campuses, high school campuses, and community events that were targeted towards registering and educating young voters. Longcore created an informational website, www.voterkingco.com, that explained the voting process and civic responsibility in easy-to-understand language. She registered over 100 new voters, all of whom said they were intending to vote in the next election that they are eligible.
Taylor Mallalieu
Troop 43734, Sammamish, WA
Community Garden Project
Taylor created a sustainable vegetable garden at Acres of Diamonds, a shelter for women and children. She provided starter plants and taught the shelter residents how to grow and sustain the plants, while also holding cooking classes on how to prepare the garden's fresh produce. By giving them fresh produce to eat as part of a healthier lifestyle, Mallalieu inspired many of these women to consider creating their own gardens to access the benefits of healthy food.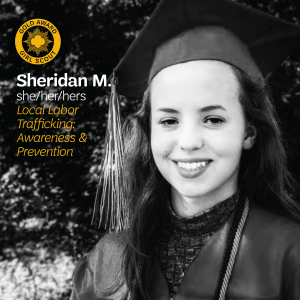 Sheridan Moore
IRM, Lynnwood, WA
Local Labor Trafficking: Awareness and Prevention
Sheridan wanted to raise awareness about labor trafficking among students her age, so she created educational presentations about labor trafficking that occurs locally. These presentations were aimed at high school and college students, and included important statistics and mentions of popular companies that traffic labor. Moore also worked with the Washington Anti-trafficking Response Network (W.A.R.N.) to raise awareness and funds for their work. Her presentation was converted into a website with general information about labor trafficking, and will be presented by other students in the coming years.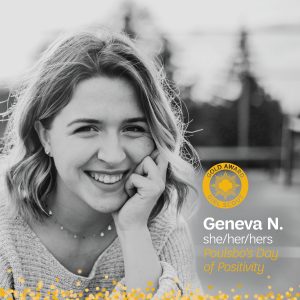 Geneva Newell
IRM, Poulsbo, WA
Poulsbo's Day of Positivity
Geneva wanted to inspire positivity within her community, and decided to do so by planning and implementing Poulsbo's Day of Positivity. The community event featured activities such as face painting and friendship bracelet making, live music from local youth performers, and the chance to write cards to send to patients at Seattle Children's Hospital. Newell recruited volunteers, high school service clubs, and local businesses to stage the event at Poulsbo's waterfront park. An estimated 450 people attended, and 245 thoughtful cards were written and sent to Seattle Children's Hospital.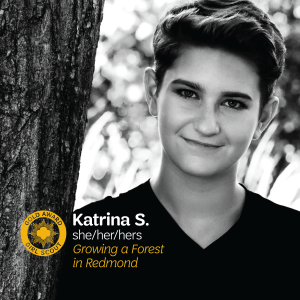 Katrina Sanko
Troop 41295, Redmond, WA
Growing a Forest in Redmond
Katrina sought to counteract deforestation in her community by expanding the tree canopy in Redmond. She implemented her project through community outreach, distributing informational flyers and native tree seeds to hundreds of Redmond residents in order to explain the importance of the tree canopy and encourage them to preserve it. The flyers included educational information on tree canopies, as well as instructions on planting trees at home. Sanko also worked with the City of Redmond to implement her project, which coincided with the city's own long-term project to expand the tree canopy.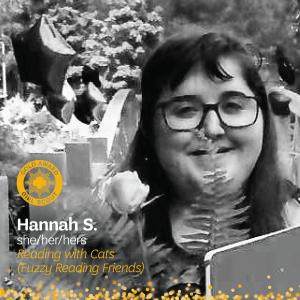 Hannah Scheeler
Troop 43171, Kent, WA
Reading with Cats (Fuzzy Reading Friends)
Hannah found a creative way for children to build confidence in their reading skills: she set up a program where kids grades K-7 could read out loud to cats at the local animal shelter. This program provided a quiet, comfortable setting for children who needed a little extra help or practice with reading. Scheeler's project made it easy for the children to feel engaged and safe without feeling judged about their reading skills.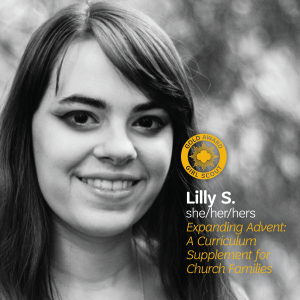 Lilly Schneider
Troop 41718, Bellevue, WA
Expanding Advent: A Curriculum Supplement for Church Families
Lilly created an Advent program for her church's family ministries program in order to engage children and families in the church tradition. She wrote, designed, and illustrated an informational booklet about Advent that included the scripture readings, crafts, skits, discussion questions, and more. Schneider shared the booklet with other churches in the area in order to expand her curriculum, and anticipates that the booklet will remain a part of the Advent curriculum for years to come.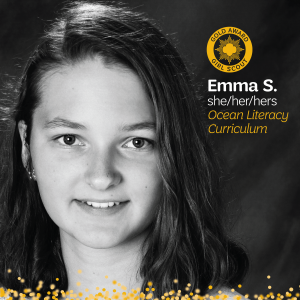 Emma Sturgill
Troop 41002, Edmonds, WA
Ocean Literacy Curriculum
Emma worked with Snohomish County Marine Resource Committee to develop curriculum and programs about negative human impact on the marine environment. She based her curriculum on information gathered from middle school science teachers, and molded it to fit into the 7th grade science curriculum standards. Sturgill's curriculum will be promoted by the Marine Resource Committee to be used in local school districts.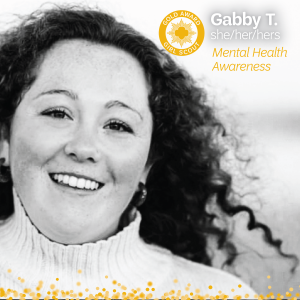 Gabriella Troy
Troop 42158, Anacortes, WA
Mental Health Awareness
Gabriella was passionate about suicide and mental health awareness, and decided to center her project on raising suicide awareness in her community. With Skagit County Public Health and United General District 304, she brought the documentary Suicide: The Ripple Effect to the Spotlight Film Festival in Skagit County. Troy was able to fund the film screening through a grant for suicide prevention awareness from Skagit County Public Health. At the screening, they shared resources for local mental health services and hosted an audience-driven panel discussion. Troy later worked with Anacortes High School to purchase an educational license of the documentary so the film can be shown on a regular basis.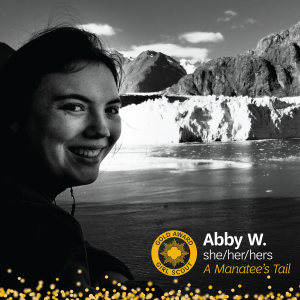 Abigail Welter
Troop 52271, Snohomish, WA
A Manatee's Tail
Abigail used her project to raise awareness for manatees, a threatened species. She wrote and illustrated a children's book about a young manatee exploring her environment, as well as an instructional YouTube video. Welter then hosted a book reading at the local library that doubled as a manatee education event. She donated her book to 10 different libraries for future young readers to learn about manatees.