Women's History Month is honored every March, but we need to regularly and loudly applaud women and non-binary leaders to maximize their impact and achievements – especially those who are breaking barriers and making great strides toward racial, economic, and social justice and equity.
To honor our local Washington State leaders, innovators, and history-makers, we're launching a new monthly blog series: Lead Like a Girl Scout. We're beyond excited to begin by featuring Washington's new Senator, T'wina Nobles.
Sen. Nobles joined Girl Scouts of Western Washington in 2017 as a co-founder and volunteer troop leader for Sisterhood in the City. We're honored to call this incredible leader, mother, entrepreneur, volunteer, and educator our Girl Scout sister.
Meet Senator Nobles
Sen. Nobles represents Washington State's 28th Legislative District, which includes Joint Base Lewis McChord, Tacoma, and many surrounding cities.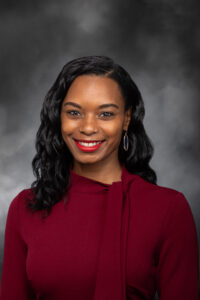 Elected in 2020 and sworn into office in January 2021, Sen. Nobles is Washington's first Black state senator to serve in a decade and is currently our state's only Black senator.
Sen. Nobles originally moved to the Tacoma area nearly two decades ago when her family was stationed at Joint Base Lewis McChord. She attended Tacoma Community College and then University of Puget Sound, earning her undergraduate degree and a Master of Arts in Teaching.
Sen. Nobles then taught at Stadium and Lincoln High Schools with Metropolitan Development Council's College Bound program, preparing student leaders for life after high school.
As a mother of four, Sen. Nobles became a PTA leader and was elected to the University Place School Board in 2016.
She is also President and CEO of the Tacoma Urban League and co-founder of Ladies First, an in-school and after-school program dedicated to empowering young women and building positive self-esteem.
Sen. Nobles now serves as the vice chair of the Early Learning & K-12 Education and the Higher Education & Workforce Development committees.
The first bill Sen. Nobles sponsored aimed to support children in the foster care system, which she personally experienced while growing up. It was passed unanimously by the Washington State Senate in February 2021.
Why did you become a senator?
I love my community. I love serving my community. This is an opportunity to be a public servant, to be a woman and mom who loves to make difficult choices and decisions, and listen to people.
Passion for community and service, and definitely wanting to be a leader in my community, inspired me to run for office. And this is not the first time I've run for office. I've served on the school board for five years and ran two times for that position.
What prepared you for being a senator?
When you are a senator, you work with a diverse group of colleagues, and you're not going to always agree with each other. And it's not just based on party. It's based on lived experience, it's based on priorities, values, and your districts.
Motherhood
Even as a mom, I have to be able to live in a household with other people who are in full disagreement – sometimes the kids are all stacked up against me because they want what they want, and I still have to be like, "Nope. This is what it is."
Being able to stand in firm disagreement with love and respect as a mom certainly has prepared me for these types of relationships and challenges and for respectfully disagreeing with my colleagues in the senate.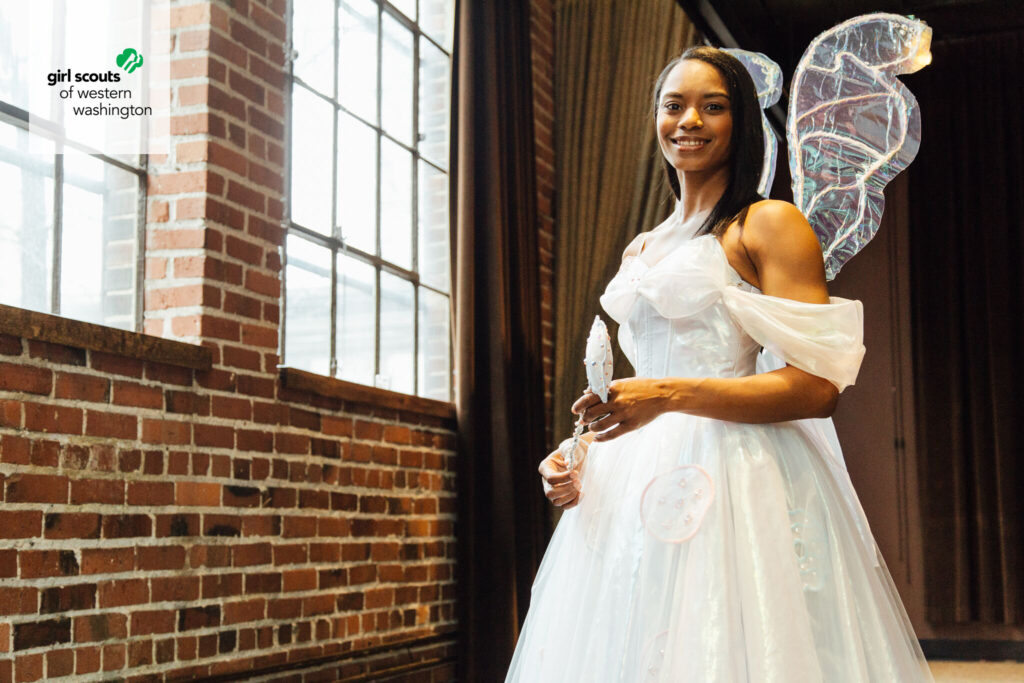 Teaching
Being a trained teacher, I learned how to put together a lesson plan, which is similar to putting together talking points.
Taking that lesson plan and convincing a group of young people – who I would say is the toughest audience – to consider thinking, believing, sharing, or being inspired by content or ideas that may be new to them, certainly prepared me for taking remarks based on my background, ideas, or data.
I have to share what may be new information with my colleagues in a way that is compelling. Connecting and sharing information with an intent to influence or inform a different audience is very similar to my experience in teaching.
Lived Experience

And then my lived experience, experiencing foster care, experiencing homelessness, being a young parent – all of those things really helped me to understand the need for a lot of the policy we get to create as legislators. So much of my professional and lived experience has prepared me for this moment.
The whole point of having a diverse legislature is we don't need to have the same background, speak the same language, have the same type of upbringing.
And I think that's okay. I'm the only Black senator currently in our legislature. Whoever you are, whatever you bring to the table makes you a great addition to a body that will make decisions for an entire state.
What do you wish you had known when you became a senator?
I don't think there's anything I wish I would have known because there's so much joy in learning along the way. I just try my best to learn those things.
You don't have to know it all to be a senator. You learn it. I don't want people to feel like there's a certain level of preparation.
Something I know now that is good to know and that people should know if they want to pursue this is that who you are right now – whether you have a GED or a master's degree, whether you've experienced foster care or had both of your parents in your life, whether you are an extroverted leader or an introverted leader – whoever you are and whatever you bring to the table is enough for a position like this.
As long as you really care about your community and are leading with integrity, trying to do the right thing for the people you serve – in my opinion, that's really all it takes.
How are you involved in Girl Scouts?
I became a Girl Scout when I launched my own troop in 2017. I have been mentoring girls for quite some time and started an organization called Ladies First almost nine years ago.
When I became the CEO of Tacoma Urban League, I wanted to continue doing that work, but I knew my schedule would be more rigorous. Many of my friends were getting promoted and moving into new positions, so we thought, why don't we leverage our new positions in organizations and create a new name? We decided to call it Sisterhood in the City.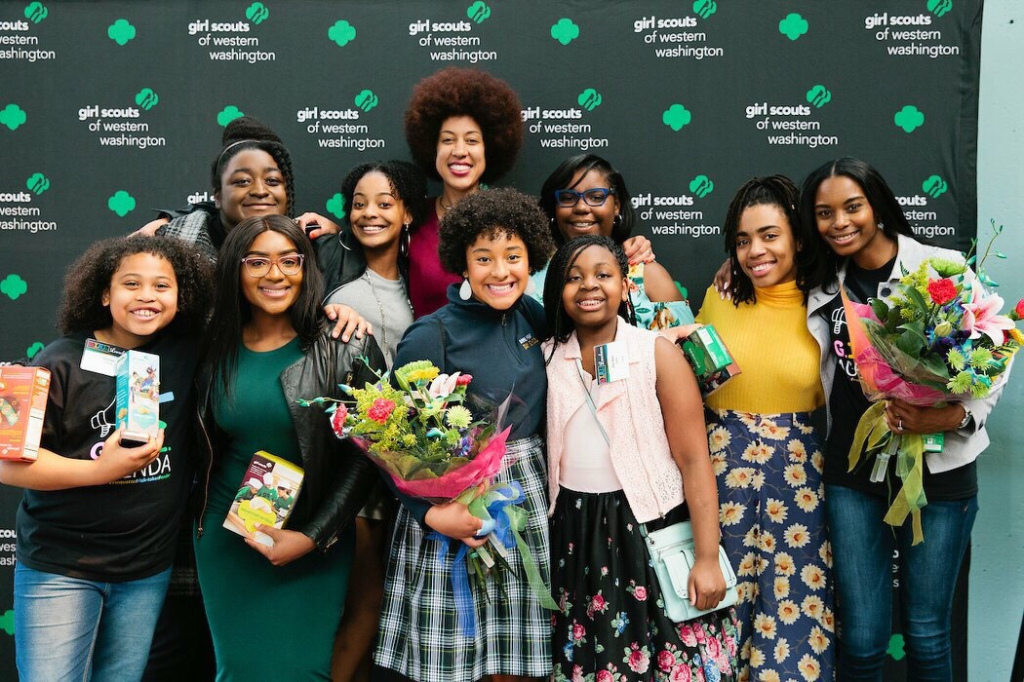 This was not a new group of girls. Some of them programmed with me for years, some were affiliated with my friends Fahren at the YMCA or Alecia Cunningham at Girl Scouts.
Our partnerships allowed us to meet at the YMCA or at Tacoma Urban League, and with Alecia's job, we thought it would be an amazing experience for all the girls to become Girl Scouts. To become a Girl Scout leader, I needed to become a member as well.
Our group focused heavily on mentorship, intergenerational relationships, and was predominately Black girls and girls of color.
It was wonderful to have this opportunity to take a group of girls who had already been programming together, enjoying this amazing intergenerational mentorship together, but now give them the Girl Scout experience where they could earn badges.
Honestly, there's a lot of pride in being a Girl Scout.
What is one of your favorite Girl Scout moments?
One of my favorite moments was from the 2018 G.I.R.L. Luncheon here in Pierce County. Our Girl Scouts got to be greeters, and the feature video was about our troop. We wanted more troop leaders who looked like the girls we were serving. We already had a group of girls and a concept.
We found girls who wanted to build sisterhood in their city, who wanted to belong, develop their leadership skills and love for their community, and to explore community service and STEM. And we wanted to benefit from the curriculum, resources, and connections that Girl Scouts offers.
It was just such a beautiful experience, allowing our Girl Scouts to demonstrate their leadership to a broader audience. We were able to share how Girl Scouts should always be thinking about evolving, how troops do need to be more diverse, and how mentorship and social-emotional skills are so important.
Our girls experience complex challenges. They want to have deep conversations and figure out the complexities of life. It's not enough to just offer them, "Let's do crafts. Let's go camping." What I love about the work that we get to do is we really talk about all those tough topics, and we have become family.
That luncheon, and seeing our girls shine and lead and be recognized, was my favorite moment with our troop. And that group continues – it's now virtual, but I can't wait until we're back in person.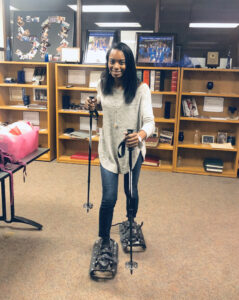 What do you love about Girl Scouts?
I love doing this work, serving my community, and having partnerships with organizations like Girl Scouts because I get to learn stuff I simply did not know before.
It's absolutely fun to learn alongside the Girl Scouts because they get to see my excitement, curiosity, and nervousness in some of the things we do. My eyes light up, too, when we talk about things like financial literacy.
It has really allowed me to become a better woman, a better leader, and better servant to my community. I selfishly do this work because it is legit fun for me, and it helps me become the woman I want to be.
What would you say to someone considering Girl Scouts?
You should do it! I'm so proud of Girl Scouts and its ability to evolve and offer programming that is relevant for the girl of today. I would just tell them to do it.
Once you're a Girl Scout, you're always a Girl Scout. You get to be part of this legacy of women leaders and real game-changers in their communities. You should definitely do it.
---
Thank you so much for speaking with us, Senator Nobles! We hope you're all as inspired and energized by her story as we are. Stay tuned for next month's featured Washington Woman or Non-Binary Leader – and let us know who you want to hear from in our blog.