Giving comes in many forms, and every single bit helps when you're a nonprofit. We're so grateful for all our donors, and we're thrilled to announce a new series, #whyIgive, which showcases the many ways in which giving truly impacts the lives of youth through programming, mentorship and financial investments – all of which help to ensure future leadership success for years to come.
We'll be kicking off a webinar series on April 10: Numata's Numbers, focused on creating more transparency related to our our finances, and will be inviting community members, staff and our Board into conversations around how GSWW is funded and allocates dollars to serve our Girl Scouts.
This month's #whyIgive focuses on volunteer and donor, Donna Gathany, who has been involved with Girl Scouts for over 50 years!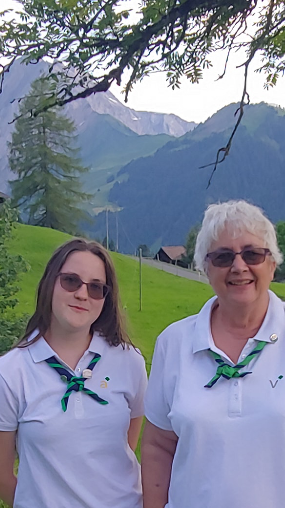 "I believe that I am investing in the future of humans when I volunteer with Girl Scouts, and I know that beyond my hours, the girls need my dollar investments as well. That is why Girl Scouts of Western Washington is in my will and why I send in my annual bit of support. My girls and grandkids know that our family name is on plaques from capital campaigns at both River Ranch and Robbinswold.
As I get ready for my fiftieth (or so) GS Cookie Sale with my granddaughter's troop and look at the extra challenges we face during the pandemic, I sigh just a bit. The pandemic has severely impacted our council's finances, and in part this is due to our continued heavy reliance on the Cookie Sale for most of our income. Girl Scouts has existed to serve girls and communities for over a hundred years and relies on thousands of volunteers and their hours to deliver high quality program to every girl who wishes to experience the thrill of belonging and being part of a global movement.
My life has been impacted in so many ways by my time as a Girl Scout.
In 1968, I traveled to Washington, D.C. with a group of Girl Scouts from Colorado. We were there when Martin Luther King was assassinated and saw in person the deep sadness and outrage that this engendered. It still sits with me. My remaining friend from High School was my Girl Scout buddy from that trip.
Both of my daughters let me play Girl Scouts with them and I was a better parent for it.
I've traveled to three of the five World Association of Girl Guides and Girl Scouts (WAGGS) World Centers: Our Cabana, Mexico, Pax Lodge, UK, and Our Chalet, Switzerland.
I participated in a Girl Guide trip to New Zealand that left me with an Australian Girl Guide buddy who still travels with me.
I was down to one unemployment check in 2002 during a large recession post-911. My volunteer gig with the Girl Scout Capital Campaign got me a three-year job as a paid fundraiser.
I still work as a volunteer learning facilitator; this lets me impact thousands of Girl Scouts' experiences.
The list goes on and on, but the bottom line is that I owe Girl Scouts a big thank you for making my life better and I am grateful I can help the organization with my hands, my heart, and my wallet."
Thank you, Donna, for sharing your powerful Girl Scout story. Donna shows that Girl Scout involvement is possible in all sorts of ways throughout life, including membership, volunteering, and all forms of donating.