Leaders come from all backgrounds, experiences, ages, and journeys. In Girl Scouts, many youth members find their purpose, grow up, and give back, continuing the circle of leadership.
Meredith "Molly" Carle is a great example of the Girl Scout cycle. Once a Girl Scout youth, camper, and member of the Global Action Team (GAT), Molly now works as a life coach, volunteers as a Global Action Team advisor, and has worked nearly every staff role available at Girl Scout Camp Robbinswold. We're excited to introduce you to Molly in this second installment of our "Lead Like a Girl" Scout series.
Molly's Girl Scout Story
I have been in Girl Scouts since kindergarten. I was six, in elementary school, and my mom was my troop leader. She ran the troop until we left elementary school and moved up to Washington—I started in Texas down in San Jacinto council.
I started doing Global Action Team after I got back from my first year as a CIT (camp counselor-in-training) year. We were doing human trafficking as the topic of Global Action Team. That whole year was so much fun.
Through the rest of high school, I continued doing Global Action Team and going to camp. From 2014-2017, while I was on the Global Action Team, we covered topics of human trafficking, violence against women, and access to healthcare. In the meantime, I earned my [Girl Scout] Gold Award. I have also earned the Bronze and Silver Awards. My first year working on [camp] staff was in 2015 when I worked in the kitchen when I was sixteen. I've been going to camps for 15 years total.
I moved back to Texas for university for my first two years and helped out with Girl Scouts down there. I volunteered with the troop of a family I know and worked as a lifeguard. Then I came back up [to Washington] and got back into working with Global Action Team.
Joining Global Action Team
In high school after about four years of independent Girl Scouting, I wanted to get back into a group of Girl Scouts, get ideas for Gold Award, and get involved outside of Girl Scout camp. My mom found the advertisement for Global Action Team in the newsletter that year. I think it was the third year it was running. I read it, saw that was about human trafficking, and thought "I want to do this" right away.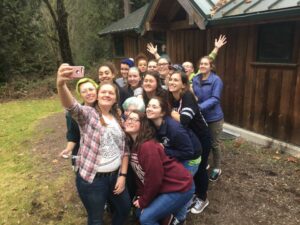 It seemed like it'd be a really good group of Girl Scouts that were all passionate about the issue, not just kids that get sent to a day camp to get away from the parents. These Girl Scouts are actually applying and really want to be there. That kept me in. That's also what brought me back as an advisor.
We would meet for the first time in November after all the applications had been processed and people were on the Global Action Team for orientation. We'd meet everyone, do some icebreakers, go over the topic, get a few resources, get back in touch with anybody we'd met before. Then three or four times for the rest of the year, we'd meet in-person at Girl Scout Camp.
We'd have all of Friday evening to catch up, hang out, play games, work on homework or projects. On Saturday morning, we'd get up and some of us would make breakfast with the advisors. We'd get ready, have breakfast, then we'd get into working time. We might have presenters or something the advisors put together as a lesson for the beginning of the retreat. Then we'd go into work time once we formulated how we were going to break up the groups for the summit.
For the human trafficking group, we met with a few organizations and they presented to us during two of these weekends. Then we got broken up into five groups—I was involved in the groups discussing sex trafficking and labor trafficking. Then we'd go into a room in our River Ranch Troophouse and work: pull out the computers, browse the internet to pull up resources, watch videos we could use for a presentation, come up with activities that we'd use, and get back together for meals.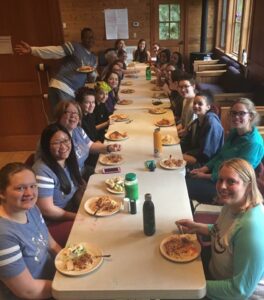 Pretty much every mealtime was something special. We'd have music playing, dancing, and we'd sing along during meals. For the first one we were just singing along to Disney songs. The next one we all danced to High School Musical 3. It just shows how truly you can be yourself [on the Global Action Team.] You don't have to stay in the teaching or learning zone, you can play and really connect with each other. That's what I loved most about it.
All of that was different from troops for me because a lot of the time in elementary school my troop was big. We had 32 people at the most, from five different schools. We didn't really know each other that well, we just met on weekends, and went camping twice a year. But I didn't really know anyone or feel connected with them.
Immediately with Global Action Team, we got that, because you're living together for the weekend. As high schoolers, we all knew what we wanted to be doing and knew more about ourselves and what we liked. Because we get to know each other throughout the year, it really is a GAT family.
Why Join as a Youth Member?
You might know about things that attract people to the face value of Girl Scouts. It may be a way for parents and kids to spend some time away from each other. Or to go have some fun outside, go for hikes with the group. Do crafts. But there's so much more in that Girl Scouts does leadership, self-development, community building, friendship, learning how to build friendships and what makes a good friendship. And it might completely change what you're planning on doing with your life. Or it might solidify what you want to do.
What you think you'll get out of Girl Scouts right now is not even half of what you'll get as a Girl Scout.
Gold Award Inspired by GAT
My Gold Award was based off that first year on Global Action Team. Human trafficking was something I had learned about in classes before. We didn't talk about it very much; it was kind of this idea that there was something going on out there with this big issue, but nobody's clearly doing anything about it in my sphere.
On Global Action Team, we learned about [human trafficking], we talked with various organizations, and one of things we noticed was there's a lack of strong education in the area. So I decided to do my Gold Award on that.
My Gold Award ended up being building a curriculum for high school and younger students about how we interact with human trafficking every day. And things we can do about it, how we're impacting it positively or negatively.
A Life More Conscious:
Visit Molly's life coaching business, which evolved from her Girl Scout Gold Award project.
There are two main kinds of trafficking: labor trafficking and sex trafficking. There are other forms; they're just not as common as people think. There are various ways that society produces and perpetuates trafficking. The clothing that we wear was a big focus [of mine] through comparison of fast fashion industry and fair trade and ethical fashion. The foods that we buy and eat, and the services that we use.
More in line with the sex trafficking aspect is grooming that happens in society. Any of the ways that marketing or language impact the way we talk about the self, the human body, and how we are supposed to interact with our world.
This is now my main education and career path going forward. I continue to study social issues, more than just human trafficking and how we interact with them, how we address them as individuals and society. I'm a life coach working with people on taking that action, building their identity to be an activist.
Volunteering with Global Action Team
I went to the Global Action Summit as a counselor a few years ago, when I was back in Washington. This is the first year I've been eligible to be an advisor. You have to be away for three years before you can get involved as an adult. I really wanted to be there as a resource, especially with how it's such a different set-up for the team right now because it's fully virtual and isolated.
They don't have the same social time that we'd have when we would meet up at [Camp] River Ranch, hang out after the retreats, the driving time for the summits, and spending the night. If they can't have that, then I want to try to find a way for us to [recreate] that. I know they have a group chat between the team members right now, and it's really cool that they can still get that connection.
Why Join as an Adult?
Everything you do in Girl Scouts is going to impact some Girl Scout that you work with. Being a Global Action Advisor is really about helping the members think about different ways of looking at the world. And it's changing how they interact with it. Not forcing anything, just opening up the options.
Everyone has some lived experience they can use to teach other people. And that's super powerful.
There's a poem I found when I was in fourth or fifth grade, working on a bridging program. It's called the Circle of Girl Scouting. It's an older poem, and it goes through the levels of Girl Scouts at the time and then talks about being an adult Girl Scout, being a troop leader, and how being in that role starts the cycle again. It's one of my favorite poems whenever I'm trying to talk about the Girl Scout impact.
Fun Fact!
My favorite part of Girl Scouting is campfires. Not anything specifically, just whenever we do campfires. Whether at summer camp or with Global Action Team, it's always a great experience. Building the fire, songs, leading and following, all the snacks we'd make, introducing people to other options for desserts.
---
Thank you, Molly, for sharing your full circle of Girl Scouting, from youth member to volunteer and inspired professional activist!
Are you interested in the Global Action Team? Learn more on our website and explore your opportunities, like attending or volunteering at the annual Global Action Summit, or joining Global Action Team as a youth member or adult advisor.