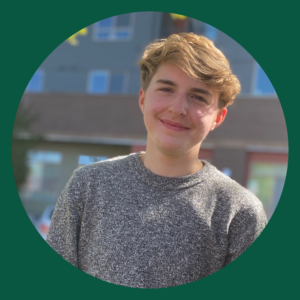 Gold Award Girl Scout Emil H. is a great example of environmental leadership in action. For his Gold Award project, he built bat boxes in a local park, created online materials to correct misconceptions about these important critters, and was recognized with the GSUSA Scholarship for his work. Emil shared with us about his Gold Award project and Girl Scout experiences.
How did you get started in Girl Scouts?
I started Girl Scouts when I was in kindergarten. I was at my school, and there was a troop forming. I wanted to join because I wanted to go camping and hiking with my friends. In second grade, I joined a new troop and stayed with them until I graduated. They've been really supportive of me. We've gotten to do a lot of really cool things through Girl Scouts.
How did Girl Scout outdoor and camp experiences help you grow?
Girl Scouts helped me a lot with gaining experience in the outdoors through both camping trips and day trips. A few years ago, my troop hosted a camping retreat, and it was a lot of work organizing the activities and coordinating with other troops. However, in the end, it was really rewarding because we were all able to enjoy the outdoors together, and Western Washington is such a beautiful place to explore.
Learning to have confidence and leadership skills, especially in the outdoors, is necessary to make sure that everyone is having fun and being safe.
The most memorable outdoor activity I remember with my troop was when we went camping at Camp Robbinswold. The campground itself is very scenic, with the beach right against the forest. We played lots of games with the rocks and shells and learned about marine conservation.
What was your experience of earning the Gold Award?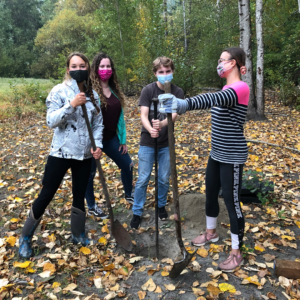 My project had to do with bat conservation, mainly in my area, but I tried to make it more accessible for people in other areas. I built five bat houses and put them up in parks around my city that are known to have bats in them. I also made some educational resources that I put online for people to access. There's a video and four or five pamphlets relating to different topics about bats.
Along the way, I learned about a lot of things that impact bats, like wind turbines. I didn't realize they were such an issue with migratory bat species. But I also learned that they've been using ultrasound-emitting devices on wind turbines. When the bats get close enough, the device messes with their echolocation, and they go around the wind turbine instead of through it. I also shared more well-known issues, like deforestation and habitat loss.
I worked with a local bat specialist from the Department of Fish and Wildlife. She helped me out a lot with information and things I could look for about bats. I submitted some of my materials to Bats Northwest, too, and they shared it on their website. I learned a lot about navigating bureaucracy.
Why bats?
I really like animals. I've been a vegetarian since I was in eighth grade, and I have a lot of strange pets—a bird (Sherbet), an axolotl (Sally), and a sugar glider (Gizmo). I think just being around animals made me want to help animals that are misunderstood in society and demonized by media. For such a long time, vampire movies and such reinforced the idea that bats are scary.
Bats are known to carry rabies and other diseases, but it's far fewer than you think. You definitely shouldn't try to touch them. But I think a lot of it has been blown out of proportion to where people fear bats unnecessarily and don't realize the benefits they bring to our life. Bats do a majority of the pollination of agave plants in the Southwest. There's a lot to thank them for. But they've been demonized as unhealthy creatures we shouldn't have in our communities.
How do you see camp or outdoor Girl Scout experiences affecting you now or in the future?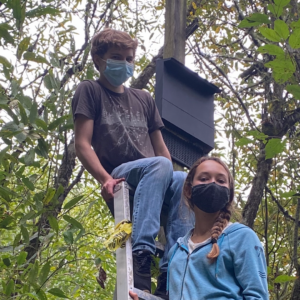 Since moving out of state for college, I can say that I didn't realize how much I appreciated the nature and green spaces that were so bountiful in Washington. It's important for people of any age to have more outdoor experiences so they can learn to appreciate nature for themselves and inspire them to advocate for its protection. These outdoor experiences I had with Girl Scouts were necessary to understand how important it is to preserve natural spaces.
My Gold Award project's main focus was wildlife conservation, and it inspired me to continue advocating for the conservation of misrepresented creatures. Currently, I've been lucky enough to participate in and interact with my college's entomology club, and I've been learning a lot about different types of insects and their importance to the environment.
Stereotypically, subjects surrounding insects and other "unpleasant" creatures have been withheld from girls, but camping and outdoor experiences were instrumental to introducing many of us to topics that we had previously thought were not for girls.
---
Thank you to Emil for sharing his experiences with camp and outdoor Girl Scout programming!
Do you have your own story to share? Contact us at Story@GirlScoutsWW.org.
Girl Scouts of Western Washington recognizes that gender isn't binary; people don't identify only as boys or girls. We welcome youth from across the gender spectrum: those who identify as transgender, agender, androgynous, etc., and those who're in transition or questioning their gender identity. The Girl Scout mission is to hold space for those who, on the spectrum of gender identity, aren't cis-gender boys (those whose gender identity is boy, and the sex assigned at birth is male). Girl Scouts isn't appropriate for cis-gender boys.

Want help finding a supportive troop or LGBTQ+ educational workshops? Please contact us at customercare@girlscoutsww.org or 1 (800) 541-9852.