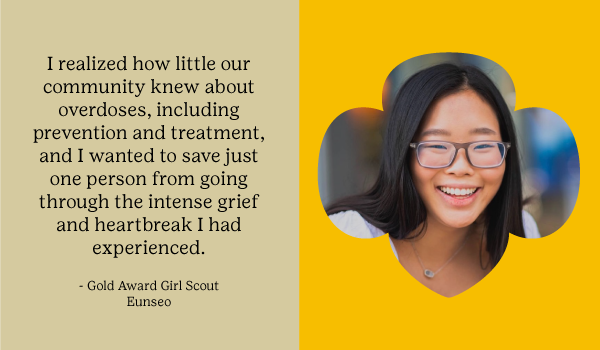 After three of her childhood friends passed away from fentanyl-laced drug overdoses, Girl Scout Eunseo felt powerless. Then she learned about Narcan, a temporary opioid reversal drug with the potential to save lives. To prevent further deaths and grief, Eunseo decided to educate her school and community about drug awareness and treatment—earning the Girl Scout Gold Award in the process. As Eunseo emphasizes, drug addiction isn't picky and threatens lives regardless of age, education, or socioeconomic status. Please share Eunseo's story to make sure as many people as possible can benefit from this life-saving information and resources.
When—and why—did you get involved in Girl Scouts?
I've been a Girl Scout for as long as I can remember—joining as a Daisy and staying involved until graduation of my senior year. My family had just immigrated from South Korea, and my parents wanted their daughter to get involved in the community. Some of my earliest Girl Scout memories are selling cookies outside grocery stores with my troop in a Samoa costume and enjoying every single day camp in a 20-mile-radius during the summer.
I stayed involved in Girl Scouts because of my troop. I loved earning badges as a child, but that faded into the background as I got older. I realized that I loved coming to meetings not because of what badge I would receive or the snacks that were available, but the connections I had with many of the girls in my troop. These girls are still people I stay connected with to this day, and people I am proud to call my friends.
What did you enjoy most about Girl Scouts as a child? How did that change as you grew older?
Summer camps were my favorite activities as a child. From Camp River Ranch to Sammamish Day Camp, I showed up every day with my camp t-shirt on and a smile on my face. I loved attending Girl Scout Camp up to eighth grade, when I became a camp counselor at the same day camp I had grown up at as a child. It felt so rewarding to be the counselor that my younger self would've loved, and it was my highlight of every summer.
My favorite memory in Girl Scouts is when my troop put on our own weekend sleepaway camp in March 2019, which we didn't know would be our last camp before the pandemic. Held at Island Lake, it was the most beautiful retreat and I loved getting to serve so many girls who reminded me of my younger self. Before bedtime, we would go around and do night checks, and on our last night we decided to sing 'The Climb' by Miley Cyrus, a song all of us loved growing up. Walking around singing to cabins of girls as a group (and almost crying) was something I will treasure forever.
My troop and I all became much closer during the pandemic. After everything went online, it was hard to FaceTime groups of people as none of us were used to organizing anything of the sort. Girl Scouts provided much-needed structure and gave us a bubble of people to safely visit after we became vaccinated and took necessary safety precautions. Seeing everyone's faces at once or playing Bingo via Zoom provided the normalcy we all needed.
Why did you choose to pursue the Girl Scout Gold Award?
I didn't choose to pursue the Gold Award; it fell into my lap. After multiple fentanyl-laced drug overdoses in my community, I was blinded by grief and looking for anything I could do to help. I realized that the Gold Award could provide the structure and support I needed to create an impact in my community, and my troop leader encouraged me to submit a proposal.
Learning about Narcan—a temporary opioid reversal drug that has the potential to save lives—felt like a slap in the face when I realized no one in our community had any awareness of the drug, and I vowed to help spread awareness of Narcan in our community.
I remember sitting in health class the day after a friend had passed away and learning about drug abuse—but only in a "Don't Do It" approach. I began to wonder, what happens when that approach is no longer usable? What happens when your friend has already developed an addiction, and all you learn is to stay away? We learned nothing about treating overdoses, spotting them, or ending the stigma around addiction, even after what had just happened in the next town over.
What were your Gold Award goals and how did you meet them?
I had five goals:
Educate my high school class of 600 on Narcan
Provide education on prescription medication disposal
Prepare teens for conversations about substance abuse
Teach parents how to talk to their teens about drug use/abuse
Create long-term change in the school district through health curriculum implementation in high schools
Through working with my AP Psychology teacher, licensed social workers, the school administration, and the curriculum advisory board of my school district, I was able to create change that I never would have imagined. We were able to educate the entire high school via an educational video, leading to 98% of teens being confident in their ability to administer Narcan (up from less than 2%) and 99% awareness of Narcan (also up from 2%). We hosted a virtual seminar with over 30 parent-teacher duos, readapting the curriculum to be parent-friendly and show parents appropriate methods of bringing up this sensitive subject.
Finally, I am still to this day working with our school district to propose long-term change to the curriculum, a process I was told can take up to seven years. For now, all the health teachers in our school district have agreed to adopt voluntary Narcan education from trusted healthcare resources.
You'll notice I use "we" when talking about this project—none of it would have been possible without the village that rallied behind me. My Gold Award taught me project management, outreach, time management, and writing skills, but most importantly, pushed me to create something positive out of my grief and to focus on moving forward. I am forever grateful for the support I received from my teachers, advisors, friends, and family in making my project a reality.
After the success of the curriculum I used for my Gold Award, I worked with my sorority to implement the curriculum into education for Greek Life and social organizations, and have now moved to school-wide advocacy. Teaming up with other students in medical professions has helped bring this project to a higher level, and I am so excited for the change we can create on our campus.
What advice would you give other Girl Scouts or teenagers trying to improve their communities?
Don't choose a topic because it's "easy to do" or because it'll let you get the Gold Award. Choose something you're passionate about, and show up, every day. Show up when you don't want to, when the logistical hurdles seem too high to jump over, when you feel like you're fighting an uphill battle.
The Gold Award was an amazing honor to receive and something that I had worked countless hours for, but the goals the project accomplished and the sense of closure it gave me to be able to raise awareness for an issue that has affected my community was what brought me joy at the end of every day.
What else would you like to share about addiction, Narcan, etc.?
Coming from an upper-middle-class background on the Eastside, I had to keep emphasizing that addiction and drug use are not picky. Overdose and laced drugs do not care about how much money you have, or what your family may do for a living. You can ignore it all you want, but drug addiction has become more and more prevalent in wealthier communities, and you never know who it'll be.
---
Thank you, Eunseo, for your important work and for having the courage and grace to share your experiences. Again, please consider sharing Eunseo's story to boost awareness of Narcan and other potentially life-saving measures of drug education.
The Girl Scout Gold Award is the highest honor a high school-aged Girl Scout can earn, requiring over 80 hours of work leading a self-selected collaborative project that addresses the root cause of a community issue and results in lasting change. Gold Award Girl Scouts are eligible for scholarships, enter the military one rank higher, and demonstrate the highest positive outcomes of Girl Scout participation.
Girl Scout programming is made possible by our strong community of donors and volunteers. You can instigate global change by investing in the young leaders who shape our world. Please consider a donation to Girl Scouts today.